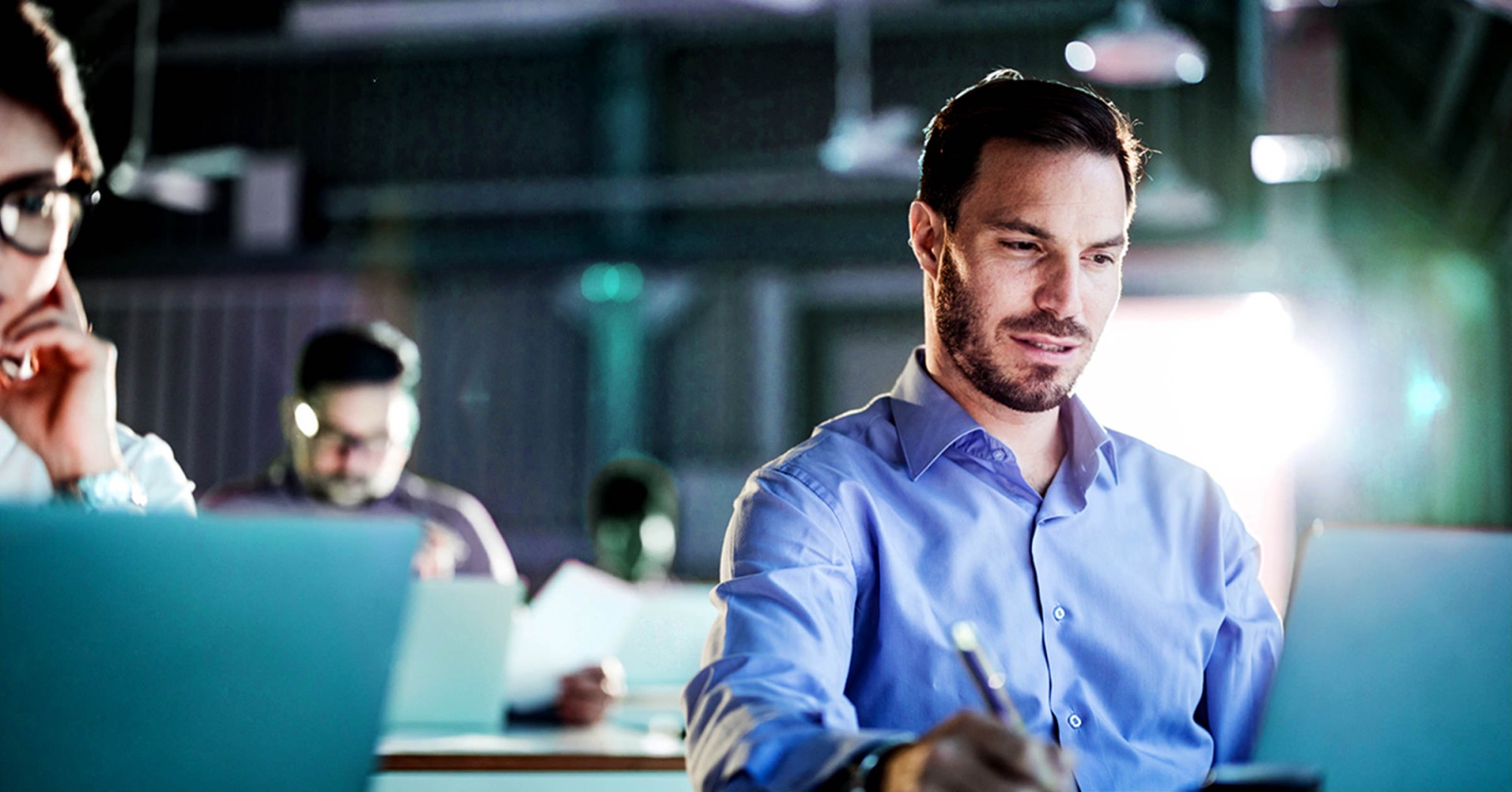 Improving Workforce Training to Support Top Priorities of State CIOs
Every state in the United States has a Chief Information Officer (CIO). A CIO has a broad portfolio of responsibilities. These include managing the state's information infrastructure, keeping private information secure, updating systems, and providing accessibility to the people in that state. Being a state CIO is a major responsibility. The challenges change almost by the hour.
So, what are state CIOs thinking about, and what are their priorities? What's keeping them up at night? The National Association of State Chief Information Officers, better known as NASCIO, asked these questions in the fourth quarter of 2022. The answers were revealing.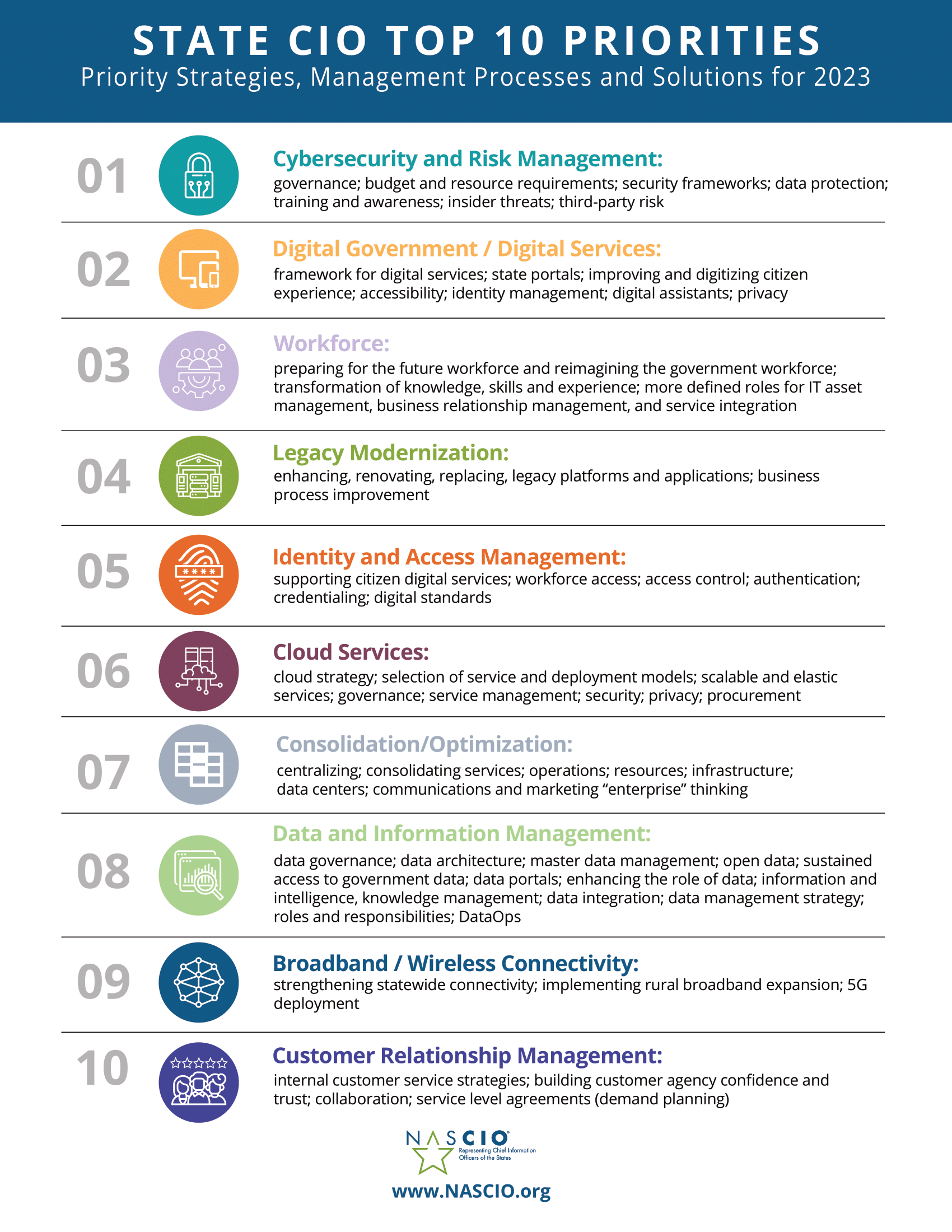 These priorities reflect the current business and governmental environments in the United States. They also reflect broader technology issues. For example, web-based security is stronger than ever, but threats from cyberattacks are more prevalent. A CIO in a private company must constantly update systems to keep up with the latest technology. Identity and access management might not sound especially exciting, but it's crucial to make sure that only certain people have access to information and technology infrastructure.
Data and information management only comes in at number eight on the list, but every state has a massive volume of data to manage. This alone provides an enormous challenge. The data changes daily. People at the state and national levels all need access to this data. How do you keep data secure yet usable for the necessary internal teams?
There's one priority that's at the top of the list, although it's not highly publicized outside of CIO circles: workforce. State CIOs understand they must build, develop, and retain a highly effective team that can handle all the technology needs of the state. According to NASCIO, this means:
Preparing for the future workforce and reimagining the government workforce
Transformation of knowledge, skills, and experience
More defined roles for IT asset management, business relationship management, and service integration
The state CIO must have a group of technology and management experts who can handle the extremely diverse needs of the state and its population.
Addressing Major Challenges Through Effective Training
How can a state CIO manage every challenge while ensuring that all services run smoothly and effectively? The best place to start is with people, and the best place to start when it comes to people is training.
If one of the challenges is ensuring the security of data against cyberattacks, then training must help the technology team understand and prevent these attacks. And if a state CIO wants to ensure that everyone in the state has access to high-speed internet, then training must encompass all that's required to reach this goal.
By following the steps below, a state CIO can ensure that team members get the training they need to effectively address the challenges every state faces.
1. A Solid Training Plan
How will the training look? The state technology department must answer these questions:
What is the current situation in the state technology department?
What are the future needs, and how will they be fully met?
What are the budget constraints?
Will travel be necessary?
How will the training be designed?
Many government agencies have partnered with Anthology to help with the planning and implementation of their training programs, including the U.S. Department of Veterans Affairs (VA).
2. A Commitment from Leadership
The state CIO and the leadership team of a state technology department must understand the clear benefits of robust online and classroom learning.
Training at the VA is hybrid, with a mix of live and online learning.
3. Assign a Point Person
This member of the state technology department does not have to be a training specialist. However, they must take ownership. Having a point person will ensure a consistent approach that keeps training on track.
4. Build a Team
The point person needs a strong team. Members of this team should include:
Trainers
Instructional designers
Technical staff
Program leads
Instructional designers should include state employees who will benefit from the training.
This team should meet regularly and focus on:
Plans to enhance the training experience
Goals and how they relate to current and future challenges
5. Understand the Needs of the State
Understanding the needs of the state starts with understanding the technical challenges. The best way to gain this crucial knowledge is by answering these questions:
What is the information technology budget?
Can this budget grow as challenges change?
What are the technical resources available to the state and the training team?
If the team loses clarity and often finds it difficult to find answers to questions, then it's necessary to work with a training vendor with extensive experience working with government agencies.
6. Understand Who Will Receive the Training
Learning will be effective when trainers understand the people who will receive the training and how they learn.
7. Use a Pilot Program
Pilot training can be useful in testing the effectiveness of training. Once this pilot program has been completed and tested, look for areas that can be improved.
8. Start with High-Quality Training Material
The training material must be high quality — from content quality to delivery and testing. When the quality of the training material is high, the potential for success skyrockets. This applies to online and in-person training.
To maintain quality, it's important to partner with an experienced training company that has worked with government agencies.
Partnering with Trusted Experience
Anthology has over 25 years of experience creating online educational environments. Our team of experts helps institutions deliver digital training programs that enhance learning and meet the challenges that government agencies face in today's ever-changing world. These products currently include the following:
Blackboard® Learn LMS provides instructors with the autonomy to author and deliver modern, inclusive, and consistent training experiences that learners desire — anytime, anywhere.
Greater access for all means greater success for all. Anthology® Ally is fully integrated into the LMS and ensures that course content and information are accessible to all learners. With the click of a button, access is simple, seamless, and straightforward, including translations into more than 100 languages, conversion from written to audio format, and more.
Want to manage the full lifecycle of learning information and assess learning outcomes in meaningful ways? Anthology's comprehensive learner registration and management solution handles course registrations, reporting, e-commerce, and user & data management, and is fully integrated with the LMS.
Anthology's team of consultants supplements agency staff on day-to-day and administrative operations. Experienced partners, Anthology helps institutions focus on their vision, craft their strategy, and deliver on their programs — from design and planning, development and transformation, to scalability and sustainability. Anthology helps agencies craft big-picture solutions related to training and development, regardless of technology, platform, learning modality, or approach.
Learn more about how Anthology solutions can help your agency.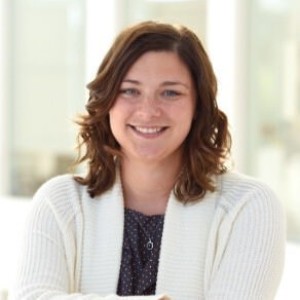 Celena Westlund
Senior Marketing Manager for Business and Government
Anthology
Westlund joined Anthology in 2021, bringing nearly 11 years of government and marketing experience, including over 7 years at the U.S. Institute of Peace and 3.5 years at a MarTech company. In her role at Anthology, she works to create awareness and demand for our EdTech solutions in federal, state, and local governments, and within corporate entities. Westlund graduated from Washington State University with an M.A. in strategic communication and previously earned an M.A. from American University in international peace and conflict resolution, with a focus on conflict in the Southern Balkans.