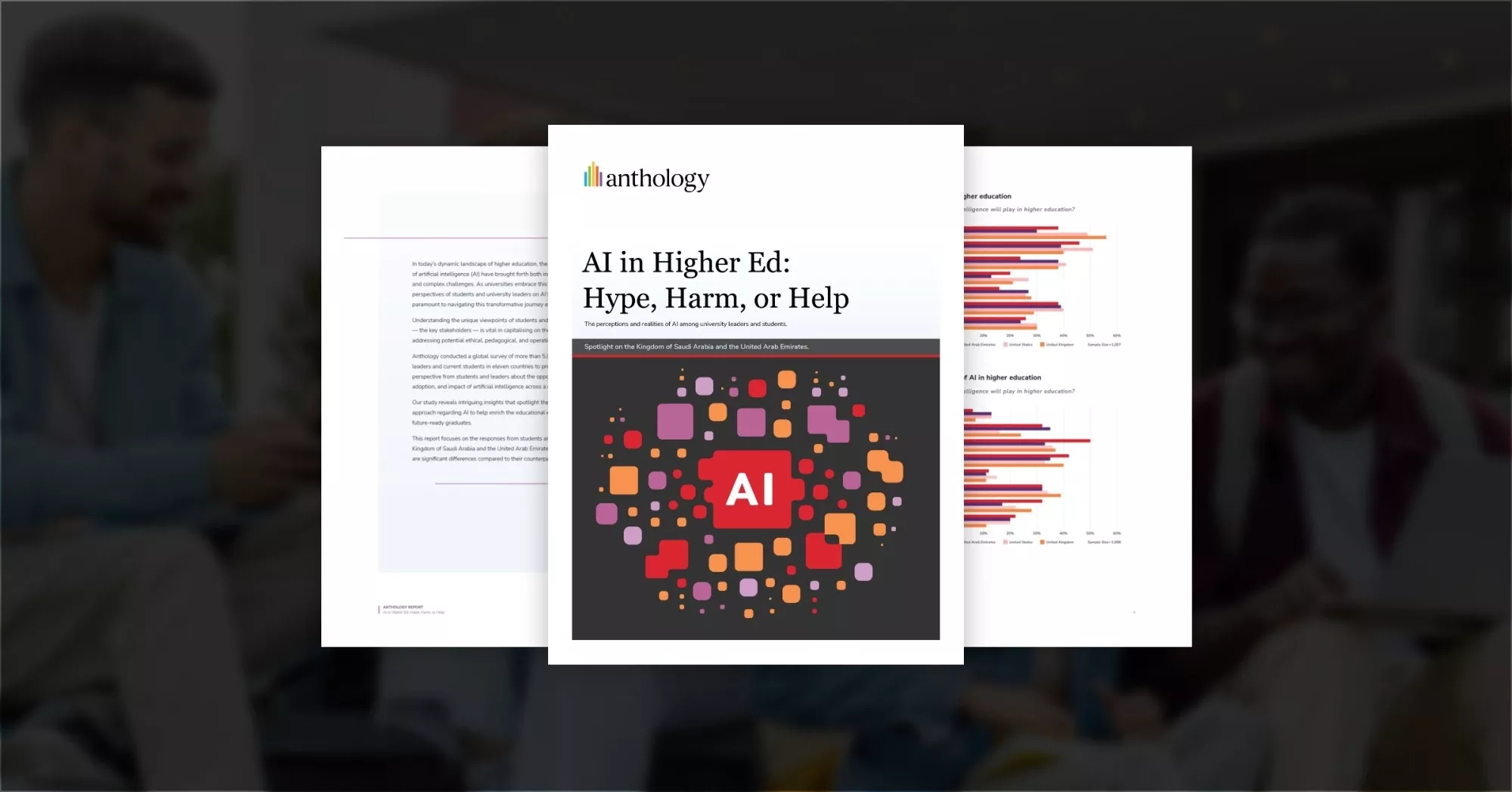 Anthology Survey Reveals Enthusiastic Approval of AI in UAE Universities
Survey reveals 56 percent of students in UAE feel that artificial intelligence (AI) will revolutionise education
Dubai, UAE – November 2, 2023: Anthology, a leading provider of education solutions that support the entire learner lifecycle, today announced the results of its 2023 global research study: Comparing Global University Mindsets and Student Expectations. Findings revealed 56 percent of students in the Emirates feel that artificial intelligence (AI) will transform teaching and learning methods. 
More than 5,000 higher education leaders and current students from countries around the world, including United Arab Emirates, Saudi Arabia, United States, Brazil, Singapore, and the United Kingdom, participated in the survey.
Findings revealed that students in UAE are among the most frequent users of generative AI tools like ChatGPT, with 32 percent saying they use the tools weekly. Their adoption of AI is more than three times that of their peers in the United States and the United Kingdom. And this trend is likely to continue as 80% of the students surveyed in UAE indicated that their use of generative AI tools will increase in the next six months.
The study also finds that students (36 percent) in UAE are very comfortable with using AI chatbots to get quick answers to their questions, compared with only 13 percent in the United Kingdom.   
When asked what role they think AI will play in higher education, 56% of students in the UAE believe it will revolutionise teaching and learning methods. They also believe in AI's collaborative potential, with 40 percent saying they believe AI will enhance students' engagement and interactivity. In addition, 38% of UAE student respondents feel artificial intelligence can provide personalised learning experiences.
"Personalised learning experiences remain the sought-after goal for educators worldwide. By understanding the needs of each student, teachers can target the areas that require focus and boost productivity," said Bruce Dahlgren, chief executive officer at Anthology. "I'm excited to see students embracing AI and the opportunities it can deliver to support them on their learning journey."
A third of the university leaders in UAE acknowledged AI could create new challenges to identifying plagiarism, however they also cited a number of areas where AI tools could have a positive impact on higher education, mainly focused on increasing efficiencies for the instructors such as assisting in course building (33%) and drafting assessment questions (31%). 
"We are still at the early stage of understanding all of the different ways AI will impact education," continued Dahlgren. "As a pioneer in applying advanced technology in education, including AI, the enthusiastic endorsement from students and university leadership in UAE is highly encouraging. It demonstrates a region where schools are ready to adopt AI to enrich student experiences and deliver much better outcomes."
Anthology recently announced a host of new features facilitated by artificial intelligence, including AI Design Assist, a tool that helps instructors quickly create engaging learning experiences in Anthology's Learning Management System, Blackboard Learn Ultra. All product features that leverage AI are developed following Anthology's Trustworthy AI program and commitment to responsible, lawful and ethical use of AI. 
Anthology will showcase these new AI features and other advancements in their portfolio of EdTech solutions at Anthology Together Middle East in Riyadh, 13-14 November. 
Download the full report, AI in Higher Ed: Hype, Harm, or Help, Spotlight on the Kingdom of Saudi Arabia and the United Arab Emirates. 
About Anthology
Anthology offers the largest EdTech ecosystem on a global scale for education, supporting more than 150 million users in 80 countries. With a mission to provide dynamic, data-informed experiences to the global education community through Anthology Intelligent Experiences™, we help learners, leaders and educators achieve their goals by offering over 60 SaaS products and services designed to advance learning. Discover more about how we are fulfilling our mission for education, business and government institutions at www.anthology.com.