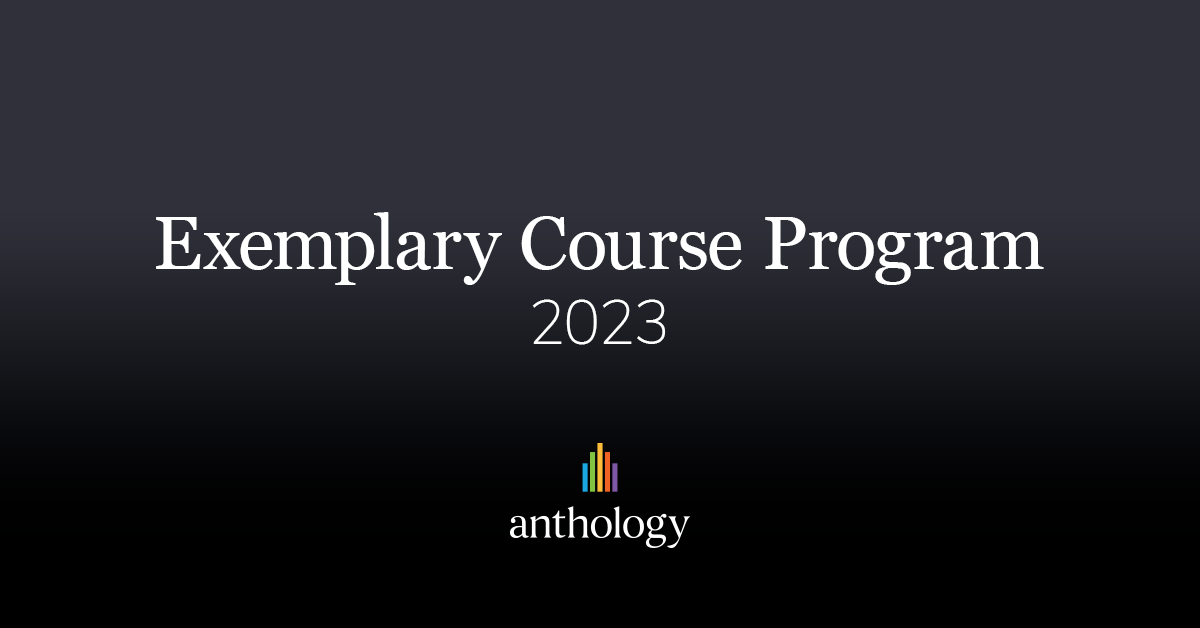 Anthology Announces First Cohort of 2023 Exemplary Course Award Winners
We are pleased to announce the first cohort of 2023 Exemplary Course Program (ECP) Award winners. The ECP Awards recognize faculty and course designers from schools, colleges, and universities around the world who develop engaging and innovative courses that represent the very best in technology and learning. ECP winners demonstrate excellence in course design, interaction and collaboration, assessment, and learner support. 
The Exemplary Course Program recognizes instructors and course designers whose courses demonstrate best practices in four major areas: Course Design, Interaction and Collaboration, Assessment, and Learner Support. The winners were selected by peers in the education community including course developers, instructional designers, teachers, and professors using the Exemplary Course Program Rubric.
The initial cohort of 2023 winners are listed below. The second cohort of winners will be announced ahead of Anthology Together, Anthology's annual conference occurring July 17-20. All those that are participating in the ECP are encouraged to attend. 
Submissions for the 2023 ECP Awards are being accepted through May 19.
To learn more about the Exemplary Course Program, visit https://learn.anthology.com/exemplary-course-program 
| Name | Institution | Course Title |
| --- | --- | --- |
| Justin Mathews | Southcentral Kentucky Community and Technical College | Writing II |
| Alison Consol and Julie Evans | Wake Technical Community College | User Experience Fundamentals |
| April Robbs | Ottawa University | Value Systems and Professional Ethics |
| Ariela Lange | Odessa College | Contemporary Mathematics (ECP.MATH.1332) |
| Ashley Knox | Beaufort County Community College | Precalculus Algebra |
| Cathy Willermet and Rachel Caspari | Central Michigan University | ANT 171 Human Origins: Introduction to Biological Anthropology |
| Cheryl Byrne | Washtenaw Community College | Creating the Customer Experience |
| Hannah Thornton | Maysville Community & Technical College | Human Nutrition and Wellness |
| Justin Mathews | Southcentral Kentucky Community and Technical College | Introduction to Literature |
| Lisa Henderson | Ashland Community and Technical College | Advanced Microsoft Applications - Lisa Henderson |
| Robert Farmer | University of Northampton | Critical Thinking - A Practical Introduction |
| Melanie Thomas | Wake Technical Community College | Principles of Financial Accounting |
| Stephanie Richter | Northern Illinois University | Program Evaluation in Education |
| Donna Miller | Jefferson Community and Technical College | ECP Review Course: COM 181 8-Week - Donna Miller |
| Misato Sekita | Northern Illinois University | Beginning Japanese II |
| Carol Chatten and Helen McNeill | Edge Hill University | Teaching and Learning in the Medical Workplace |
| Kate Jones | Wake Tech Community College | Public Speaking |
| Catherine Helmuth | Central Michigan University | Strategic Management: Integrative Experience with Strategy Simulation |
| Miky Wright | Elizabethtown Community and Technical College | Statistics |
| Mary Henson and Kelly Ward | Eastern Kentucky University | SWK 820 |
| Lorraine Sturgeon | Kentucky Community and Technical College System | Owensboro Community and Technical College | Professional Development and Protocol |
| Catherine Ogilvie | University of Aberdeen | CAD (2022-23): Designing and Tutoring Online Course |
| Natalie K. Young | Wake Technical Community College | ACC.180 Practices in Bookkeeping |
| Jason Rhode | Northern Illinois University | Distance Education: Design and Delivery |
| Claire Sparklin | Washtenaw Community College | Intercultural Communication |
| Cheryl Byrne | Washtenaw Community College | Introduction to Supply Chain Management |
| Shari Thompson | Hopkinsville Community College | Introduction to Misic MUS 100 - Shari Thompson |