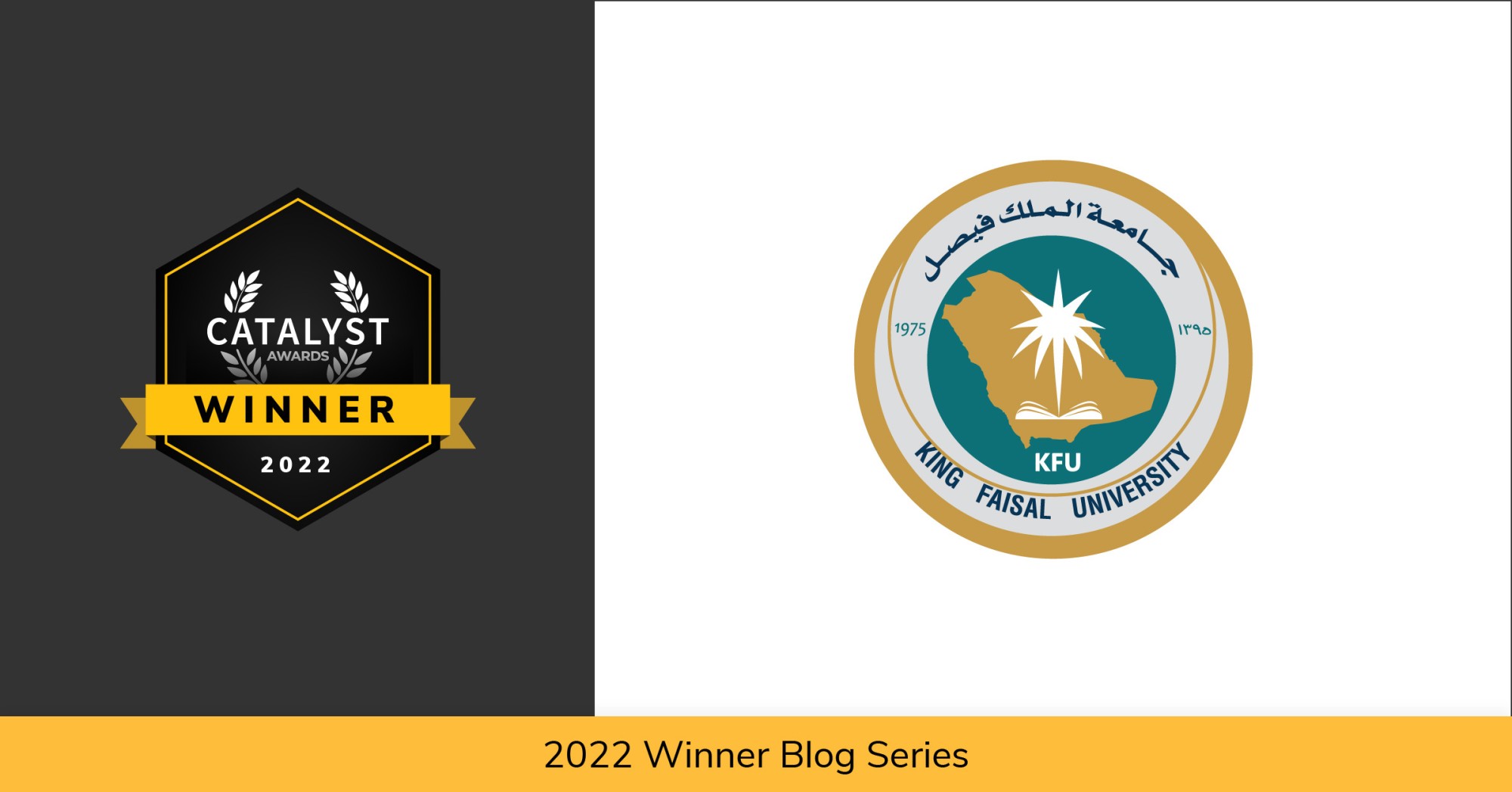 Catalyst Awards Blog Series: KFU teaching and learning journey: ensuring quality online education delivery using Blackboard® Learn
The Catalyst Awards program recognizes innovation and excellence in our global community of practice. In this blog series, a selection of 2022 award-winning institutions from across the globe share their success stories and best practices. 
This post was guest authored by Prof. Fawaz W. AlSaade, dean of e-Learning and Distance Education, Dr. Ali S. AlZahrani, vice dean of e-Learning and Distance Education, and Dr. Mosleh H. Al-Adhaileh, director of E-Learning for Operation at King Faisal University in Saudi Arabia.
King Faisal University is a 2022 Catalyst Award winner in the Teaching & Learning category. 
About KFU 
King Faisal University (KFU) was established in 1975 in Al-Ahsa in the Eastern Province of the Kingdom of Saudi Arabia (KSA). KFU is comprised of 15 colleges, 11 supporting deanships, and 26 centers and administrative and research units specializing in various scientific and applied fields. KFU has more than 40,000 students in its regular programs, about 20,000 students in its bachelor's distance education programs, roughly 3,500 postgraduate students, and about 2,200 faculty members. Since the advent of the Kingdom's Vision 2030, KFU has undergone a noteworthy transformation in its vision and goals, taking initiatives to redefine its identity to be in line with the Kingdom's Vision 2030 and contributing actively in its projects to achieve Vision 2030 goals and objectives. 
Introduction 
KFU provides its stakeholders (students and faculty members) with high-quality, state-of-the-art technologies (Anthology platforms) for delivering education, offering professional development, and providing skills and technical support for students and faculty members. KFU has 14 years of experience in using Blackboard® Learn to deliver distance education all over the Kingdom of Saudi Arabia (KSA). Different types of technologies providing synchronous and asynchronous interactions with resources and digital content are integrated together, using Blackboard Learn in a solid environment for learning and teaching. Well-designed courses, varying styles of digital content, and Blackboard Learn supportive tools enrich students' learning experiences and faculty members' teaching experiences. KFU supports its educational process by providing a continuing education model to meet global standards using the Anthology platform and the tools integrated with the Blackboard Learn LMS.  
KFU's delivery model consists of a variety of components that handle educational resource delivery, student services delivery, stakeholder development and empowerment, student reporting and tracking, assessment, decision making, and management and Quality Assurance (QA) reports.  
KFU delivery model 
In KFU's model, a solid technological infrastructure with state-of-the-art tools provides synchronous and asynchronous interactions with materials and instructors in an integrated, one-stop for students and instructors to access teaching and learning activities. A very important component in the proposed distance education delivery model is the course delivery method, which includes course design, digital content design, supportive guidelines, and assessments all joined together, forming a single educational hub for students. In this model, a full reporting system and a student tracking system are incorporated. All the necessary decision-making reports can be extracted from the system. Electronically delivered materials provide efficiency and take advantage of existing technology. High-quality recorded sessions, e-content, and interactive materials and virtual classes appeal to various learning styles and enhance teaching and learning flexibility. The availability of learning resources in different styles and modes of delivery allow students to access these materials wherever they are and via multiple delivery channels. In this model, the course delivery framework is flexible enough to ensure the delivery of teaching and learning materials and activities to a wide variety of students. Classes are recorded in high quality using professional capturing tools in well-equipped studios. Scheduled virtual classes can be conducted throughout the semester. Additionally, KFU's model includes QA measurements and clearly articulates learning outcomes that arise from its distance education delivery systems. We can also implement a component for assessment and QA. Brand systems and in-house developed tools are used for analyzing course objectives and teaching outcomes. All the data can be collected and analyzed for future development and reengineering of our model.  
Virtual and hologram experience through Blackboard Learn 
To enrich students' experiences with interactive virtual reality, we integrated Blackboard Learn with our virtual labs repository where we developed 196 virtual lab experiments, and each instructor can pull any experiment into his course menu and make it available to students. We also developed high-quality hologram videos and uploaded them to the needed courses on Blackboard Learn for the medical, nursing, science, and engineering fields. 
Evaluation and quality assessment of KFU's delivery model 
KFU has achieved the highest rank and quality level (97%) in proven commitment to The National eLearning Center (NELC) in KSA standards. NELC is the organization responsible for providing program licenses for e-learning and distance education delivery after an institution fulfills and approves licensing regulations and standards. This is a regular process that governs online learning practices and ensures the quality of e-learning and distance education in accordance with international best practices and standards. The evaluation process includes the e-learning standard related to leadership, technology and infrastructure, qualification and technical support, course design and delivery, interaction, availability and accessibility, assessment, and evaluation procedures. The process required accessing Blackboard Learn courses and checking Learn's course elements and digital content design to ensure innovative ways of delivering courses, policies, and educational elements to students. KFU regularly evaluates its educational processes and collects student feedback and satisfaction on the learning process. Also, KFU has ASIC accreditation in e-learning and distance education delivery practices for the period of 2019-2023. 
Successful journeys always need innovations in training and support for faculty and students 
For KFU faculty members and students to participate interactively and dynamically in teaching and learning environments with skill and confidence, KFU developed a Blackboard Learn simulator for training students and faculty members to facilitate engagement with confidence. This simulator allows users to practice self-training in an interactive Blackboard Learn environment. The simulator provides a whole new method of anytime, anywhere training, as opposed to a predictable series of training sessions and workshops. The Blackboard Learn simulator is an interactive, self-training system that surprises and engages trainers. This simulator will give faculty and students the confidence to practice and participate meaningfully in online learning experiences.

The Blackboard Learn simulator: 
Is available to all KFU users in both the Arabic and English languages  

Simulates 89 Blackboard skills  

Provides an interactive training environment 
Measures users' skills and weaknesses 

Helps the KFU development and training department dedicate training sessions to targeting weaknesses based on the college, department, and group of users 

The Blackboard Learn platform simulator provides self-training to:  
Create courses that impress learners with their interactivity and potent learning experiences 
Allow instructors to build reliable online learning experiences that students enjoy 

Build teacher–learner interaction and communication 

Provide students with the necessary skills to participate in course activities 

Based on an analysis of the simulation training process, deanship of e-learning at KFU has: 
Developed 196 electronic training materials 

Produced 80 training videos 

Created 80 training e-portfolios 

Conducted 94 training sessions 

Performed 191 special training workshops 
---
For more information on the program, visit Catalyst Awards. Learn more about our 2022 Catalyst Award winners and their stories.