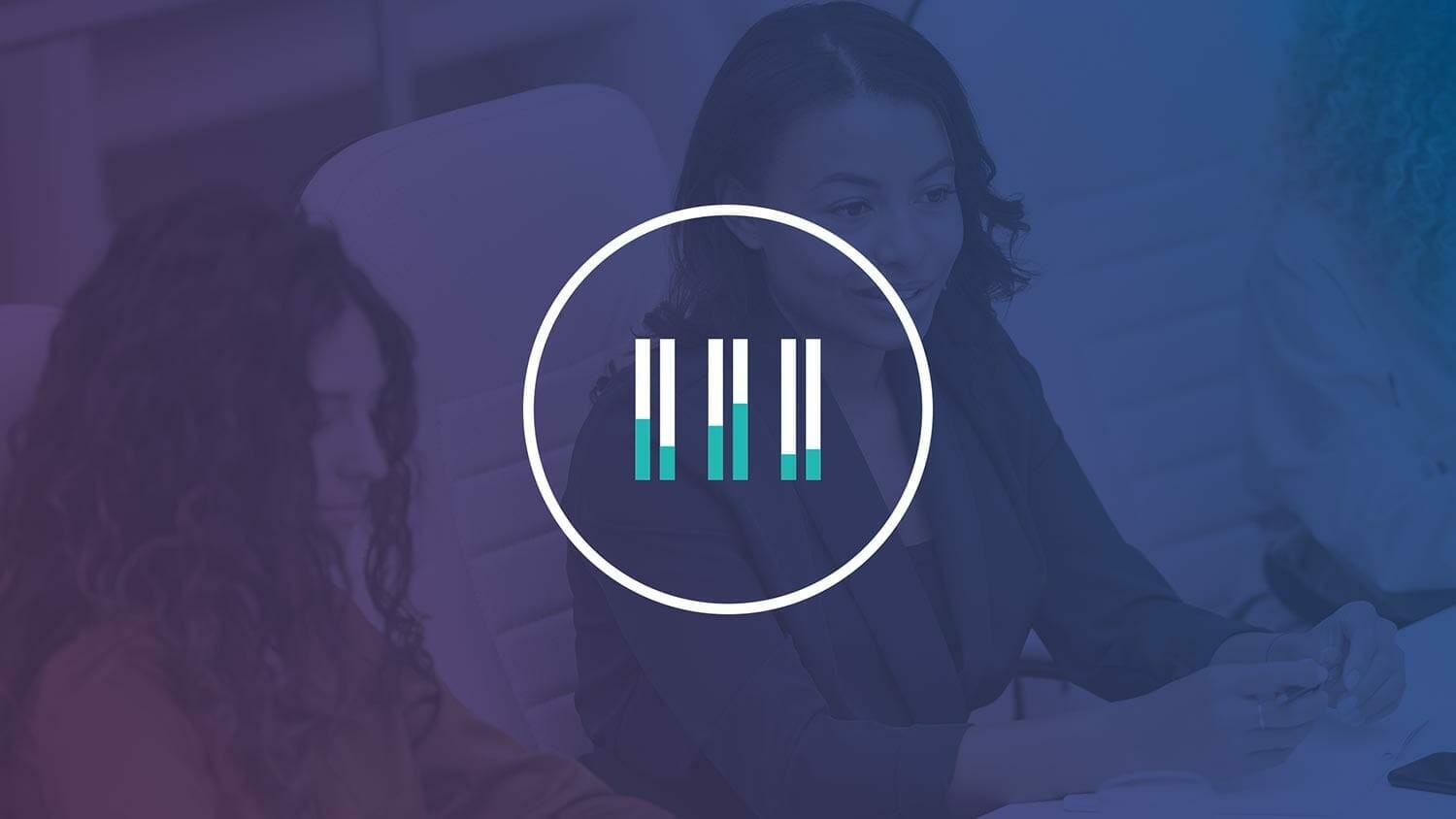 Follow the Data: How Campuses Use Assessment in Times of Change
This content was previously published by Campus Labs, now part of Anthology. Product and/or solution names may have changed.
Campuses have shared a great variety of ways the pandemic has impacted assessment. Some reported a heightened emphasis on data and an increase in activity—others said they cancelled assessments and lowered expectations. The broad spectrum of reactions led us to wonder what was really happening to the practice of assessment.
We sought to answer this question in a recent survey sent to Campus Labs members as well as attendees of the Higher Education Assessment Conference sponsored by New England College. Over a period of two weeks in early May 2020, 326 respondents shared their experiences in a short online survey. Most (86%) indicated they had responsibility for assessment oversight at some level and the respondents represented a blend of backgrounds including institutional effectiveness (32%), academic affairs (25%), student affairs (36%) and other administration (7%).
Our survey focused on three key areas:
The Importance of Assessment
One thing is clear: assessment is just as—if not more—important as ever for a strong majority of respondents. Clearly data can be a valuable tool, whether it be for understanding a new phenomenon or planning for an uncertain future. But how will campuses respond to the increased pressures for data-driven activity without a proportionate increase in resources to support it? And what can we learn from those saying the importance of assessment has decreased?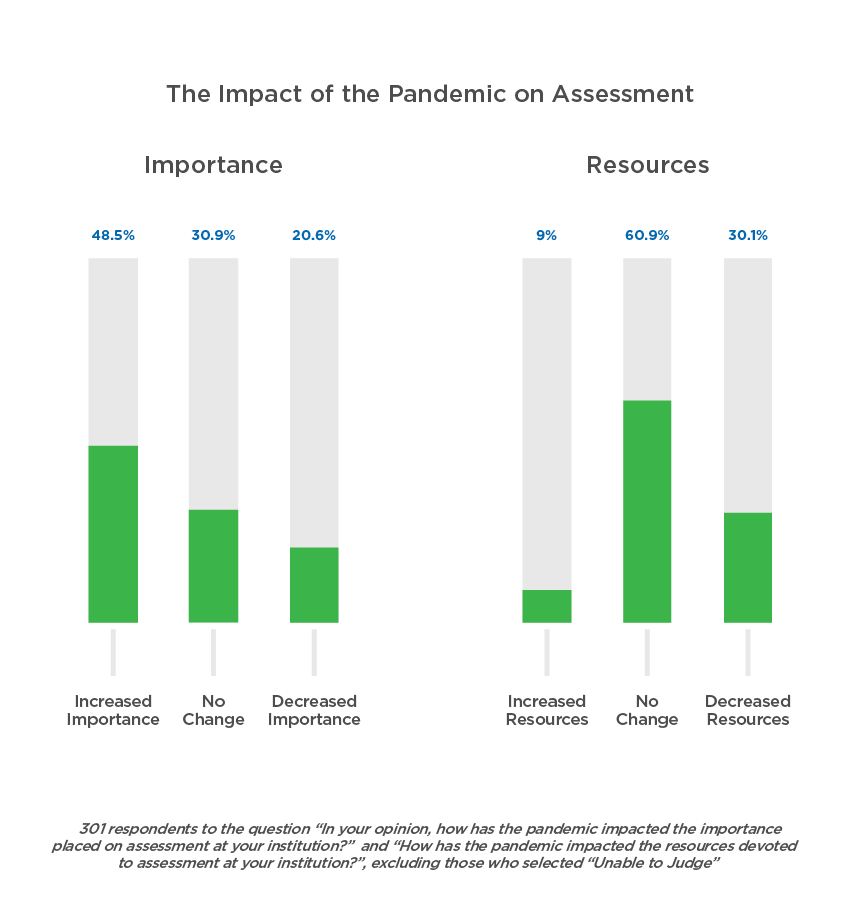 A closer look yielded an interesting conclusion: student affairs professionals reported a different experience—one in which assessment was more likely to increase in importance and yet was even less likely to come with more resources. This raises the question: Is student affairs effectively resourced to be data-driven? And how will that affect direct student services that impact the mental health, safety and retention of college students?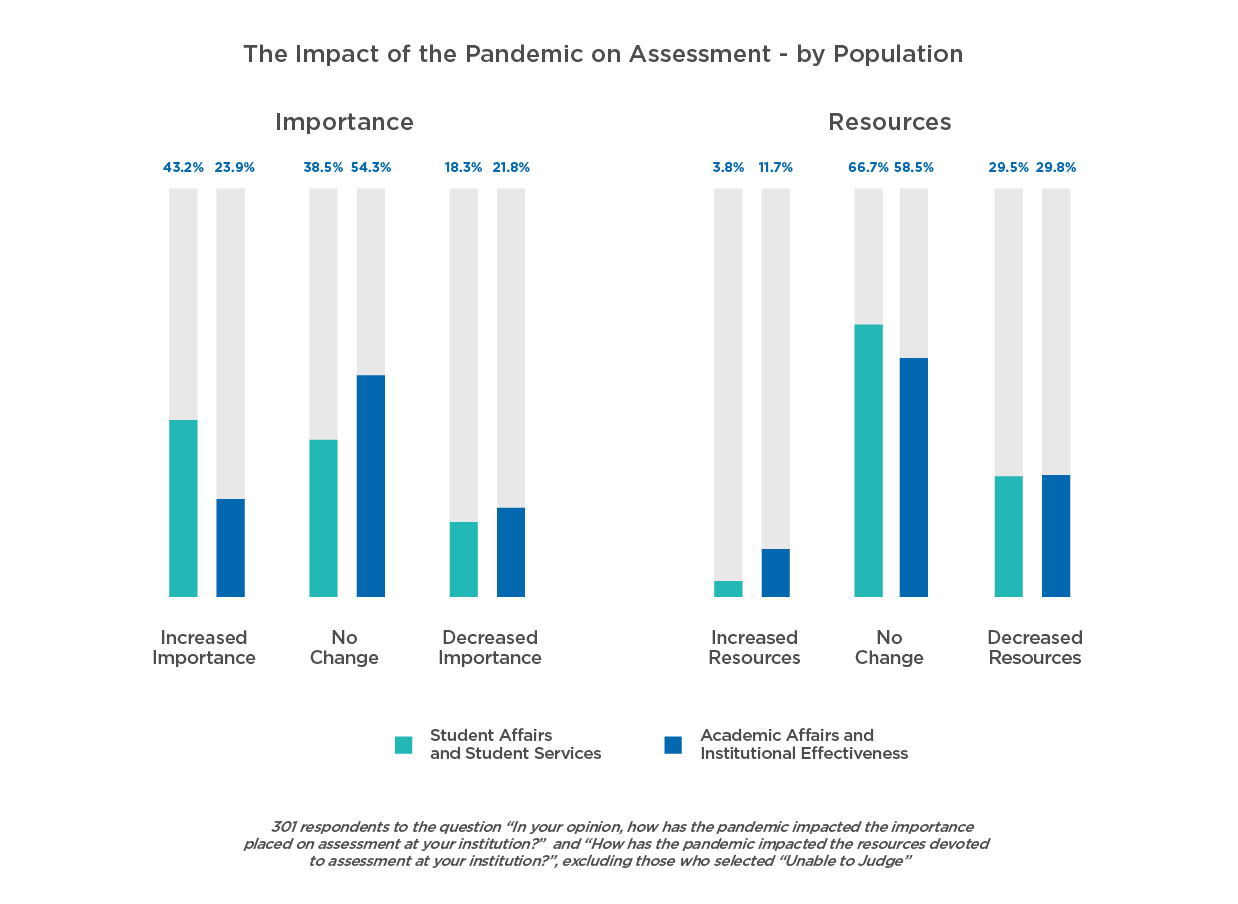 Changes to Assessment Activities
Almost all respondents (96%) reported making some type of adjustments to their assessment activities in response to the pandemic—most commonly, they reported some combination of 4 different adjustments from the list below, which addressed every phase of the assessment cycle.
The most common action was to conduct new assessments to better understand student and employee needs (like these). The second most common action was to increase the use of existing assessment technology, which makes sense given the insights above regarding a relatively small amount of increasing resources for assessment.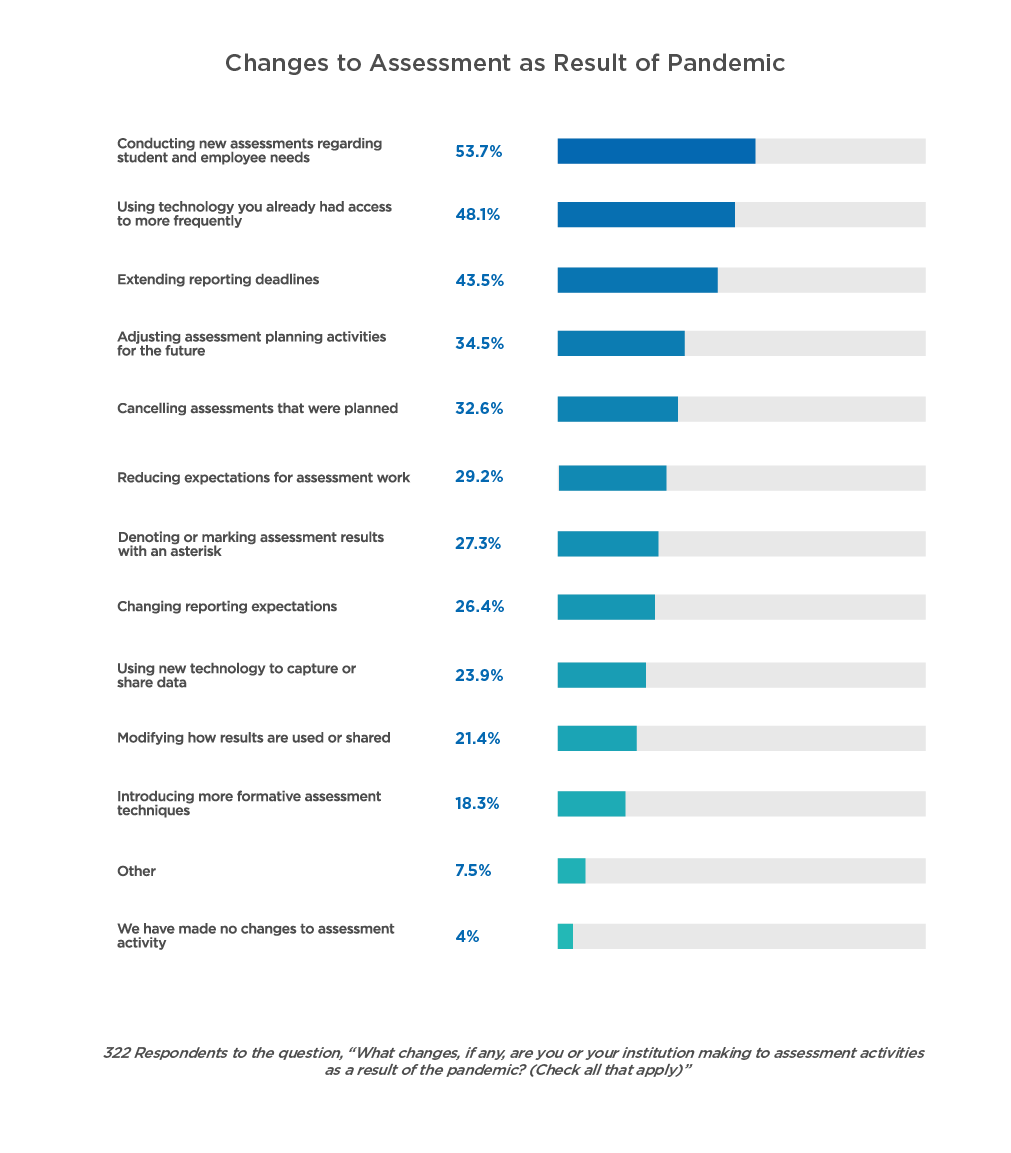 Looking to the Future
At the time the survey was conducted, only 36% of respondents' institutions had determined their plans for the fall semester. While many are still living in a time of uncertainty, some (12%) have fully shifted their assessment to focus on planning for the future.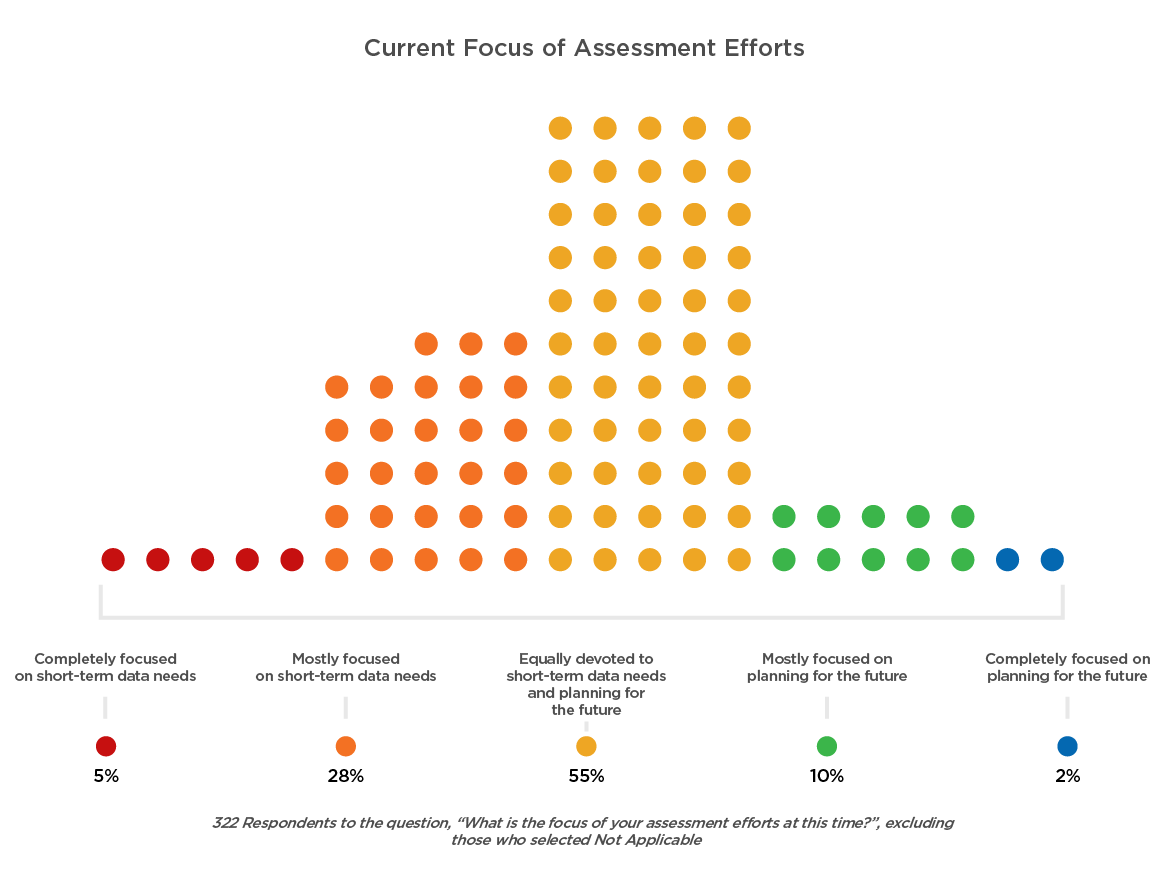 As we look ahead to the future, there may be an even greater opportunity for data to play a leading role. Institutions best prepared for change in the next few months will be the ones that set themselves up well now, by collecting the right kind of data and investing in their assessment capacity.
Time to Take Action
So what could this all mean? Here are some resources to consider as you use data to drive your institution forward:
Include assessment data in scenario planning for fall 2020. For more guidance on future planning, check out our series on change management. The first post, Managing Change in Times of Uncertainty, sets the foundation for change management.
Check in with student affairs professionals about the resources they need to be data-driven. To better understand their needs, listen to this recent panel of student affairs assessment professionals.
Make the most of the technology that you have, because you need to maximize your resources and data utilization.
Don't wait to invest in data capacity resources—your employees need them now and your institution's future likely depends on it.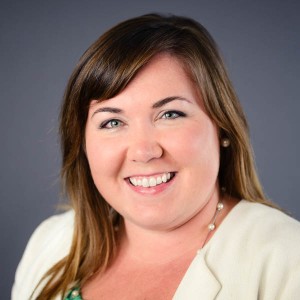 Annemieke Rice
Vice President of Campus Strategy
Anthology
A self-professed data geek, Annemieke has spent her time at Anthology (formerly Campus Labs) helping guide and educate member campuses in their journey to use data more effectively. In doing so, she has consulted with hundreds of higher education institutions seeking to accelerate practice in areas including student success, learning assessment and institutional effectiveness. She arrived at Campus Labs via early member campus Northeastern University, where her responsibilities provided her with first-hand experience in strategic planning, retention initiatives, strategic enrollment management, educational technology strategy and accreditation.
She earned a bachelor of arts in behavioral neuroscience and journalism from Lehigh University and a master of science in applied educational psychology from Northeastern University. A prolific and engaging speaker, she has presented at more than 100 national and regional forums.