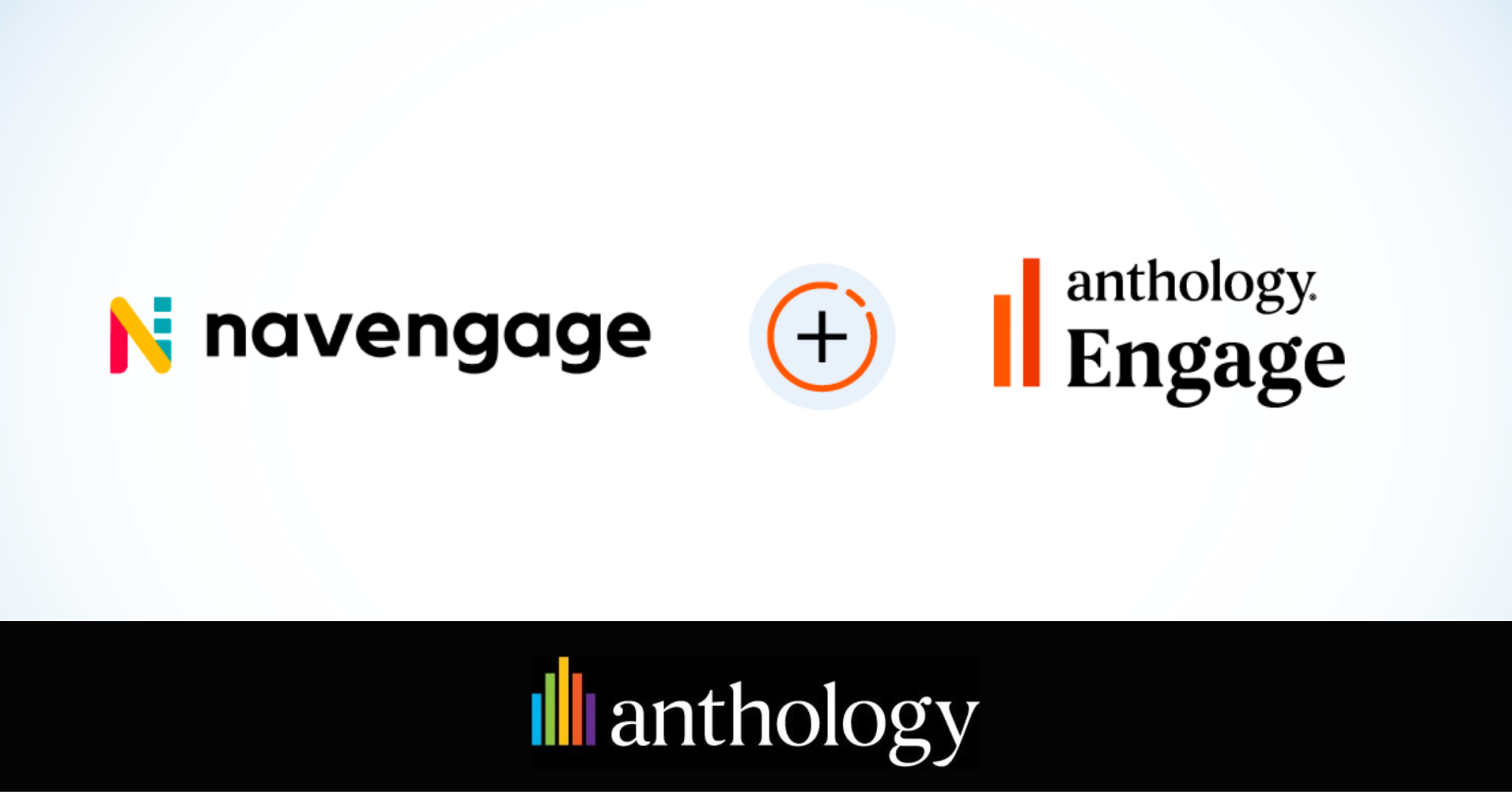 Anthology and Navengage Partner to Bring Mobile Experience to Anthology Engage
Student affairs professionals, students, and teachers are invited to participate in Early Adopter Program
BOCA RATON, FL, March 28, 2023 - Anthology, a leading provider of education solutions that support the entire learner lifecycle, and Navengage, an education technology pioneer in student engagement mobile technology, today announced a new partnership that will bring Anthology Engage, a dynamic student community engagement platform, together with Navengage's versatile student engagement mobile app. 
The integrated solution will enable students to tap Anthology's time-tested student engagement platform from any device, innovating upon an already market-leading solution with even more flexibility. The application amplifies the impact of student affairs, gathers quality data institutions need to demonstrate the impact of student engagement on student success, and empowers staff to spend their time where it is most valuable – with students. 
"We're excited to work with Navengage to deploy Anthology Engage's best-in-class engagement management platform in an effective, mobile-first experience that students expect," said Chris Husser, Vice President of Product Management at Anthology. "This is another significant step along our journey to deliver personalized experiences that drive student and institutional success across the student lifecycle."
"Through this partnership, we look forward to providing higher ed institutions with the best of both worlds – a combination of Anthology's expertise in compliance, reporting, and student services with Navengage's mobile accessibility and cutting-edge user experience," said Andrew Strause, Co-Founder and CEO of Navengage. "Together, our platforms can transform the student experience and further our commitment to helping students succeed outside of the classroom, especially those at risk of dropping out."
Through the native integration, campus leaders can meet students where they are – on their mobile devices. Key features of the integrated solution include:
Easy-to-use tools to efficiently and effectively encourage student engagement through mobile access to events, organizations, academics, career preparation, student research, and studying abroad

A complete picture of students' co-curricular involvement with more comprehensive student activity analytics to make data-informed decisions 

A personalized, accessible user experience with a modern user interface and campus branding

The ability to integrate student goal setting with expanded access to opportunities and communities that are important to each student

A centralized location for student and academic affairs to unite around their common goal - the success of the student
"Educators have long sought to work across institutional silos and deliver a more holistic student experience," continued Strause. "Students similarly crave a personal and well-rounded experience. The Anthology and Navengage partnership will bring those experiences to fruition by providing institutions with robust engagement data across campus while also serving as the epicenter for students' engagement."
Student affairs professionals, students, and teachers are invited to participate in an Early Adopters program. Learn more and register at https://www.navengage.com/anthology-partnership.
About Anthology
Anthology offers the largest EdTech ecosystem on a global scale for education, supporting more than 150 million users in 80 countries. With a mission to provide dynamic, data-informed experiences to the global education community through Anthology Intelligent Experiences™, we help learners, leaders and educators achieve their goals by offering over 60 SaaS products and services designed to advance learning. Discover more about how we are fulfilling our mission for education, business and government institutions at www.anthology.com 
About Navengage
Navengage Inc. delivers mobile-first student engagement software that helps higher ed institutions increase student engagement and boost retention. We aim to advance student engagement technology so that colleges and universities have comprehensive, accurate, and readily available data for decision making. We are committed to engaging today's students with tomorrow's cutting-edge education technology and envision a world where every student has the opportunity to safely and successfully pursue their education. Learn more by visiting www.navengage.com