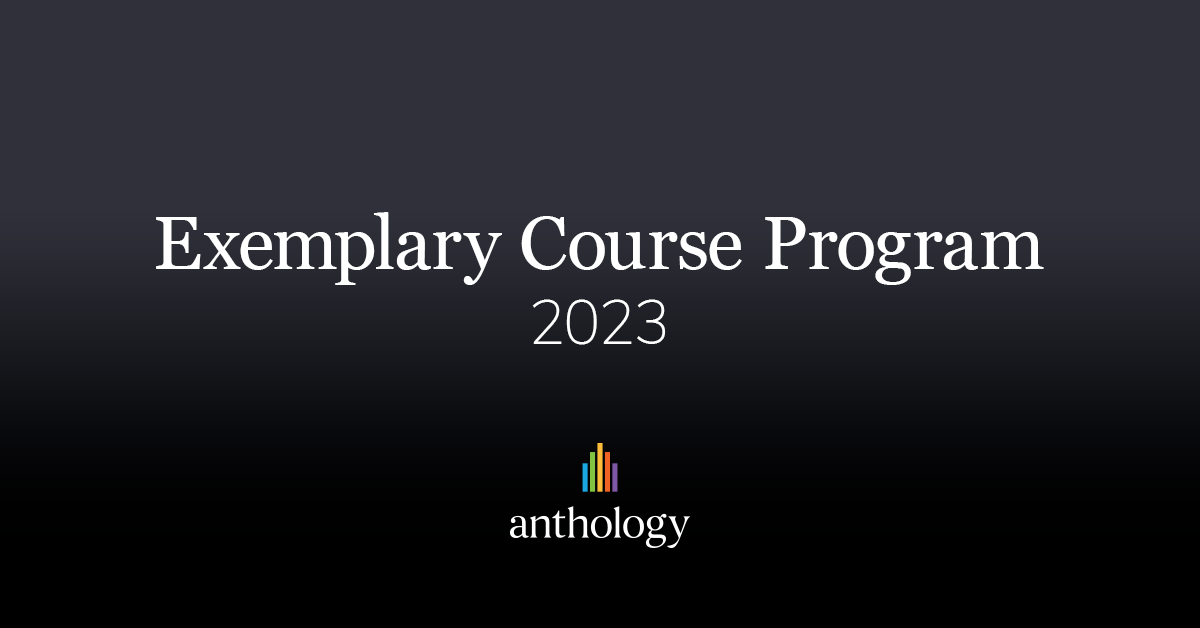 Anthology Announces First Cohort of 2023 Exemplary Course Award Winners
We are pleased to announce the first cohort of 2023 Exemplary Course Program (ECP) Award winners. The ECP Awards recognize faculty and course designers from schools, colleges, and universities around the world who develop engaging and innovative courses that represent the very best in technology and learning. ECP winners demonstrate excellence in course design, interaction and collaboration, assessment, and learner support. 
The Exemplary Course Program recognizes instructors and course designers whose courses demonstrate best practices in four major areas: Course Design, Interaction and Collaboration, Assessment, and Learner Support. The winners were selected by peers in the education community including course developers, instructional designers, teachers, and professors using the Exemplary Course Program Rubric.
The initial cohort of 2023 winners are listed below. The second cohort of winners will be announced ahead of Anthology Together, Anthology's annual conference occurring July 17-20. All those that are participating in the ECP are encouraged to attend. 
Submissions for the 2023 ECP Awards are being accepted through May 19.
To learn more about the Exemplary Course Program, visit https://learn.anthology.com/exemplary-course-program 
Name
Institution
Course Title
Kinsey Hansen
Angelo State University
Community Relationships
Tamra Kelly, Ph.D., LPC Associate
Kristen Lyons, Ph.D., LSSP
Angelo State University
Group Counseling
Tamra Kelly, Ph.D., LPC Associate
Kristen Lyons, Ph.D., LSSP
Angelo State University
Intro to Crisis, Trauma, and Mental Health Concerns
Dr. Lisa M Henderson
Ashland Community and Technical College
OST 240 Advanced Microsoft Applications
Cameron Bentley
Augusta Technical College
Composition and Rhetoric
Ashley N Knox
Beaufort County Community College
MAT 171 (Precalculus Algebra)
Judy K. Howell
Big Sandy Community and Technical College
American Government
Dr. April M. Burke
Central Michigan University
TEL 301: Teaching Multilingual Learners: PK-6
Catherine A. Helmuth
Central Michigan University
Strategic Management: Integrative Experience
Cathy Willermet, Rachel Caspari, and Ming Dai
Central Michigan University
Human Origins: Introduction to Biological Anthropology
Kelly Ward, Mary Henson
Eastern Kentucky University
SWK 820 Practice I Master in Social Work course
Carol Chatten & Helen McNeill
Edge Hill University
CPD4706 - Teaching and Learning in the Medical Workplace
Miky Wright
Elizabethtown Community and Technical College
STA220-Statistics
Shari Thompson
Hopkinsville Community College
Introduction to Music
Dr. Leigh Anne Clay
Indian River State College
CCJ1600 Deviant Behavior
Donna Miller
Jefferson Community and Technical College
Basic Public Speaking (COM 181)
Mary B. Jackson
Jefferson Community and Technical College
Introduction to Interpersonal Communication
Hannah Thornton
Maysville Community & Technical College
Human Nutrition & Wellness
Mary Beth Scumaci
Trocaire College / Medaille University
EPC FAC 101 Ultra Bb Online Training
Samantha Marchant and Sheri Hardin
North Georgia Technical College
Blackboard: Training, Organizing, Creating
Jason Rhode
Northern Illinois University
ETT 535: Distance Education - Design and Delivery
Misato Sekita
Northern Illinois University
Beginning Japanese II (FLJA 102)
Stephanie Richter
Northern Illinois University
ETR 531 - Program Evaluation in Education
Michaela Hudson
Northwood Technical College
Architectural Materials and Methods 2
Ariela Lange
Odessa College
Contemporary Mathematics (MATH 1332)
Dr. Kristen Moore, April Robbs
Ottawa University
BUS-7200 Value Systems and Professional Ethics
April Robbs, Dr. Stephen Weiss
Ottawa University
Management Accounting
Lorraine Sturgeon
Owensboro Community & Technical College
BAS 260: Professional Development and Protocol
HIST 151 Development Team
Schoolcraft College
HIST 151: Early America History
Dr. Justin Mathews
Southcentral Kentucky Community and Technical College
ENG 102: Writing II
Dr. Justin Mathews
Southcentral Kentucky Community and Technical College
ENG 161: Introduction to Literature
Balint Koller
Southern Institute of Technology
Marine and Freshwater Ecology
Lisa Thompson Sousa, PhD
Sul Ross State University
Advanced Survey of Exceptional Children
Dr. Mingli Xiao
The University of Toledo
CHIN1090: Chinese Culture
eLearning, Centre for Academic Development
University of Aberdeen
Designing and Tutoring Online Course
Kirsten Schwarz and Ron Rodriguez-DCIE
University of Miami
American Sign Language I
Robert Farmer
University of Northampton
Critical Thinking - A Practical Introduction
Heather Leslie, Alina Mitchell
University of San Diego
EDUC-519: Instructional Design for Teacher Leaders
Alison Consol
Wake Technical Community College
WEB 213 Internet Marketing and Analytics
Alison Consol and Julie Evans
Wake Technical Community College
User Experience Fundamentals
Melanie Thomas
Wake Technical Community College
ACC-120 Principles of Financial Accounting
Natalie K. Young
Wake Technical Community College
ACC.180 Practices in Bookkeeping
Kate C. Jones
Wake Technical Community College
Public Speaking
Kate C. Jones
Wake Technical Community College
Interpersonal Communication
Business and Computer Technologies Division Business Department
Washtenaw Community College
BMG 205 Creating the Customer Experience
Business and Computer Technologies Division Business Department
Washtenaw Community College
Introduction to Supply Chain Management
Claire Sparklin and Michelle Westerdale
Washtenaw Community College
Intercultural Communication
Kiela Samuels and Sandra McCarthy
Washtenaw Community College
HSC 257 / NUR 257 Evidence-Based Practice in Action
Vanessa Lyons, Ph.D, RN, CNOR(e), CMSRN, CNE
West Kentucky Community and Technical College
Transition to ADN, RN Refresher.