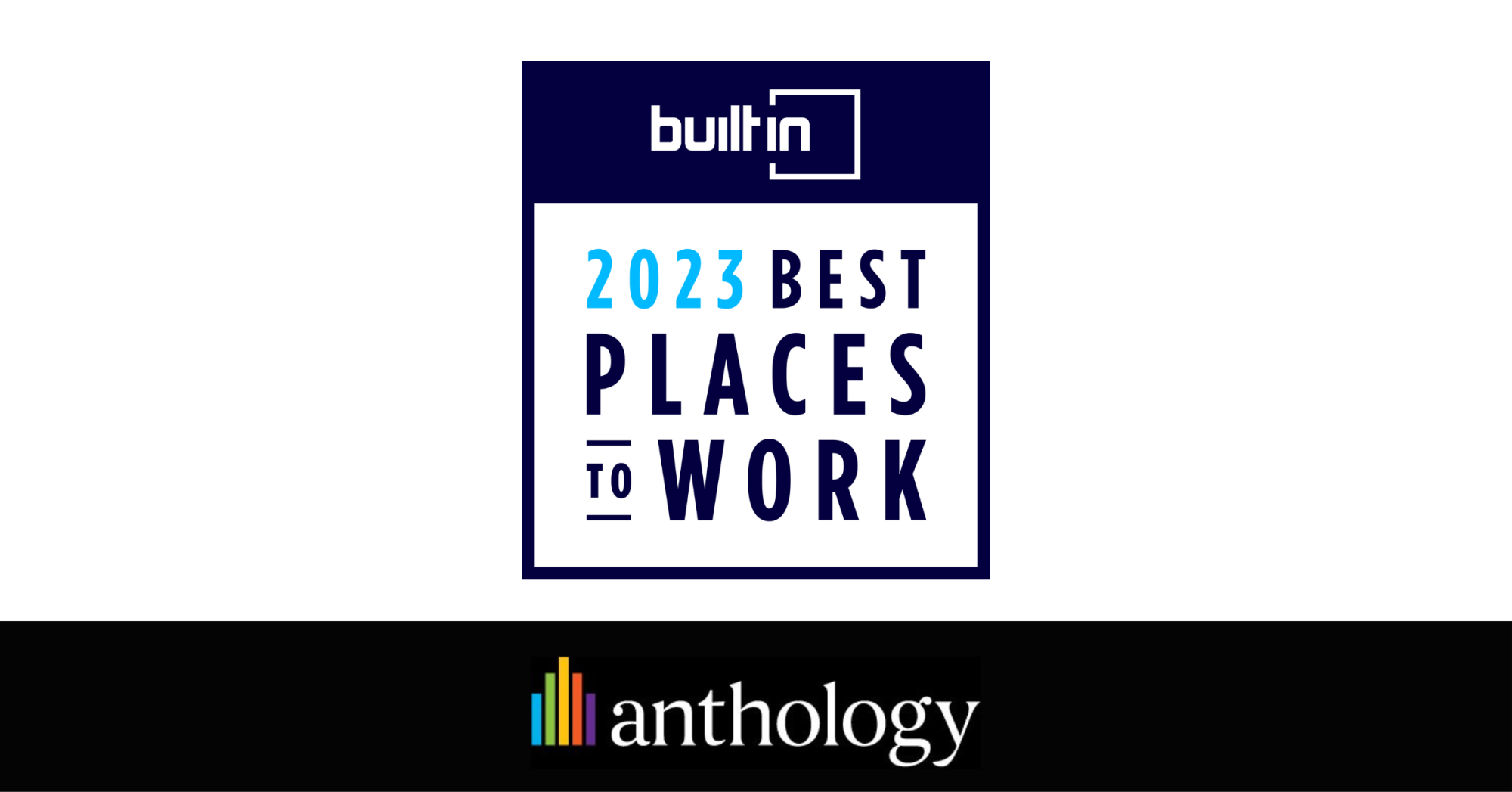 Anthology Recognized as a 2023 Built In Best Places to Work
Named to Built In Miami's Best Large Places to Work and Overall Best Places to Work Lists
Boca Raton, Fla., Jan. 19, 2023 — Anthology, a leading provider of education solutions that support the entire learner lifecycle, today announced it has been named to Built In Miami's 2023 lists for Best Large Places to Work and Overall Best Places to Work. The annual awards program includes companies of all sizes, from startups to those in the enterprise, and honors both remote-first employers as well as companies in large tech markets across the U.S. 
"At Anthology, we're building an employee-first culture that fosters collaboration, engagement and the growth of our team members," said Jim Milton, Chairman and CEO of Anthology. "This recognition reflects our team's deep commitment to enabling learners and instructors around the world achieve their goals."
With over 3,600 employees around the globe, Anthology's workplace culture celebrates the unique goals and passions of its entire community and the diverse backgrounds, abilities and perspectives they bring to the company. In order to provide the education community with the most comprehensive and modern global EdTech ecosystem, Anthology is committed to fostering a collaborative work environment where each individual feels valued, supported, included and empowered to succeed. Blackboard, now combined with Anthology, was previously recognized in 2022 as one of the best midsize companies to work for on Forbes' Best Employers list.
Built In determines the winners of Best Places to Work based on an algorithm, using company data about compensation and benefits. To reflect the benefits candidates are searching for more frequently on Built In, the program also weighs criteria like remote and flexible work opportunities, programs for DEI and other people-first cultural offerings. 
"It's my honor to congratulate this year's Best Places to Work winners," says Sheridan Orr, Chief Marketing Officer, Built In. "These exemplary companies understand their people are their most valuable asset, and they've stepped up to meet the modern professional's new expectations, including the desire to work for companies that deliver purpose, growth, and inclusion. These winners set the stage for a human-centered future of work, and we can't wait to see that future unfold." 
About Built In's Best Places to Work
Built In's esteemed Best Places to Work Awards, now in its fifth year, honor companies across numerous categories: 100 Best Places to Work, 50 Best Startup Places to Work, 100 Best Midsize Places to Work, 100 Best Large Places to Work and Editor's Choice: 100 Best Hybrid Places to Work. The program honors companies – remote, hybrid and in-office – with the best total rewards packages across the U.S. and in the following tech hubs: Atlanta, Austin, Boston, Chicago, Colorado, Dallas, Houston, Los Angeles, Miami, New York, San Diego, San Francisco, Seattle and Washington DC. 
About Anthology 
Anthology offers the largest EdTech ecosystem on a global scale for education, supporting more than 150 million users in 80 countries. With a mission to provide dynamic, data-informed experiences to the global education community through Anthology Intelligent Experiences™, we help learners, leaders and educators achieve their goals by offering over 60 SaaS products and services designed to advance learning. Discover more about how we are fulfilling our mission for education, business and government institutions at www.anthology.com.