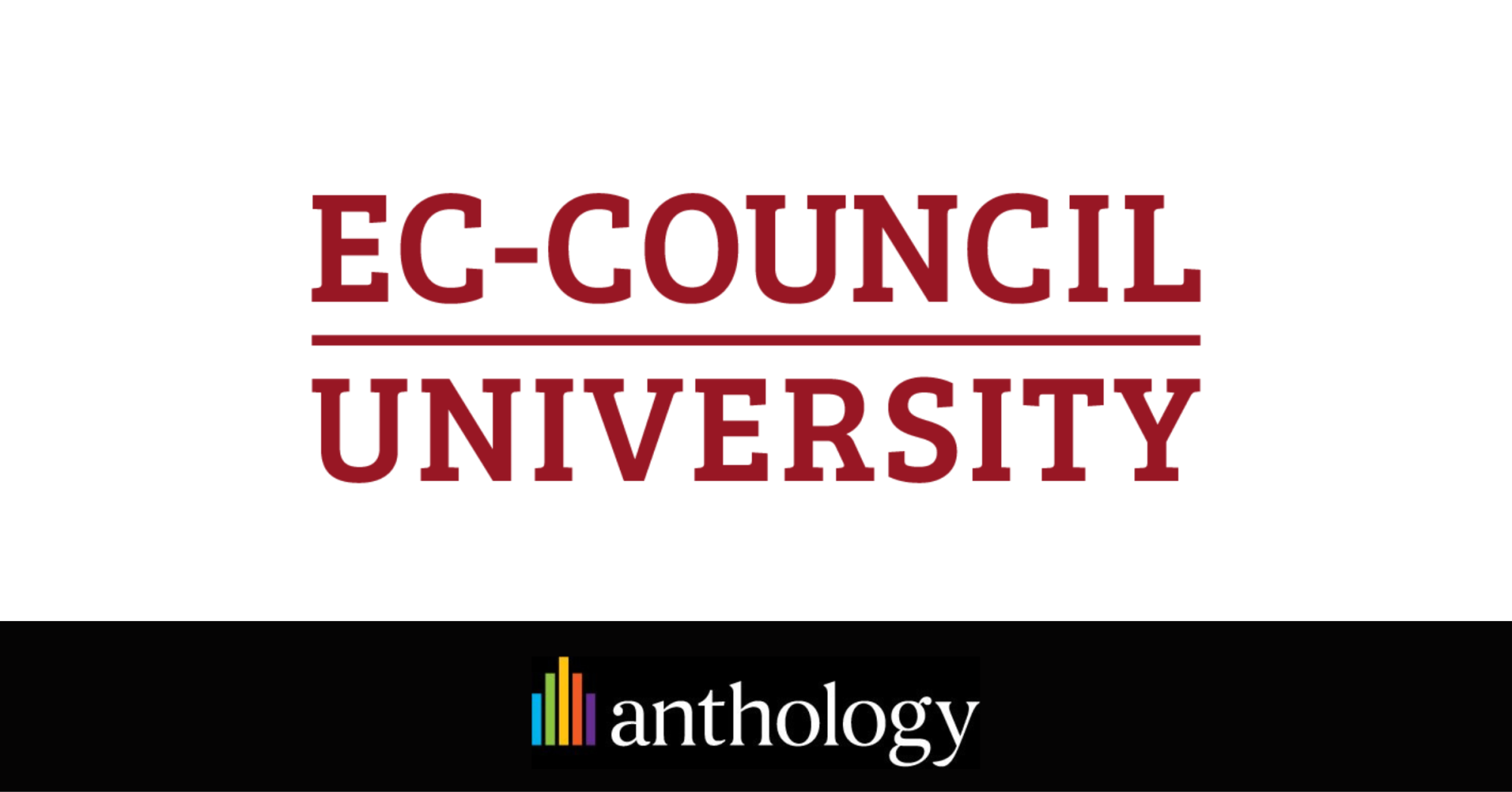 EC-Council University Adopts Anthology's Blackboard Learn to Support Dynamic Learning Experiences
Boca Raton, Fla., Feb. 27, 2023 — Anthology, a leading provider of education solutions that support the entire learner lifecycle, today announced that EC-Council University (ECCU), an institution that specializes in advanced cybersecurity technology education, has selected Blackboard Learn. The decision to move to Anthology's flagship learning management system (LMS) will enable ECCU to provide intuitive, learner-centric workflows to its learners.
"We required a learning management system that provides the flexibility needed to adapt to a rapidly evolving industry and the connectedness to foster collaboration and teamwork among our online students," said Dr. Venus Fisher, Chief Academic Officer at ECCU. "With Blackboard Learn, we're empowered with the tools and the support we need to push the boundaries on how we deliver coursework and provide a world-class learning experience."
With a modern, fully responsive interface, Blackboard Learn delivers inclusive, consistent educational experiences for learners while enabling pedagogical best practices for faculty. A leading mobile experience means the classroom can go where students are and with more than 200 tech partners, Blackboard Learn's seamless integrations create a holistic, engaging learning environment. With Blackboard Learn, ECCU students, faculty and staff can tap leading insights, providing a data-informed approach to education where course content and delivery can be optimized to help every learner achieve their goals. 
"Cybersecurity professionals are a critical asset for companies across every industry, protecting businesses from new and evolving threats," said Jim Milton, Chairman and CEO of Anthology. "Our team is proud to support such a vital industry and we look forward to helping EC-Council deliver unparalleled experiences through Anthology solutions."
EC-Council University selected Blackboard Learn to replace their current learning management system, Instructure Canvas, after a thorough competitive review.
About EC-Council University
EC-Council University is a fully accredited, leading institution that educates its graduates in advanced cyber-security technologies and skill sets. ECCU is the educational branch of its Albuquerque-based parent firm, International Council of Electronic Commerce Consultants, the biggest certification body for Information Security Professionals in the world, having certified over 237,000 professionals in 145 countries. EC Council was founded in 2001 as a response to the terrorist assaults of September 11th in order to train and certify experts to guard against future attacks on electronic commerce; it currently serves as the certification council for the Pentagon and U.S. Department of Defense.
About Anthology 
Anthology offers the largest EdTech ecosystem on a global scale for education, supporting more than 150 million users in 80 countries. With a mission to provide dynamic, data-informed experiences to the global education community through Anthology Intelligent Experiences™, we help learners, leaders and educators achieve their goals by offering over 60 SaaS products and services designed to advance learning. Discover more about how we are fulfilling our mission for education, business and government institutions at www.anthology.com.