Try Blackboard Learn
Enjoy a 30-day free trial
No commitment. No credit card.
Discover for yourself why there's more to Learn
Blackboard® Learn by Anthology is a modern, intuitive Learning Management System (LMS) that leverages pedagogical best practices to create flexible and inclusive online learning experiences. When complemented with Anthology® Ally — also included free in this trial—it empowers learner choice and boosts content engagement by improving usability, readability and quality of the digital materials in the LMS.
The LMS has evolved — let us show you how. Even if your institution is not a Blackboard Learn client, try it for 30 days. Discover why Blackboard Learn is trusted around the world by millions of instructors and learners in over 70 countries.
Sign up for a free trial today.
Sign up for Blackboard Learn today, and
get a FREE trial of these core capabilities:
Richer Course Content
& Activity Design
Group Collaboration
& Management
Communication
& Engagement
Deep & Seamless
Integrations
Actionable Insights
& Reporting
Alternative Format
Generation
More Inclusive
Blackboard Learn can be tailored to the user's preferences, supporting instructors with different pedagogical approaches and learners with a mobile-first, accessible design that fosters self-expression.
More Engaging
Blackboard Learn enables shared learning experiences both between learners and with their instructors, facilitated by best-in-class communication tools. Keep your institution connected with insight and tools for administrators and through easy integration with other software.
More Insightful
Blackboard Learn provides in-line insights that help instructors teach more efficiently and take action at scale as well as keep learners on track. Our LMS also helps leaders gain perspective about how instruction is happening to drive continuous improvement.
Award Winning
Gold 2022 Stevie® Winner
International Business Awards
Postsecondary Learning
Management Solution Category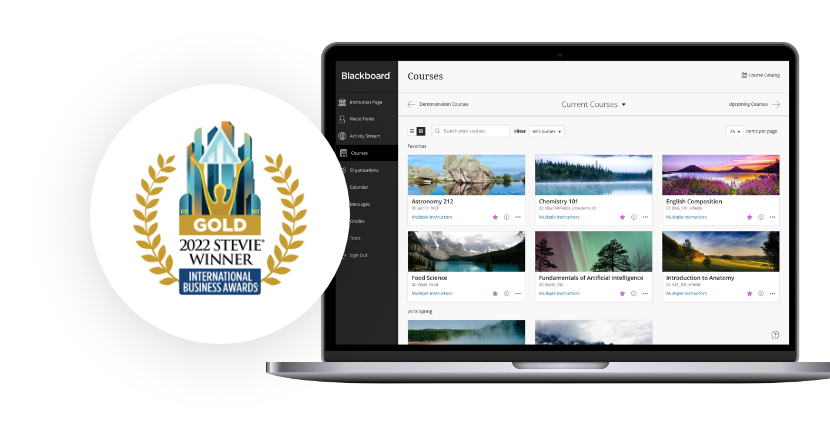 Ready to try Blackboard Learn?