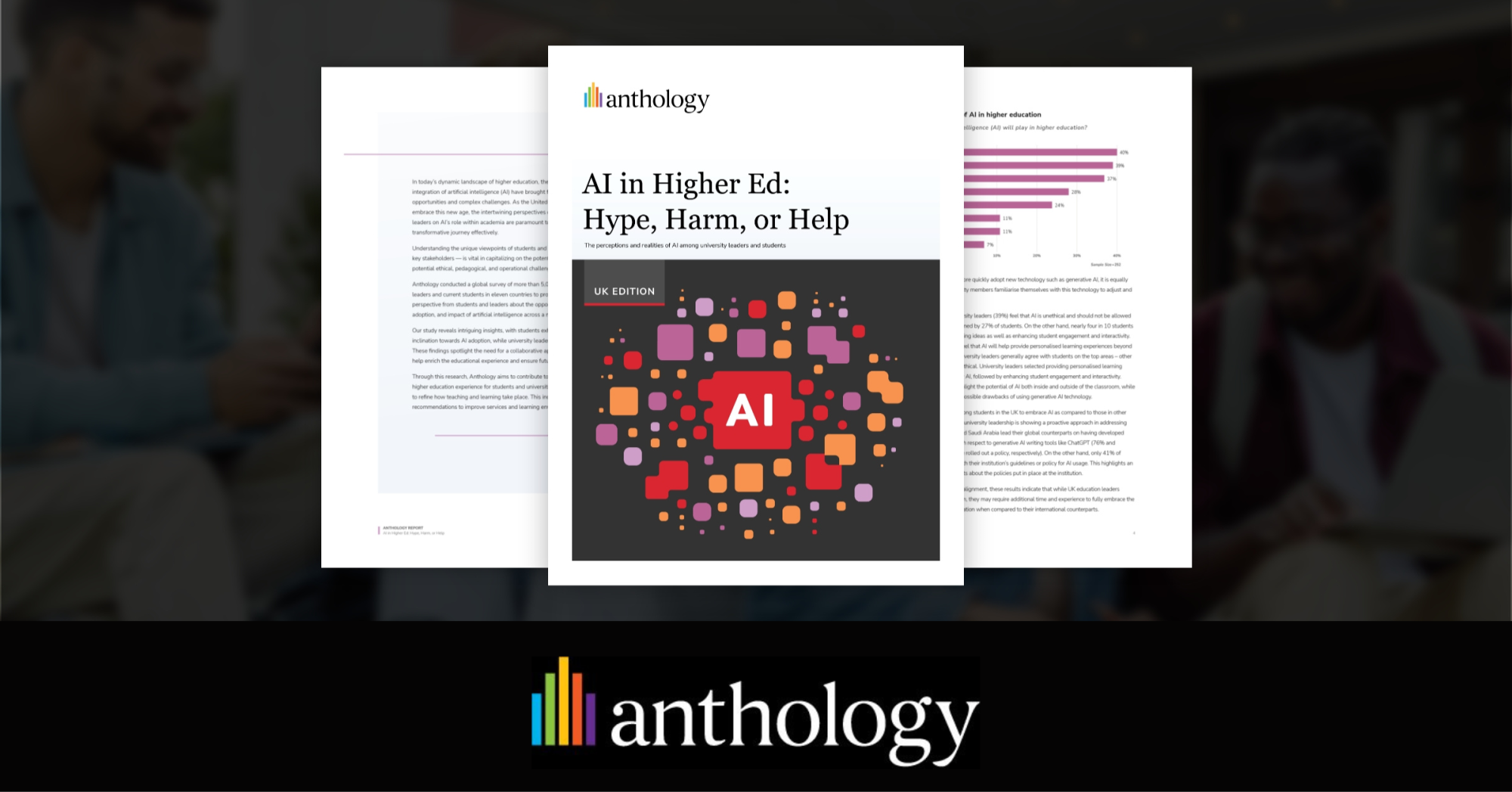 New Survey from Anthology Reveals the Perceptions and Realities of AI in UK Higher Education
Students and university leaders in the United Kingdom approach AI with concerns and cautious optimism
London – 24 October, 2023: Anthology, a leading provider of education solutions that support the entire learner lifecycle, today announced the results of its 2023 research study and resulting report AI in Higher Ed: Hype, Harm, or Help. The survey results reveal the perceptions and realities of generative AI use among university leaders and students in the United Kingdom, and how they differ from those in other parts of the world. The findings are a subset of a study of more than 5,000 current students and university leaders from eleven countries.
Concerns and cautious optimism from university leaders in the UK
At 37%, university leaders in the UK were the most concerned about AI creating new challenges to identifying plagiarism in assessment – the highest of all countries surveyed. In fact, 39% felt that AI is unethical and should not be allowed in higher education due to concerns about plagiarism.
Despite those concerns, leaders also identified areas where AI could benefit higher education and university operations. Forty percent feel that it will help provide more personalised learning experiences for students, therefore helping to enhance the student experience. Thirty-one percent of participants believe that AI will assist with brainstorming and expanding thinking, thus fostering creativity and innovation among students and faculty.
Other benefits of AI identified were assisting in course building (23%), and 22% see it contributing to the drafting of assessment questions aligned with learning outcomes. In terms of university operations, 18% see AI-guided assistance as a way to query student data for retention and student success campaigns, and 14% anticipate its use for developing enrolment and admission campaigns.
AI use in UK universities on path to grow among students
Students in the UK are the least likely to use AI tools as compared to their peers in the other countries surveyed, with 27% being frequent or occasional users. However, that number is likely to grow as 56% believe their use of AI tools will increase in the next six months.
University leaders in the United Kingdom and the United States are also slower to embrace AI, at 23% and 26% respectively reporting at least occasional use compared to their counter parts in United Arab Emirates (54%) and Singapore (49%).
However, universities in the UK are among the most advanced in putting in place policies related to AI with 76% having developed and rolled out a policy with respect to generative AI writing tools like ChatGPT (second only to universities in Saudi Arabia – 77%).
"Understanding the dynamic landscape of AI in higher education is paramount," said Bruce Dahlgren, chief executive officer at Anthology. "Our latest findings offer universities critical insights into the opportunities and challenges presented by AI tools. At Anthology, we're dedicated to providing solutions that empower our clients to navigate these technologies thoughtfully and leverage them to enhance the educational experience. Innovation in higher education is a journey and we are guided on this journey by our commitment to keep humanity at the helm."
Through this research, Anthology aims to contribute to the enhancement of the higher education experience for students and universities as they work together to refine how teaching and learning take place. This includes providing actionable recommendations to improve services and learning environments. The paper is being launched in conjunction with Anthology Together Europe, Anthology's annual user conference at the Hyatt Regency in Birmingham, UK, on 25-26 October 2023.
Anthology recently announced a host of new features facilitated by artificial intelligence, including AI Design Assistant, a tool that helps instructors quickly create engaging learning experiences in Anthology's Learning Management System, Blackboard Learn Ultra. All product features that leverage AI are developed following Anthology's Trustworthy AI program and commitment to responsible, lawful and ethical use of AI, which was informed with feedback from clients around the world.
The UK edition of AI in Higher Ed: Hype, Harm, or Help was produced as part of Anthology's commitment to fostering a supportive academic environment and providing innovative education solutions.
Methodology
Data collection was conducted online among university leaders and students across eleven countries in August 2023, including Australia, Brazil, Mexico, Philippines, Saudi Arabia, Singapore, South Africa, Spain, the United Kingdom, United Arab Emirates and the United States. Separate questionnaires with similar questions were utilised to enable comparisons. To qualify, student respondents had to indicate that they were currently enrolled at a higher education institution and pursuing a degree or diploma. University leader respondents had to indicate that they were currently senior leaders (dean, provost, rector, etc.) at a higher education institution. In total, 2,617 university leaders and 2,728 students qualified for and completed the survey.
About Anthology
Anthology offers the largest EdTech ecosystem on a global scale for education, supporting more than 150 million users in 80 countries. With a mission to provide dynamic, data-informed experiences to the global education community through Anthology Intelligent Experiences™, we help learners, leaders and educators achieve their goals by offering over 60 SaaS products and services designed to advance learning. Discover more about how we are fulfilling our mission for education, business and government institutions at www.anthology.com.