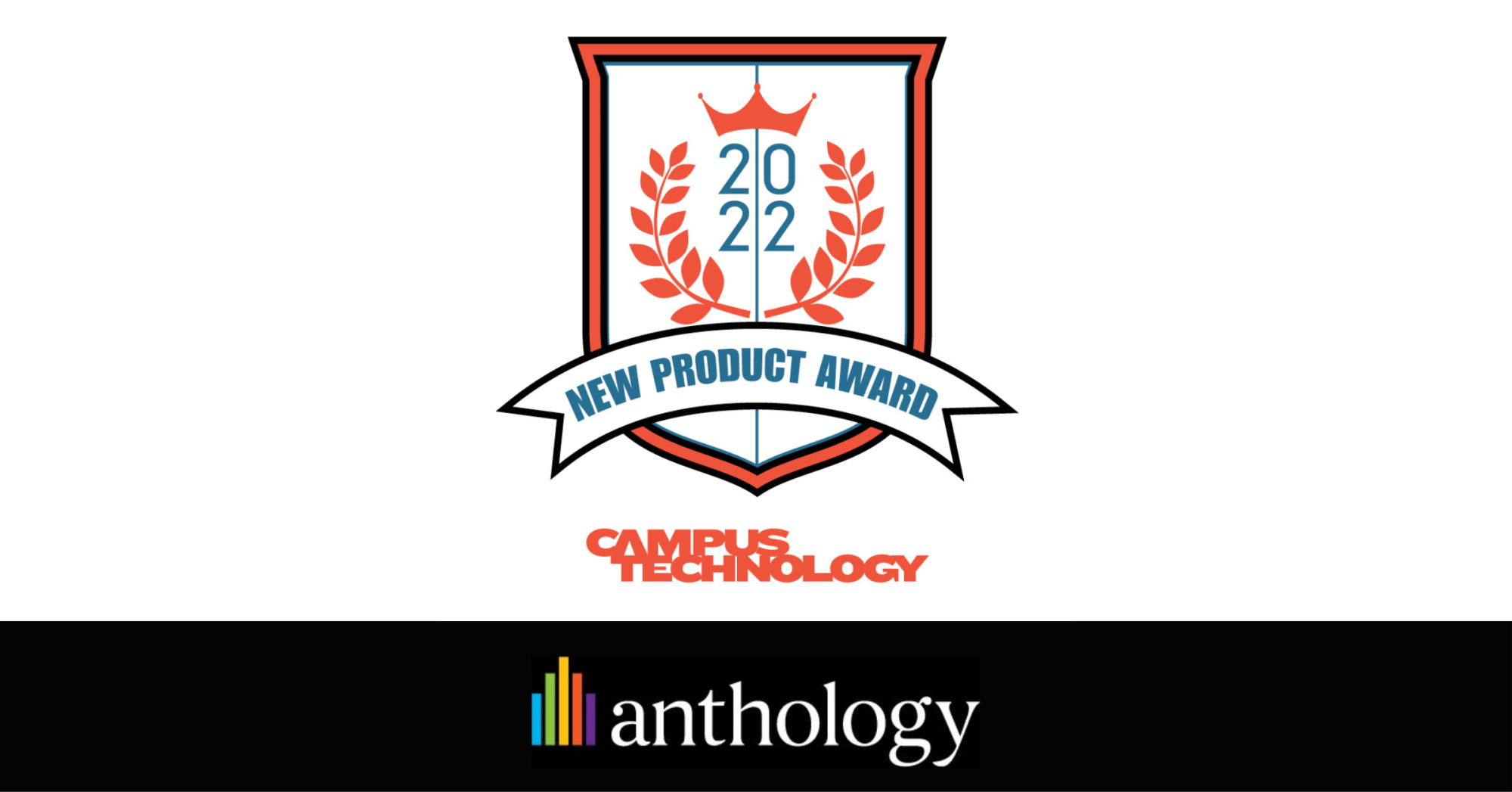 Anthology Wins Multiple Platinum Campus Technology 2022 New Product Awards
Boca Raton, Fla., Jan. 5, 2023 – Anthology, a leading provider of education solutions that support the entire learner lifecycle, today announced that four of its solutions have been named platinum winners in Campus Technology's 2022 New Product Awards. The awards honor outstanding product development achievements of companies that are at the forefront of transformation in education technology.
This year's platinum winners include Anthology Reach, the company's constituent relationship management (CRM) tool that helps institutions manage admissions, student success, retention, alumni and advancement; Blackboard Learn Ultra, Anthology's flagship learning management system (LMS) that delivers inclusive, consistent educational experiences for learners while enabling pedagogical best practices for faculty; and Anthology Student, Anthology's learner-centric student information system (SIS) that drives student success. In addition, Anthology Ally, a solution that works to create more inclusive learning environments and to help ensure digital content is accessible for all, also won a platinum award.
"Over the past year, the Anthology team has made significant investments and worked tirelessly to ensure our products meet the evolving needs of students, instructors and institutions," said JD White, Chief Product Officer at Anthology. "This recognition demonstrates the significance our products have in positively impacting institutions of all types and learners at every step of their journey in higher education."
As learning technology becomes increasingly essential, Campus Technology recognized that the 2022 New Product Awards drew the most impressive submissions to date. Campus Technology is one of higher education's top information sources, serving as a complete resource for academic and administrative IT leaders and establishes a collaborative environment that promotes professional networking and global pedagogy. The New Product Awards were announced in December 2022.
"We are pleased to honor the winners of this year's New Product Awards and recognize that technology lays the foundation for digital transformation in higher education, across all aspects of the institution — from classrooms to administrative offices and beyond. Congratulations to all of the outstanding products making a difference this year," said Rhea Kelly, editor-in-chief of Campus Technology. 
About Anthology 
Anthology offers the largest EdTech ecosystem on a global scale for education, supporting more than 150 million users in 80 countries. With a mission to provide dynamic, data-informed experiences to the global education community through Anthology Intelligent Experiences™, we help learners, leaders and educators achieve their goals by offering over 60 SaaS products and services designed to advance learning. Discover more about how we are fulfilling our mission for education, business and government institutions at www.anthology.com.