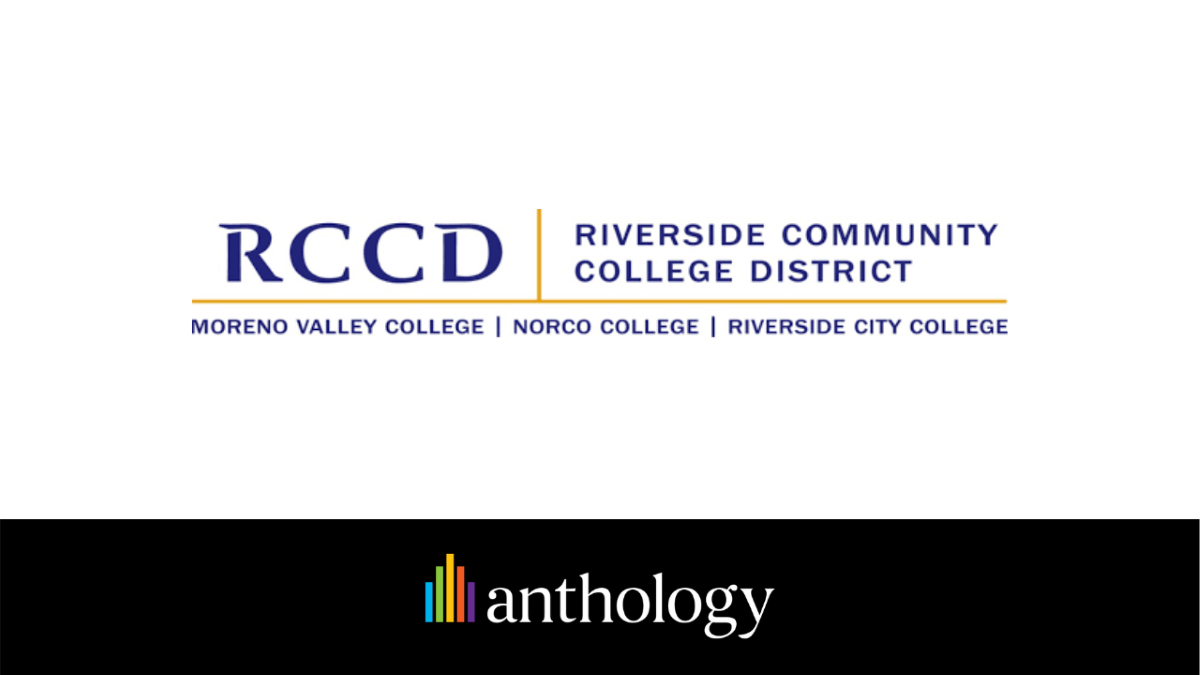 Riverside Community College District to Deploy Anthology's Comprehensive CampusNexus Solutions Across the District
Anthology's Agile and Modern Solutions to Help this Prominent California Community College District Empower its Constituents, Enhance the Student Experience, and Meet the California Community College Chancellor's Office Guided Pathways Goals
Boca Raton, Fla. — March 9, 2021 — Anthology, a leading provider of proven higher education solutions that support the entire learner lifecycle, announced today that Riverside Community College District (RCCD) selected the full suite of Anthology's CampusNexus SaaS solutions to be deployed across the District and its three colleges.
"We required a state-of-the-art platform to transform and support our District's entire operational landscape with the ability to deliver an elevated student and faculty experience across the board," said Dr. Wolde-Ab Isaac, Chancellor of Riverside Community College District. "Anthology's proactive approach to solving higher education issues through its industry-leading solutions and proven experience aligning with critical guided pathways goals made them the natural choice to become our trusted technology partner."
Dr. Jeannie Kim, Interim Vice Chancellor of Educational Services & Strategic Planning, RCCD, explained, "We are replacing outdated systems with a modern integrated student information system and a state-of-the-art enterprise resource planning system. RCCD will leverage the CampusNexus solutions to enhance communication across the District's functional teams and automate former manual processes to deliver a best-in-class educational experience to the District's students and to the communities served by RCCD."
The District's implementation will include CampusNexus Student, Engage, Finance, Human Resources & Payroll, and Occupation Insight, delivered via the CampusNexus Cloud (now Anthology Student, Anthology Reach, Anthology Finance & HCM, Anthology Payroll, Anthology Occupation Insight, and Anthology Cloud).
"Implementing Anthology's comprehensive cloud-based systems will allow us to regain precious time and focus on strategic priorities that deliver increased value to our students and faculty," said Christopher Blackmore, Associate Vice Chancellor, Information Technology and Learning Systems, RCCD. "We look forward to utilizing Anthology to do the heavy lifting on the systems and enable us to reap the benefits of their robust and versatile platform."
Strata Information Group (SIG) provided ERP procurement assistance and worked with stakeholders from all three Colleges and the District to reimagine outdated processes based on a highly-modified legacy ERP. "SIG facilitated the development of the technology and business requirements based on the District's desired 'future state' with Student Guided Pathways at the center to ensure student and learner success across the entire community which the District serves. SIG is excited to partner with RCCD on this transformative journey," said Harold George, General Manager of Professional Services at Strata Information Group.
Serving more than 60,000 students annually and designated as one of the top 25 employers in Riverside County, California, RCCD operates three colleges: Moreno Valley College, Norco College, and Riverside City College. The District offers more than 100 comprehensive educational programs to aid students seeking transfer to a four-year college or university, a two-year degree, a professional certificate or occupational training.
"We are thrilled to collaborate with Riverside Community College District on their district-wide digital transformation," said Jim Milton, CEO of Anthology. "We recognize and embrace the uniqueness of the California Community Colleges and have made a commitment to serving these institutions. We have ensured that our solution, CampusNexus, is designed to support the standards and regulatory reporting requirements that are set forth by the California Community College Chancellor's Office."
Anthology's CampusNexus solutions are built using Microsoft Dynamics 365, Microsoft Azure, and Microsoft Power BI, and are designed to harness the collective power of world-class technologies and decades of higher education expertise. Using the cloud-based, mobile-enabled CampusNexus suite, institutions have 24/7 access to their accounts and information. Faculty and staff teams are able to use enterprise-wide data to power reports and analytics for informed decision making from anywhere.