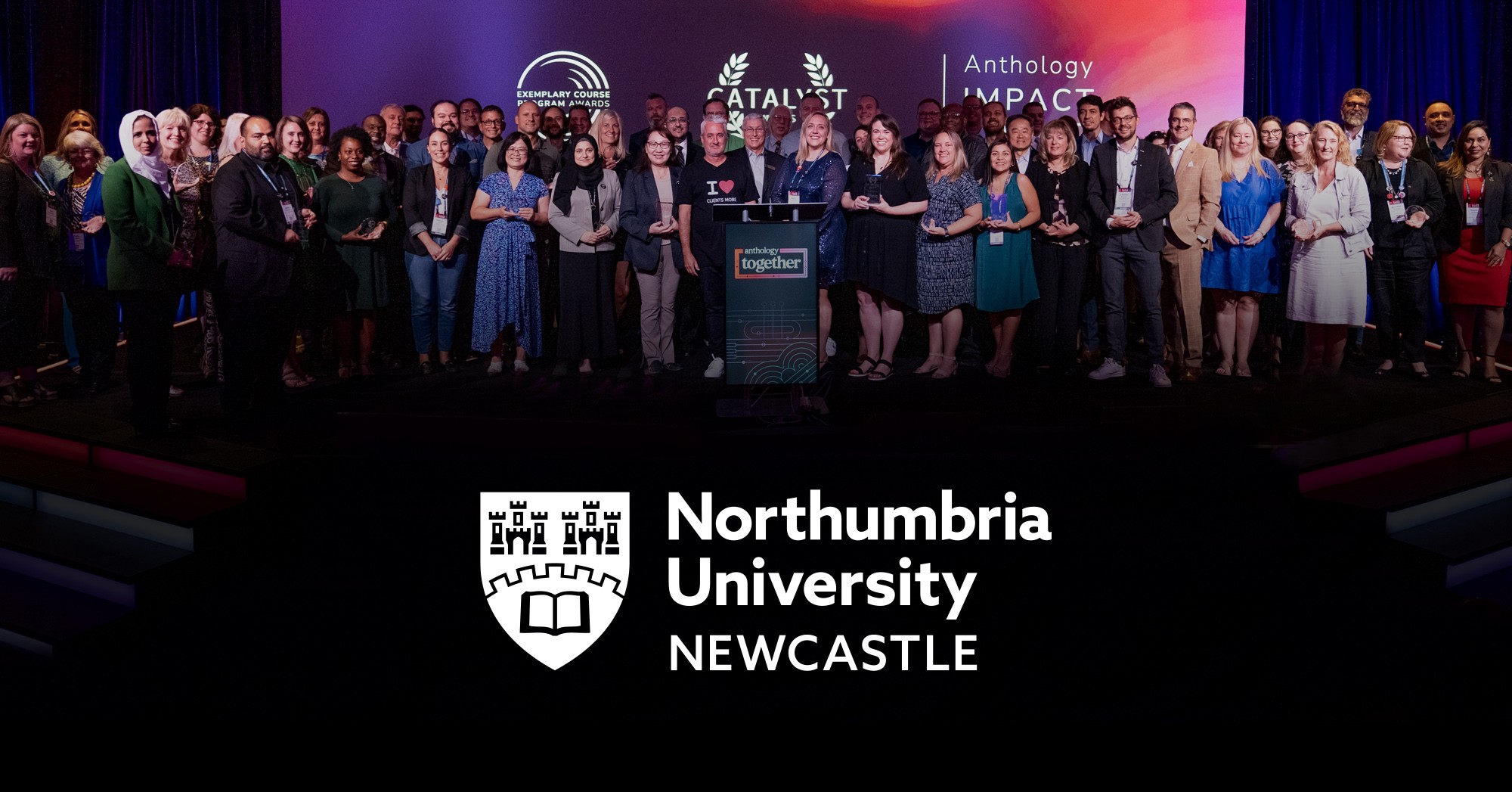 Catalyst Awards Blog Series: Designing a Staff Digital Fluency Course Using Blackboard Learn
The Catalyst Awards program recognizes innovation and excellence in the Anthology community of practice. In this blog series, a selection of 2023 award-winning institutions from across the globe share their success stories and best practices.
Northumbria University is a 2023 Catalyst Award winner in the "Training & Professional Development" category.
Northumbria University, named as the UK University of the Year 2022 in the Times Higher Educations Awards, is one of the largest universities in the UK and attracts over 30,000 students from 130 countries. The university also employs over 3,000 staff including academics, researchers, graduate trainees, and support and professional staff, with the majority of these requiring digital fluency skills in their day-to-day roles.
Improving Staff Digital Fluency
Two key strategic objectives of the TEL team within IT Services are to improve staff digital fluency and the development and deployment of a staff digital induction programme. Blackboard® Learn Ultra, with its wide range of features, was chosen as the platform for the induction programme. This not only ensured content would be fully accessible on a range of devices, but also offered the following features:
Use of learning modules to connect themed content together
Integration of groups with conditional availability to offer bespoke learning pathways
Detailed data and analytics on user engagement
Secure and seamless integration of LTI items to enhance the teaching and learning experience
Use of the Anthology

®

Ally Accessibility Report to ensure materials are fully accessible
The ease of updating and adding new content
Blackboard Learn Learning Modules
Learning Modules were used to organise content into themes. Users could also move from one Learning Module to another and complete the materials in any order. This provided them with the flexibility to prioritise and choose their learning based on their immediate needs.
The Learning Modules were populated with documents and folders which contained a variety of assets including text, images, videos, and presentations, the inclusion of which could lead to an increase in participant engagement (Ulbig, 2009). The easy integration of the Blackboard Learn LTI was also used to embed Panopto and YouTube videos and SCORM-enabled eLearning content, all of which resulted in engaging interactive content.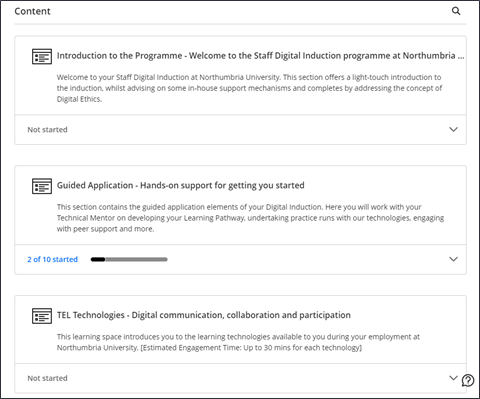 Figure 1 - Learning Modules allowed participants to access materials at their own pace.
Learning Pathways Using Conditional Availability
To help ensure programme attendees were presented with relevant content, the Blackboard Learn conditional availability by users and groups feature was used to create different learning pathways with a more curated and personal experience. These bespoke pathways not only provided content which was relevant to specific job roles, but presented information that attendees 'need to know', thus preventing cognitive overload and encouraging active learning (Kaylor, 2014).
This feature also proved to be highly efficient and flexible as staff could be quickly moved to different pathways should their job role change. For example, a staff member could initially be a researcher but could then start to do more teaching, etc.

Figure 2 - Pathways groups were created to provide a curated learning experience.
Blackboard Learn Analytics
The Blackboard Learn Ultra analytics feature also provided detailed and highly useful information on each attendee's engagement within both the Learning Modules and SCORM-enabled eLearning content. The 'activity' value (hours in course) within Course Activity provided a quick overview of each attendee's time spent with the content.
This then integrated with the Learn Messages feature, allowing the organization leaders to message specific attendees if they felt more support was needed.
Problem-Based Learning and Immediate Feedback with Learn Tests
Tests were utilized to provide both formative and summative assessments. Self-marked tests such as multiple choice, true/false, and fill in the blank were used as they provided immediate feedback and scores to attendees, thus allowing them to gauge their own learning and revisit specific Learning Modules if required.
The variety of tests, and the ease with which different media can be used, allowed the inclusion of several problem-based scenario questions, which can lead to an increase in critical thinking and reflection among attendees (Allen, 2011).
Accessible Content with the Ally Accessibility Report
Any content uploaded into Learning Modules, such as Word and PDF documents, images, and PowerPoint presentations, were analyzed for accessibility, with the results being available in the Ally Accessibility Report. This identified any accessibility issues within the uploaded content and suggested solutions. Content could then be adjusted and re-uploaded to ensure it was fully accessible.
Furthermore, Learn's responsive design allows staff to access the digital induction on a range of devices, including tablets and smartphones, thus giving them the flexibility to access the content in a manner that suits them.
Summary
Blackboard Learn provided an ideal platform for the Staff Digital Induction programme. The ease and speed of adding and updating content, as well as the built-in accessibility tools, allowed course organisers to quickly make certain all content was up to date and accessible. The use of Learning Modules and different pathways depending on job role ensured staff were only presented with relevant information and allowed them to prioritize what content they accessed.
The integrated analytics also proved highly useful in monitoring participant engagement and allowing them to be easily contacted using Learn's Messages feature. Lastly, the use of tests allowed participants to monitor their own learning and presented scenarios-based tests which helped ensure real learning occurred.
Extensive support is available from Blackboard Learn's help page. This covers all the features used in developing the Staff Digital Induction programme. This includes using conditional availability, Ally, using tests, and adding content and analytics.
References
Allen, Deborah E., Richard S. Donham, and Stephen A. Bernhardt. "Problem-based Learning." New Directions for Teaching and Learning 2011.128 (2011): 21-29. Web.
Kaylor, Sara K. "Preventing Information Overload: Cognitive Load Theory as an Instructional Framework for Teaching Pharmacology." The Journal of Nursing Education 53.2 (2014): 108-11. Web.
Ulbig, Stacy. "Engaging the Unengaged: Using Visual Images to Enhance Students' "Poli Sci 101" Experience." PS, Political Science & Politics 42.2 (2009): 385-91. Web.
For more information on the program, visit Catalyst Awards. Learn more about our 2023 winners and their stories.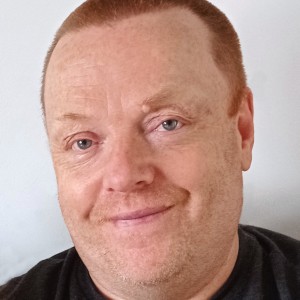 Larry McGuirk
IT TEL Analyst
Northumbria University
Larry McGuirk has worked at Northumbria University for almost 20 years in a variety of roles, both within the library and IT Services. Prior to that, he was a multimedia developer, adult education teacher, and web master within the UK and overseas.