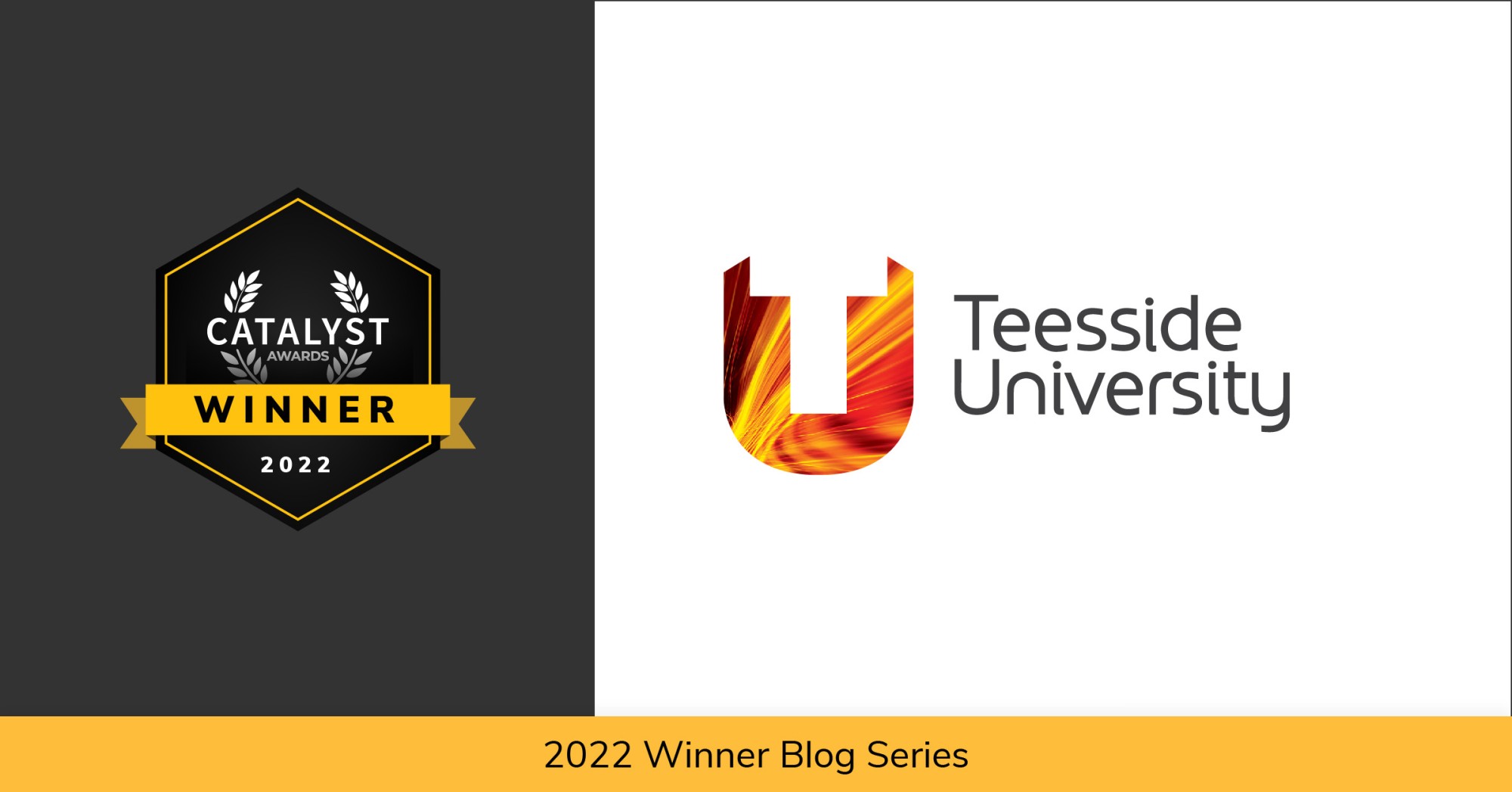 Catalyst Awards Blog Series: High-Impact Course Design Using Blackboard® Learn Ultra
The Catalyst Awards program recognizes innovation and excellence in our global community of practice. In this blog series, a selection of 2022 award-winning institutions from across the globe share their success stories and best practices.
This post was guest authored by Digital Learning Specialists Emma Bradburn, Simon Patterson, Russell Smeaton, and Learning Design Officer Caitlin Timlin at Teesside University, England.
Teesside University is a 2022 Catalyst Award winner in the "Training & Professional Development" category.
A top Key Performance Indicator (KPI) for the Digital Transformation Team at Teesside University is to extend the areas of excellence in digital learning design and bring transformational change in educational design and delivery by leading excellence through digital learning.
Teesside University can be found in the heart of the busy town of Middlesbrough, with additional offsite campuses in Darlington and another planned for London soon. It also franchises several Higher Nationals and Foundation Degree courses with local Further Education colleges. Teesside University employs more than 2,000 staff with average student numbers exceeding 21,000, including both local and overseas.
Teesside's motto is "Ambition Delivered Today." Teesside University believes that innovation powers our steps to create a world where everyone benefits from progress.
Teesside University was named the University of the Year for Social Inclusion in The Times and The Sunday Times Good University Guide 2022.
Teesside University generates and applies knowledge that contributes to the economic, social, and cultural success of students, partners, and the communities we serve. Through education enriched by research, innovation, and engagement with business and professions, we transform lives and economies.
Teesside has an amazing range of courses in exciting subjects such as forensics, computing, health, sport, media, and design.
Since its formation in 1929, Teesside University has developed into a global leader in teaching excellence. Recently, the university has embraced the concept of Education 4.0 with multiple projects, including:
Future-Facing Learning
Europe's First Adobe Creative Campus
Blackboard® Learn Ultra Rollout 2021-2022
The challenges
In September 2021, at the start of the new academic year, Teesside University was moving from Blackboard Learn to Blackboard Learn Ultra VLE. We very much viewed this as an opportunity to lead a step change in both how staff perceived the Virtual Learning Environment (VLE) and how they used it as an integral and seamless part of the learning ecosystem. It was a chance to align the strategic development of the VLE with a revised approach to how the institution defines teaching excellence within a digital context and the delivery of an outstanding student and learning experience. The challenge was how do we grasp this opportunity and begin to drive that culture change.
There was a need to formulate and implement a plan to deliver large-scale, organization-wide digital (pedagogy and technology) upskilling of staff, preparing them to develop the next academic year's teaching and learning on the new Blackboard Learn Ultra VLE platform and helping them unlock the potential of the Blackboard Learn Ultra experience. The challenge here was to help people acclimatize to the new Blackboard Learn Ultra platform, with a very different interface and revised workflows, focusing on the equivalence of outcome, not the equivalence of process.
In addition, this had to be delivered remotely during the COVID-19 pandemic, which presented its own challenges. Primarily, we could not command people's attention for as long as we perhaps could if we were delivering this face-to-face, which clearly impacted the design of Continuing & Professional Development (CPD) and the blend of what we delivered synchronously in the 'live' sessions and what we provided as asynchronous 'self-study' materials and activities to be worked on in participants' own time.
Further challenges that would have to be overcome included the number of staff who would need upskilling (approximately 700) and the limited time frame (May to August 2021), which also spanned the busy grading period and summer (where colleagues often take leave).
Another challenge was striking a balance between "enough" content and "too much," fully appreciating the time pressures under which all colleagues were working and had been working since remote working/teaching began in March 2020.
The initiative and guiding principles
The project was led by the Digital Transformation Team. Early on, we established a Learning Design Working Group, comprised of key stakeholders from across the institution, established to position the VLE as an expansion of the learning ecosystem for students. The Working Group co-authored a set of key principles that helped frame expectations and aspirations around usage of the Blackboard Learn Ultra VLE in delivering an outstanding student learning experience.
The principles were/are as follows:
A boundary-crossing ecosystem of learning and student engagement.
Seamless integration of the best elements.
One-stop hub for the student academic journey.
Enabling and nurturing creativity in learners through collaboration, communication, and the construction of knowledge.
Together with the campus delivery of a module, bringing out the best learning experiences for students based on a purposeful pedagogical underpinning and systematic learning design principles.
The purpose of these key principles was to provide guidance for high-impact enhancements to practice resulting in an outstanding digital learning experience. This was achieved through the delivery of the CPD rollout, which built on the teaching staff's exemplary use of the VLE during the pandemic and created an expansive learning ecosystem.
The Digital Transformation Team worked in partnership with the Anthology Academy to firstly upskill ourselves and, secondly, to design the large-scale, high-impact CPD offer that we would deliver to our academic staff who would be using the platform themselves come September 2021.
The planned solution
Working together with Anthology, the Digital Transformation Team developed a robust plan for implementing wide-scale digital upskilling to leverage the affordances of Blackboard Learn. The Digital Transformation Team recognized this as an opportunity to create a fundamental mindset shift in academic staff with the way in which they engaged with digital pedagogies. In addition, the introduction of a new VLE and the opportunity to engage with such a large number of our academic colleagues provided a chance to help instill digital confidence, as well as a space to empower staff to take their existing pedagogic skills into the digital world. Finally, the training provided an excellent space to recognize and acknowledge existing innovative digital capabilities happening across the university, thus giving staff the opportunity to reflect on the distance they had already traveled and celebrate their achievements.
The Digital Transformation Team began the project by working closely with Anthology consultants, equipping themselves with the knowledge they'd need to design high-quality learning experiences for their students.
Once the Digital Transformation Team was upskilled (including formal training accreditation), preparation began for the planned migration from Blackboard Learn to the new Blackboard Learn Ultra. This ambitious plan aimed at providing a rigorous staff CPD offer, designed and rolled out from May 2021, facilitated remotely by the Digital Transformation Team at Teesside University.
The CPD had two purposes:
Equip colleagues with a solid foundation and understanding on which to base their course design, breaking down the barrier between physical and virtual learning spaces and leveraging the affordances of Blackboard Learn Ultra to extend and build on digital practices that already exist.
Develop more inclusive provisions for the different learning needs of our students using Anthology® Ally.
Also, with the limited time period to work with each cohort, the decision was made to focus the four live sessions around these key themes. During the sessions, it was agreed to collectively reinforce the link to the self-study course materials. These materials were developed by the Digital Transformation Team in line with the official Blackboard Learn training content. This would promote self-study and allow staff to take the initiative to explore the affordances of the VLE in more depth than could be covered in the live sessions.
The four sessions were as follows:
Course Content & Design
Assessment & Grading
Collaboration & Communication on Blackboard Learn Ultra
Collaboration & Communication in Virtual Classroom
Finally, following the culmination of our academic staff CPD, we released a detailed Blackboard Learn Ultra Organization to all our support staff (library, student support, etc.) who use the VLE platform for a variety of different purposes.
On top of Teesside University's continued professional development training sessions, staff also had the option of gaining the Blackboard Learn Certified Practitioner Status upon completion of the course by undertaking an additional assessment through Blackboard Learn.
Results of the implementation
The institutional-wide mandatory professional development program was delivered to 26 cohorts of staff. This equated to 104 hours of 'live' facilitation with a total of 1,619 individual attendees. We received an overall satisfaction of 96% from the attendees, 97% of staff agreed that they received professional support that was helpful to the design of their courses to enhance the learning experience of students, and importantly 91% felt more confident in their skills and competencies in using Blackboard Learn Ultra because of the CPD we delivered. Twenty-four colleagues achieved Blackboard Learn Certified Practitioner recognition.
The CPD became a catalyst to change staff perception of the VLE and how it could prove an integral part of the student learning experience, blurring the boundaries between the physical classroom and the online environment to design learning that leveraged the best elements of both spaces to provide high-quality, inclusive experiences for our students.
Lessons learned and recommendations
Working in partnership with the Anthology Academy to design our institution-wide professional development offer has been an incredibly valuable experience.
We understand the importance of embracing all things digital and how these can truly benefit the pedagogy used to deliver outstanding teaching and learning. It not only benefits the staff in their relentless pursuit of offering the best student experience, but it has allowed us to develop skills in our students that will prepare them for a successful, exciting, and enjoyable future in any career that they choose.
We feel that Anthology already has a firm understanding of where to take Blackboard Learn, and we all look forward to enjoying every moment.
Any institutes planning a large-scale integration of a new Virtual Learning Environment, such as Blackboard Learn, need to ensure that they get buy-in from an early stage from all stakeholders to support a smooth transition. Academic staff needs to realize why the decision to move to the new VLE has been made and how it will benefit the entire learning journey.
The introduction of the new VLE needs to be promoted as an opportunity to allow staff to re-energize their learning in a multi-modal environment, and consideration should be given to new approaches that allow the affordances of a boundary-crossing ecosystem.
Watch the Teesside University Catalyst Awards video.
---
For more information on the program, visit Catalyst Awards. Learn more about our 2022 Catalyst Award winners and their stories.