Catalyst Awards Blog Series: Top Notch, a Technological Innovation Initiative that is Reflected in Accessible and Inclusive Education
The Catalyst Awards program recognizes innovation and excellence in the Anthology community of practice. In this blog series, a selection of 2023 award-winning institutions from across the globe share their success stories and best practices. 
Universidad Privada del Norte (UPN) is a 2023 Catalyst Award winner in the category of Student Experience.
Innovation as the Foundation of Quality Education
UPN began its educational activities in 1994 in the city of Trujillo, in northern Peru. This original headquarters was followed by the Cajamarca campuses in 2002 and Los Olivos 2010, in Lima. Incorporated into Laureate International Universities in 2007, our university currently has eight study campuses and more than 50,000 graduates. As important as this is in and of itself, we have achieved important milestones such as the QS Stars Rating System with four stars in 2022, the international institutional accreditation of IAC-CINDA, our status as the leading university in patent applications before the National Institute for the Defense of Competition and of the Protection of Intellectual Property (Indecopi), and finding ourselves among the 10 best Peruvian universities in the Innovation indicator of Scimago Institutions Rankings.
In compliance with our mission of transforming the lives of our students through high-quality innovative educational processes, during these first three decades we have established at UPN a community of more than 110,000 students and 4,500 teachers and collaborators, which is a source of pride as well as an incentive in our project of being a leading institution of higher education. 
As an institution that will turn 30 years old in 2024, we can say that the Universidad Privada del Norte (UPN) is guided by the exploratory spirit of youth. A spirit that, in addition to being aligned with the purpose of transforming the lives of our students, has the virtue of embracing innovation. 
Innovating is a key task in today's world, and as an educational organization UPN is no stranger to it. This was the reason why, in 2016, our university offered the first virtual courses, using the technological resources available, for teaching-learning activities. This initiative demonstrated its advantages in the difficult context of the pandemic, facilitating the adaptation of our students to the new reality and allowing us to maintain 100% of our academic programming, thanks to the fact that in 2020 we already had 100% virtual instructors. 
In recent years our university has continued to strengthen its virtual educational system, proof of which are the Catalyst awards obtained in 2021 and 2023, as well as the ISO 9001 certification for the Design and Production of Virtual Courses and the Virtual Teaching-Learning Model. 
The Top Notch Project: A Digital Educational Experience of the Highest Quality
As we have pointed out, innovation—and in this case that of a technological nature—plays a key role in enhancing our academic procedures, which, together with the development of quality content and the promotion of interactivity, promotes meaningful student learning. 
Therefore, with the purpose of increasing the satisfaction of our students, in the Virtual Campus area we proposed a significant improvement in the way they view their courses in Blackboard® Learn Ultra. So in 2021 we undertook the initiative to achieve a new, unique, and high-quality experience, which we have called the UPN Top Notch Content experience. As with other projects managed by Campus Virtual, we have had the support of corporate areas whose contributions affect the achievement of the objectives of our distance education service. 
Phases of the Top Notch Initiative
In response to our policy of continuous improvement, in 2021 we started the Top Notch UPN Contents project, which allowed us to obtain the Catalyst Award 2023 in the Student Experience category and which was developed through four phases: 
1. Research and definition 
With the purpose of improving the visualization of the courses on our learning platform, we reviewed multiple software and tool options, contrasting the findings and proposals with the needs and preferences of our students. This allowed us to delimit the scope and lines of action of the project.  
2. Content adaptation 
After completing the first stage, we carried out the following actions: 
- Adaptation of 100% of our Blackboard Learn courses to Blackboard Learn Ultra, a version of the LMS that provides more intuitive and easier navigation 
- New visualization of modular content worked with the Storyline and RISE tools of the Articulate 360 ​​suite, which includes interactive and gamified resources in 100% of our virtual courses 
- Integration of virtual laboratories with Cloudlabs software in science courses 
- Implementation of the download option for all the resources and content of our virtual courses, thus allowing our students to review their classes and materials offline, fulfilling our promise to study wherever and whenever they want 
3. Implementation and development 
The first five adapted courses were launched in the 2021-2 semester as a pilot, achieving high levels of acceptance by students and reaffirming our decision to continue with the adaptation of 100% of our virtual course offering. Thus, more than 100 courses were modified by our instructional design specialists in a period of five months, incorporating them into our platform in the 2022-1 semester. 
4. Measurement of results 
Finally, we carried out the measurement of the results by evaluating the satisfaction of our students with the contents of their virtual courses. We obtained a significant improvement in satisfaction from 3.89 to 4.27 out of a possible five points. 
A Project that Generates Accessibility and Inclusion
The design and operation of an efficient virtual education system allows us to consolidate our mission, vision, and institutional value proposition, significantly increasing the satisfaction of our students. These are the most valuable elements of our current offerings: 
• Greater accessibility and flexibility: Our content can be consumed online or downloaded for offline use. Blackboard Learn Ultra's innovative digital content can offer greater accessibility and flexibility to students, allowing them to access online learning material anytime, anywhere, across different devices and platforms. 
• Increased interaction and engagement: Innovative and gamified digital content can increase the level of interaction and engagement of students with the learning material by offering interactive, multimedia, and rich content that can be more attractive and motivating for their study. 
These achievements have allowed us to offer 100% of our courses online, reducing the gaps that generate the need for mobility and the need to comply with non-flexible study schedules. In addition, virtuality reinforces our character of accessibility and inclusion, benefiting young people who might otherwise see their desire for professional training postponed. 
WATCH THE VIDEO 
For more information on the program, visit Catalyst Awards. Learn more about our 2023 winners and their stories.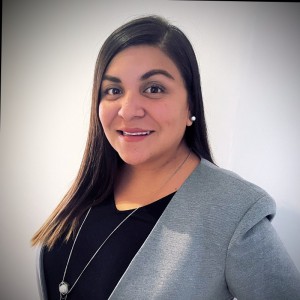 Milagros La Rosa Huaman
Jefe de Producción y Calidad de Cursos Virtuales/ Head of Production and Quality of Virtual Courses
Learning experience designer with experience in the design, development, and evaluation of educational projects in various modalities, including e-learning, b-learning and face-to-face. Bachelor's degree in education, master's degree in educational management and solid knowledge and skills in learning management, process management, educational quality and team leadership.  Work experience in virtual education programs for public servants, design of didactic materials for programs and courses, and pedagogical consulting for teachers and clients in the public and private sectors.