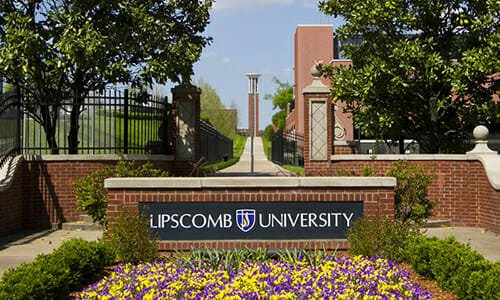 Empowering Nontraditional Students Key to Growth at Lipscomb University
This content was previously published by Campus Management, now part of Anthology. Product and/or solution names may have changed.
Established in 1891, Lipscomb University in Nashville, Tennessee combines a rich heritage of traditional academics with forward-thinking innovation in higher education. In addition to being a private, faith-based institution specializing in disciplines ranging from engineering and business to health sciences, the university has also been a leader in competency-based education (CBE). In fact, Lipscomb's CBE degree program was the first to be approved by the Southern Association of Colleges and Schools (SACS) Commission on Colleges.
The question for Lipscomb in the spring of 2018, was where to find the systems to support their online CBE programs designed for its growing nontraditional student body. While its traditional campus had kept pace with enrollment goals, accelerated growth was planned to come from serving nontraditional students through flexible terms and online programs. Lipscomb's legacy system, however, was not set up for this. They had been keeping up with six-month running terms on spreadsheets, with CBE programs adding further complications. The goal was to have a new cloud-based system implemented for online programs by December
The "School within a School" Approach
Rather than replacing an entire legacy system, institutions will oftentimes procure a modern platform as a dedicated system for a new program or division (e.g., an online program) while the legacy system continues to do the heavy lifting for the rest of the institution. This was the initial thinking at Lipscomb: the online program will stand alone, with its own platform and business model. If the platform is stable and works as promised, it can be extended to other programs, divisions, or campuses.
But as Lipscomb learned, a "School within a School" doesn't exist in a vacuum. In addition to new students, their previous and existing on-campus students (managed by the legacy system) will also want to take advantage of online programs. And their records need to be entered into the new system--manually.
"Our students have a long history of taking courses at Lipscomb as traditional students, and their histories can go back ten years or more, says Lipscomb University CIO Mike Green. "Think about the manual effort needed to bring their records forward so that we can register them and get their financial aid disbursed. For reporting purposes, we have to use the same student IDs and all the histories that go with them."
Even if a platform is intended for a single academic delivery program like professional programs or online courses, the implementation will require data integrations from touchpoints across campus –often resulting in manually intensive efforts. Despite this, Lipscomb was able to deliver the new online system ahead of schedule, starting the implementation in September 2018 and going live two months later, with students able to register for online classes in November.
Today, Lipscomb's students can earn up to 30 credits toward a bachelor's degree in one day through an online CBE assessment center simulation. Online courses are offered in two different formats: either a traditional eight-week class schedule or a six-month subscription program that allows students to take as many courses as they can handle.
Going Enterprise-Wide
Lipscomb now has plans to extend the system across campus. "Initially, we were looking for a flexible solution to support our online programs, but now we are going to extend the platform across the entire university," says Green.
Looking back, Green offers this advice for institutions considering a platform change, either as a 'School within a School' or system-wide:
Ensure effective change management: executive sponsorship, inclusion of all departments, open communication and transparency are paramount to successful implementation.
Emphasize industry best practices. Do not let individual departments and teams tell you what those best practices are.
Have a comprehensive integration plan; talk about the integrations and which ones are necessary early and start working on how you're going to do that. That will help ensure a very achievable and successful project.
"A CIO cannot push an ERP solution change by themselves. You have to have those executive sponsors who are committed to the business value and not just the technology impact," adds Green.
Lipscomb plans to have the entire campus live on the new cloud-based system by the spring of 2020.
Ken Wilson
Vice President, Field Strategy
Anthology