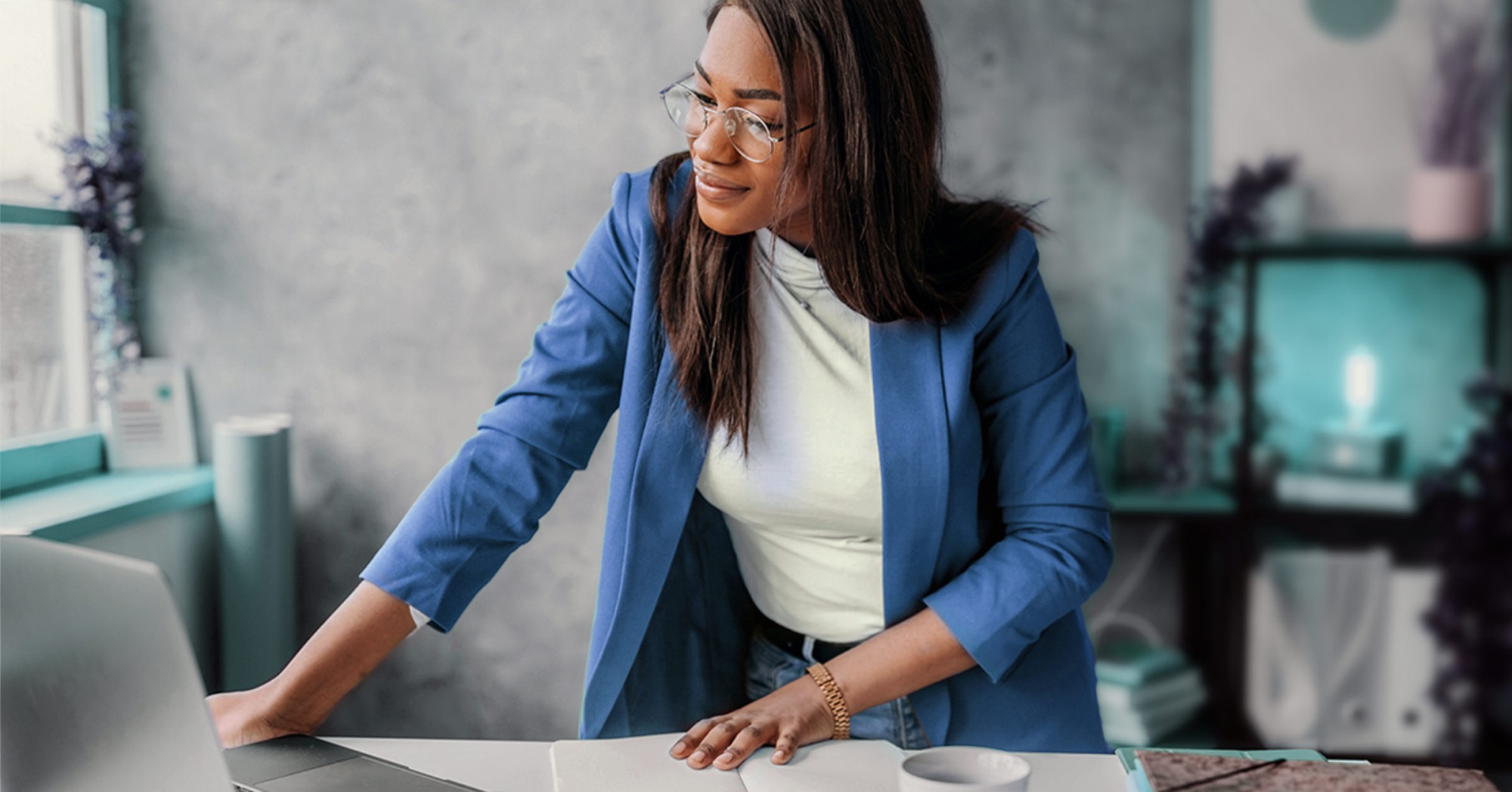 Learn Ultra's Newest May Release: Innovative Tools to Enhance Your Teaching Experience
As the world of education continues to evolve, it is important for educators and administrators to stay up-to-date with the latest advancements in technology. With Blackboard® Learn Ultra's May release, there are several new features that can help streamline course management, improve communication, and enhance the overall educational experience for students. In this post, we'll take a closer look at some of these exciting new features.
Notes: More Effective and Personalized Instruction
One of the most powerful tools in an educator's arsenal is the ability to personalize instruction for each student. With the new Notes feature in Learn Ultra, instructors can keep track of notes about each student and use them to create a holistic view of progress, grades, and notes. This allows instructors to better understand each student's individual learning needs and adjust their teaching accordingly. To access the Notes feature, instructors simply need to select the Notes tab on the Student Overview page and add notes as needed.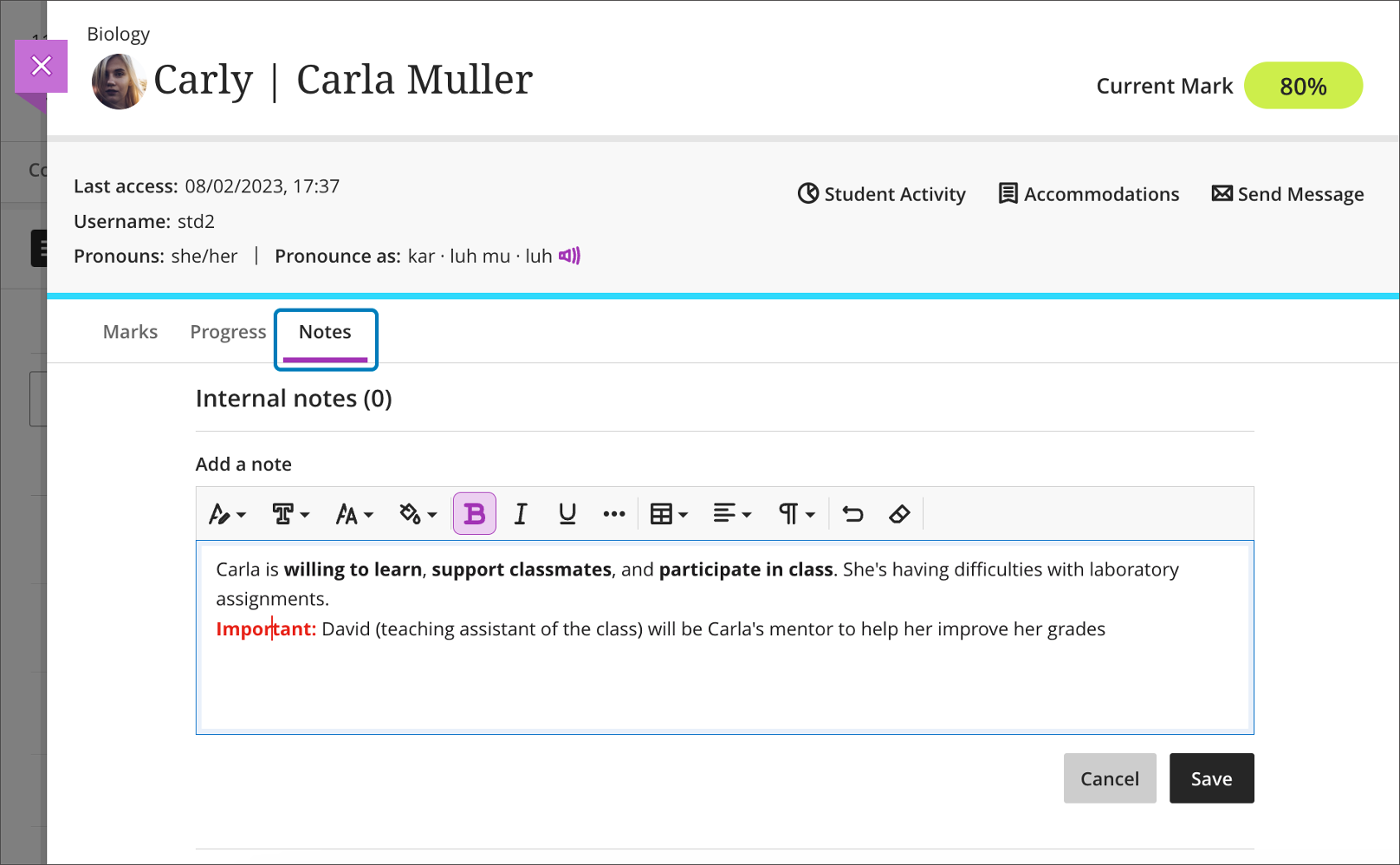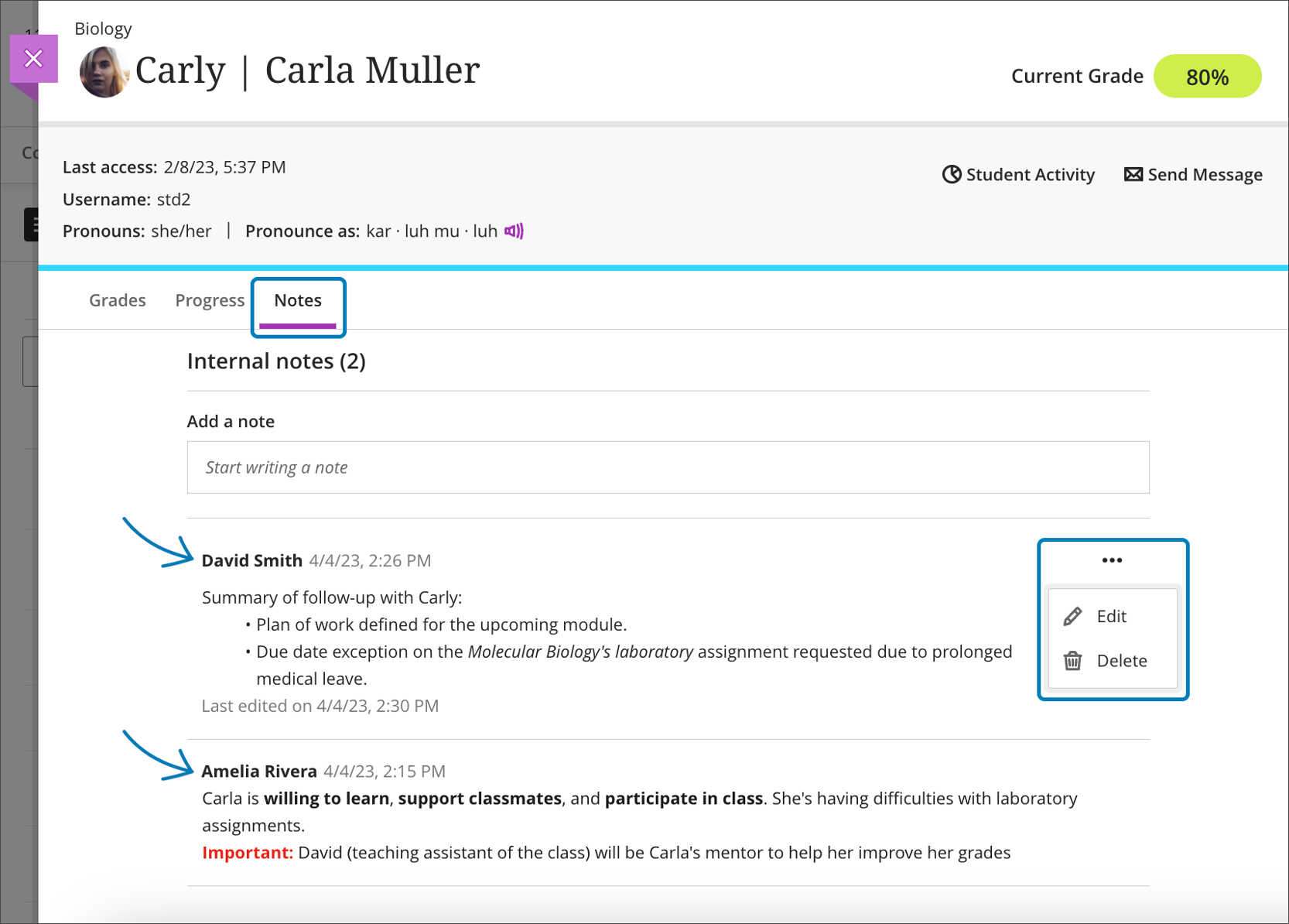 Messages from Submission View: Incentivizing Personal Communication and Engagement
Personal communication is key when it comes to keeping students engaged and motivated. In the Original course view, instructors could send email reminders to students who have not started an assessment. However, there was no control over the message, and there was little flexibility to decide the recipients of these communications.
With the Messages from Submission View feature, instructors can send customized messages to specific groups of students, incentivizing personal communication and engagement in Learn Ultra courses. Whether it is to remind students about upcoming assessments or to celebrate the success of high-performing students, this feature offers a range of new use cases for communication. To get started, instructors can search or filter to find and select recipients, then customize the message as needed.
We understand that student confidentiality is important. Therefore, when an instructor selects more than one student as a recipient of a message, the recipients will be on BCC. This ensures that students' identity and contact information remain confidential.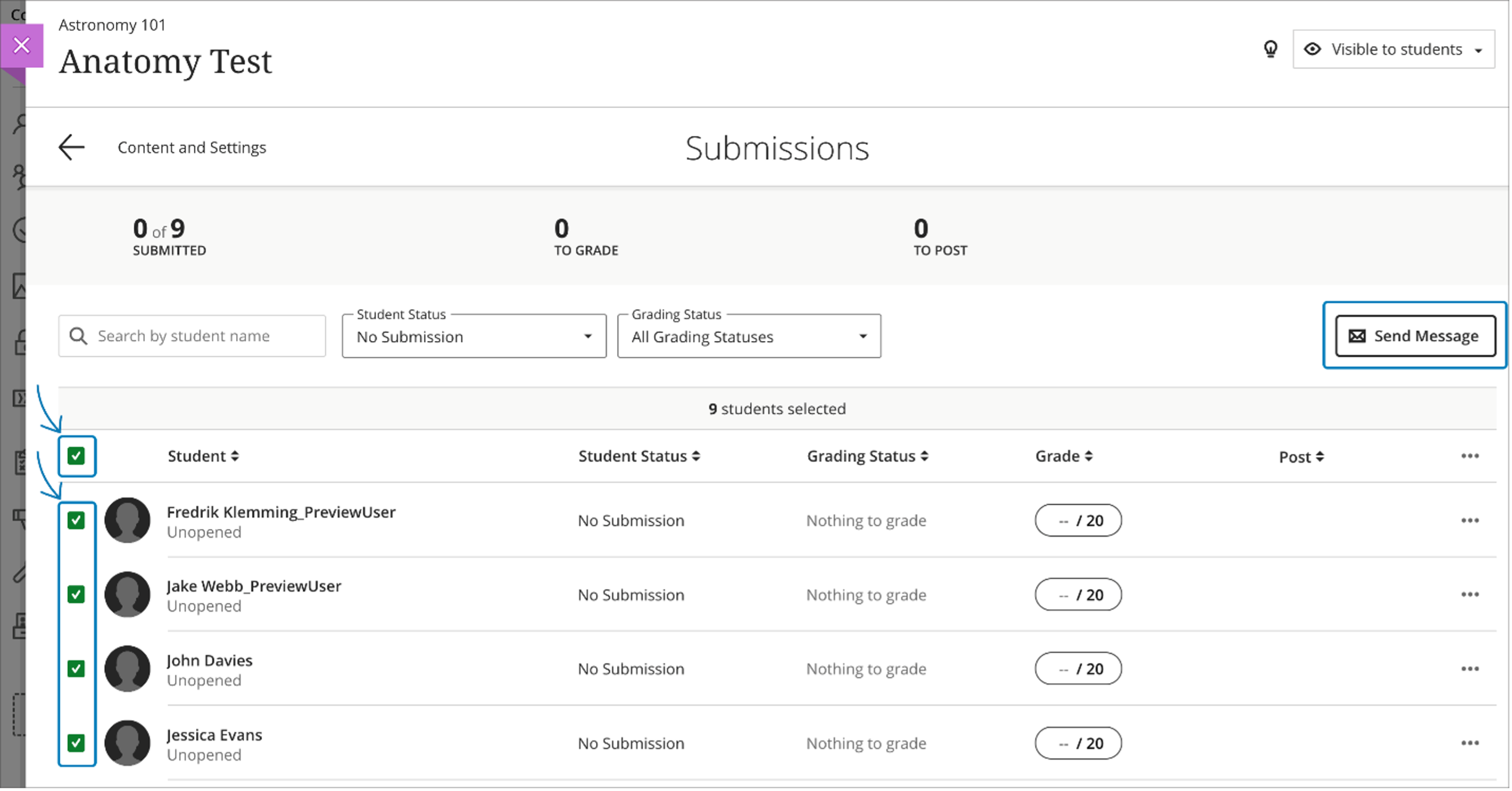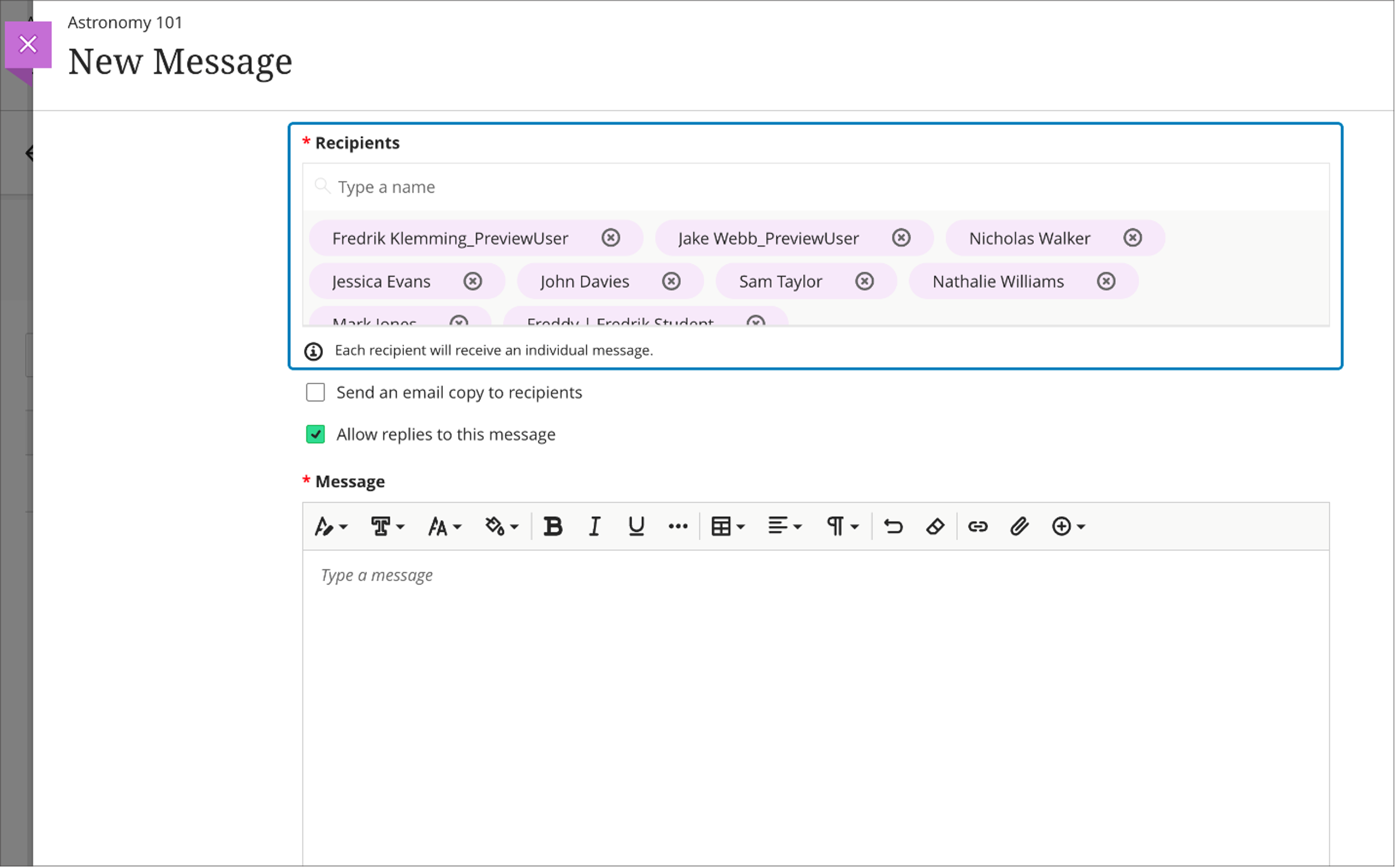 Rubric Improvements: Streamlining Evaluation
A rubric can greatly improve efficiency when evaluating assessments because it provides a clear and structured framework for evaluating student work, streamlines the evaluation process, identifies areas for improvement, and reduces the risk of errors or inconsistencies in grading.
With the Rubric Improvements feature in Learn Ultra, evaluating student work has never been easier! The interface is now cleaner, with the ability to hide/expand descriptions and criterion feedback. Also, accessibility was greatly enriched with keyboard shortcuts to navigate between rubric criteria and further improvements to assistive technologies to make it even easier to use screen readers for rubrics.
This makes it simpler for instructors to provide clear and structured feedback to students, streamlining the evaluation process and reducing the potential for errors or inconsistencies in grading.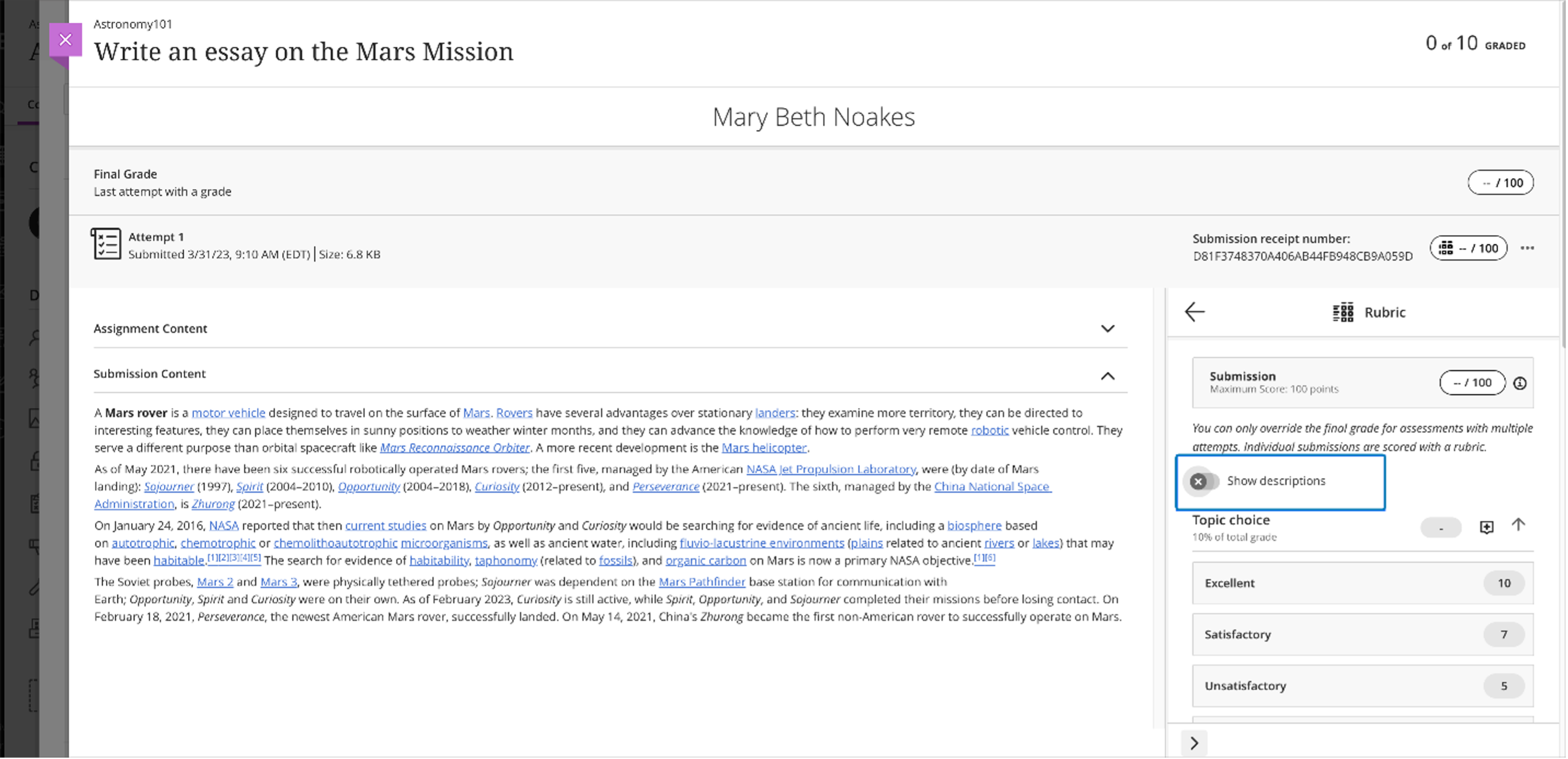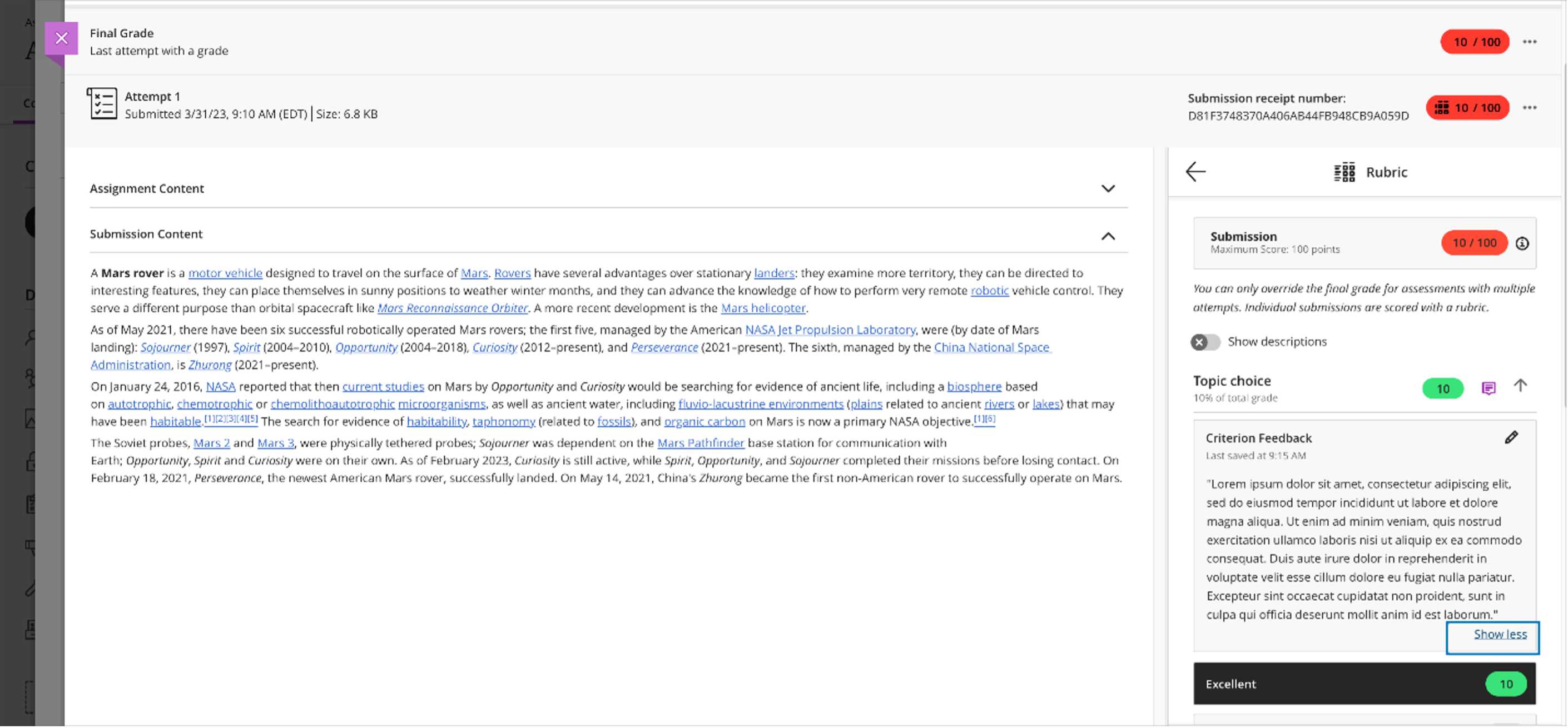 Drag and Drop Improvements: Simplifying Navigation and Course Management
Course management can be a time-consuming task, but with the Drag and Drop Improvements feature in Learn Ultra, it's now even more intuitive and streamlined. Instructors can drag and drop content to rearrange it within folders like in Learn Original, but also upload files from their local drives, rearrange content inside folders, and more. This makes it easier to manage course content and keep it organized for students.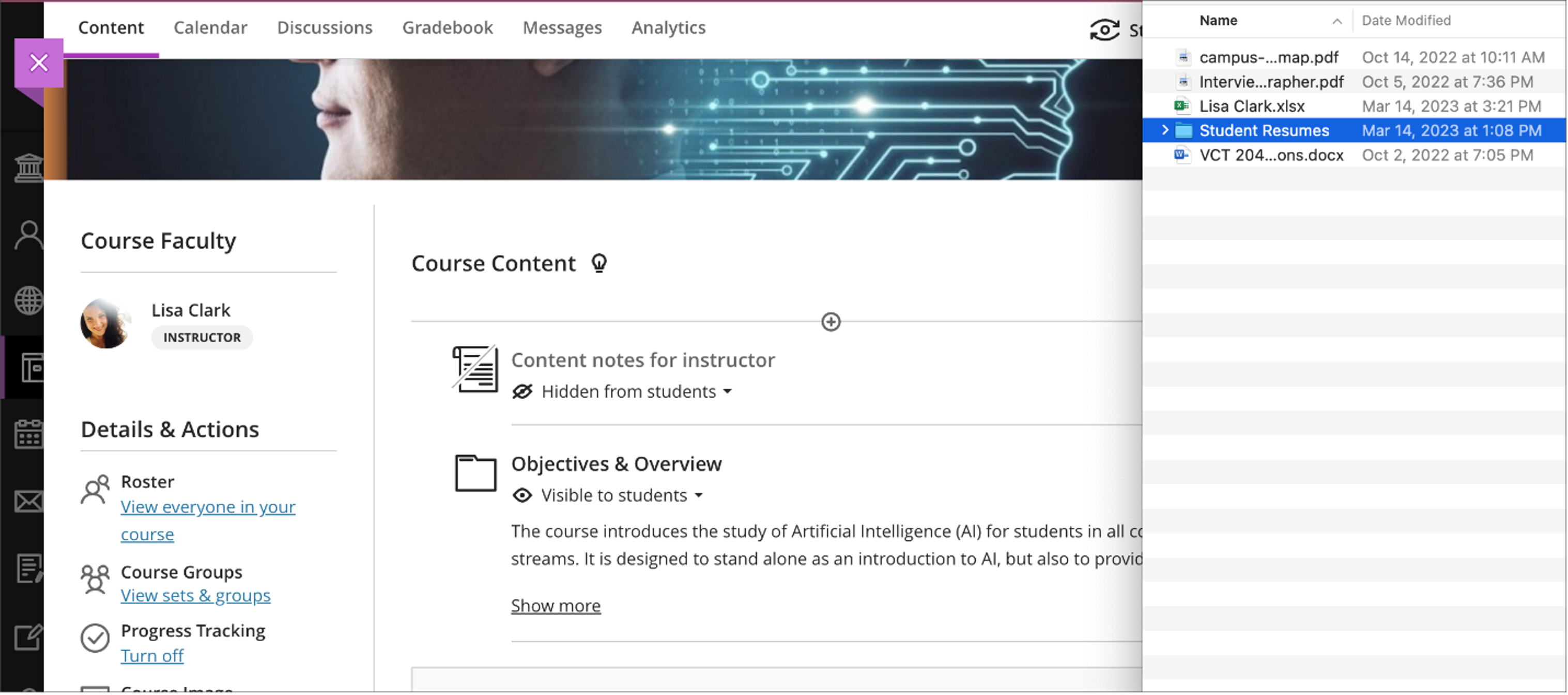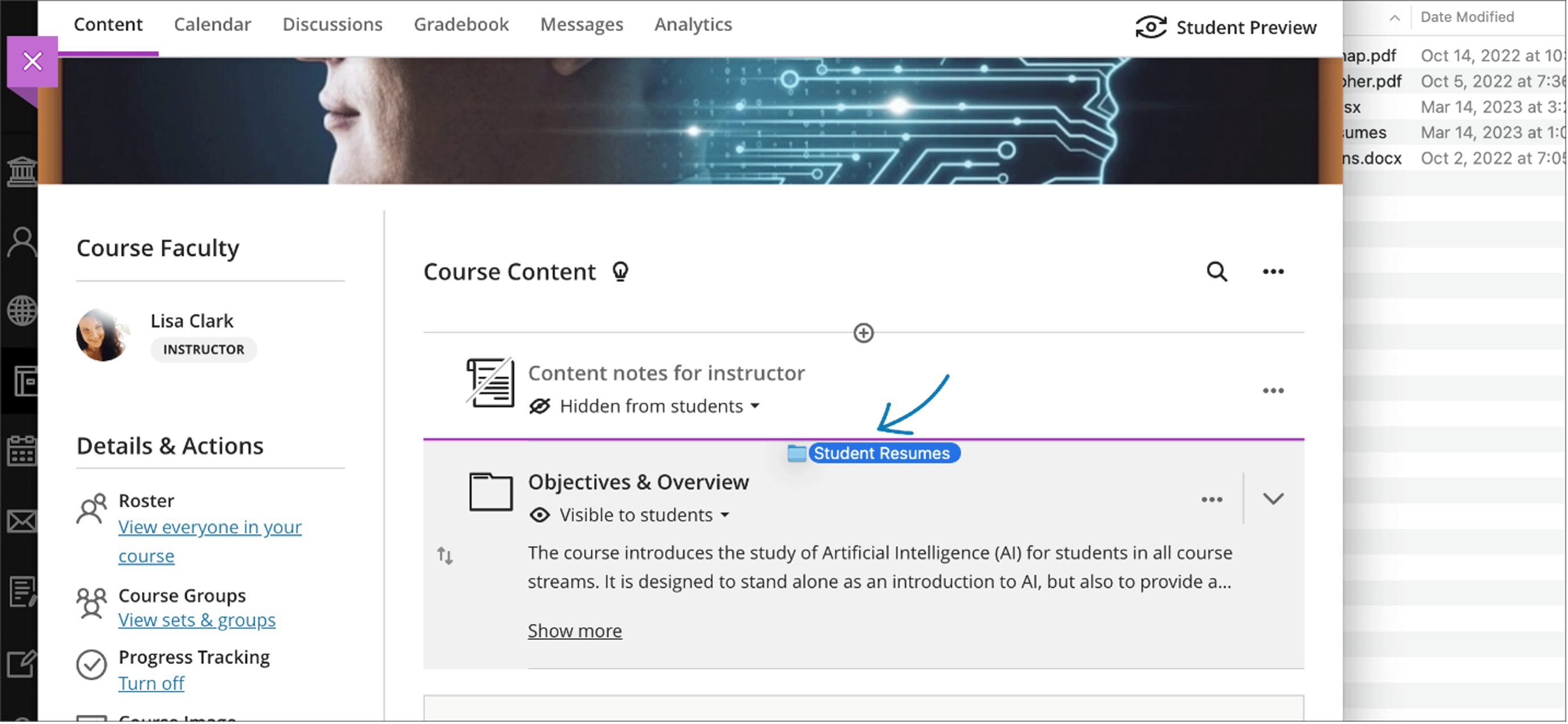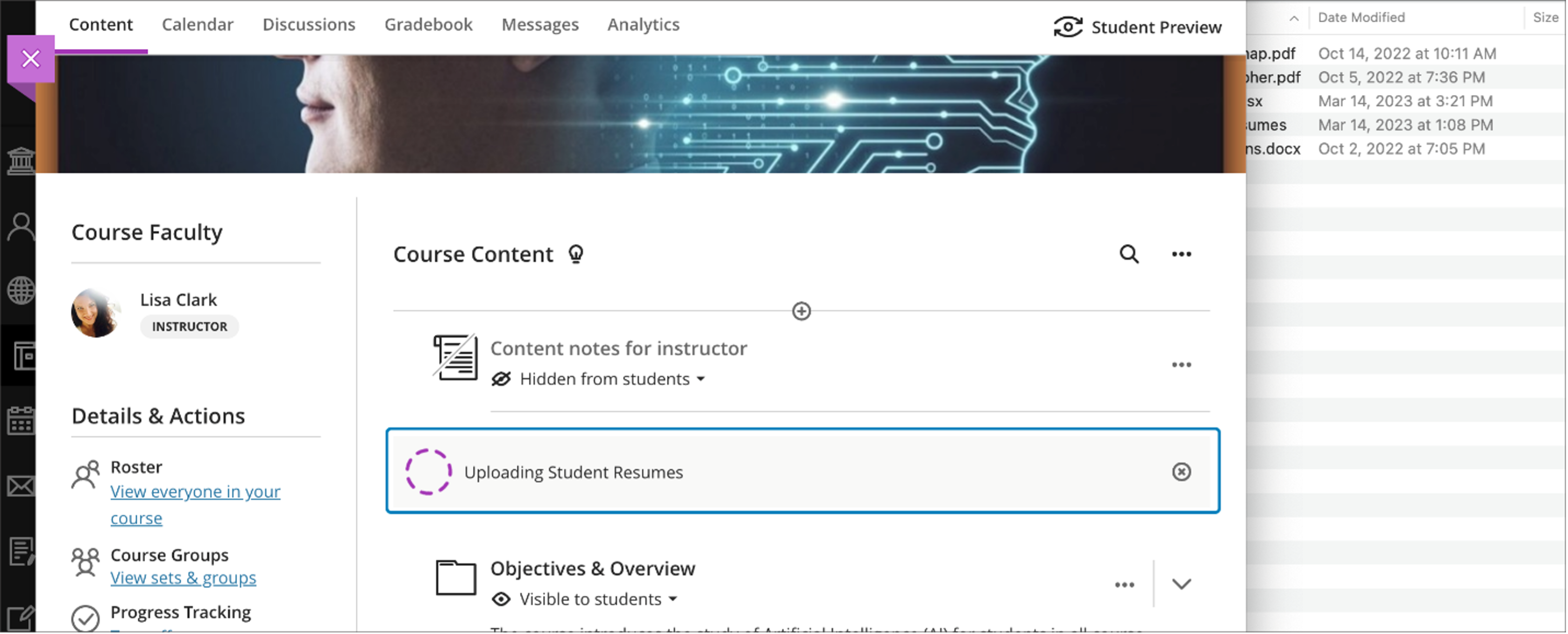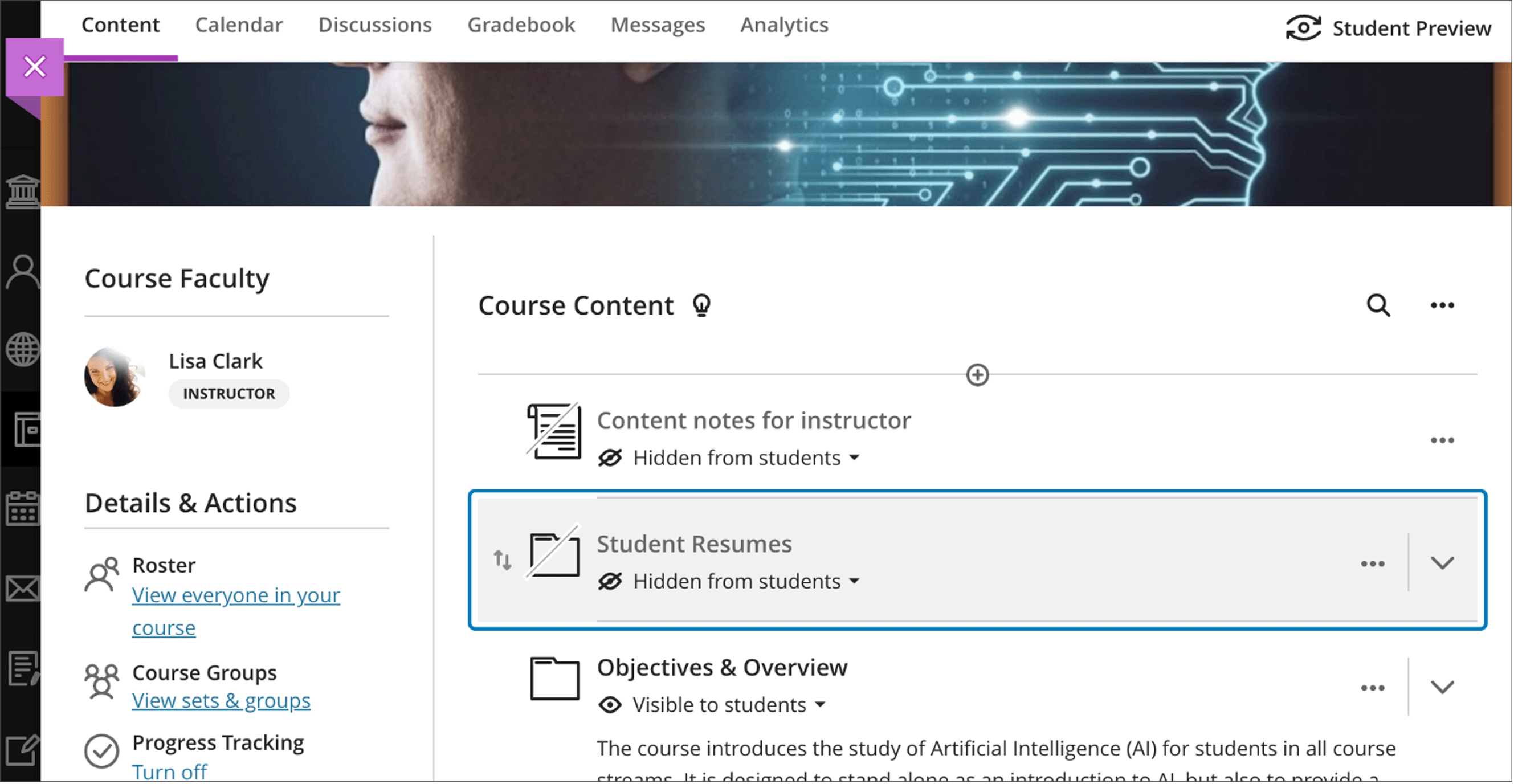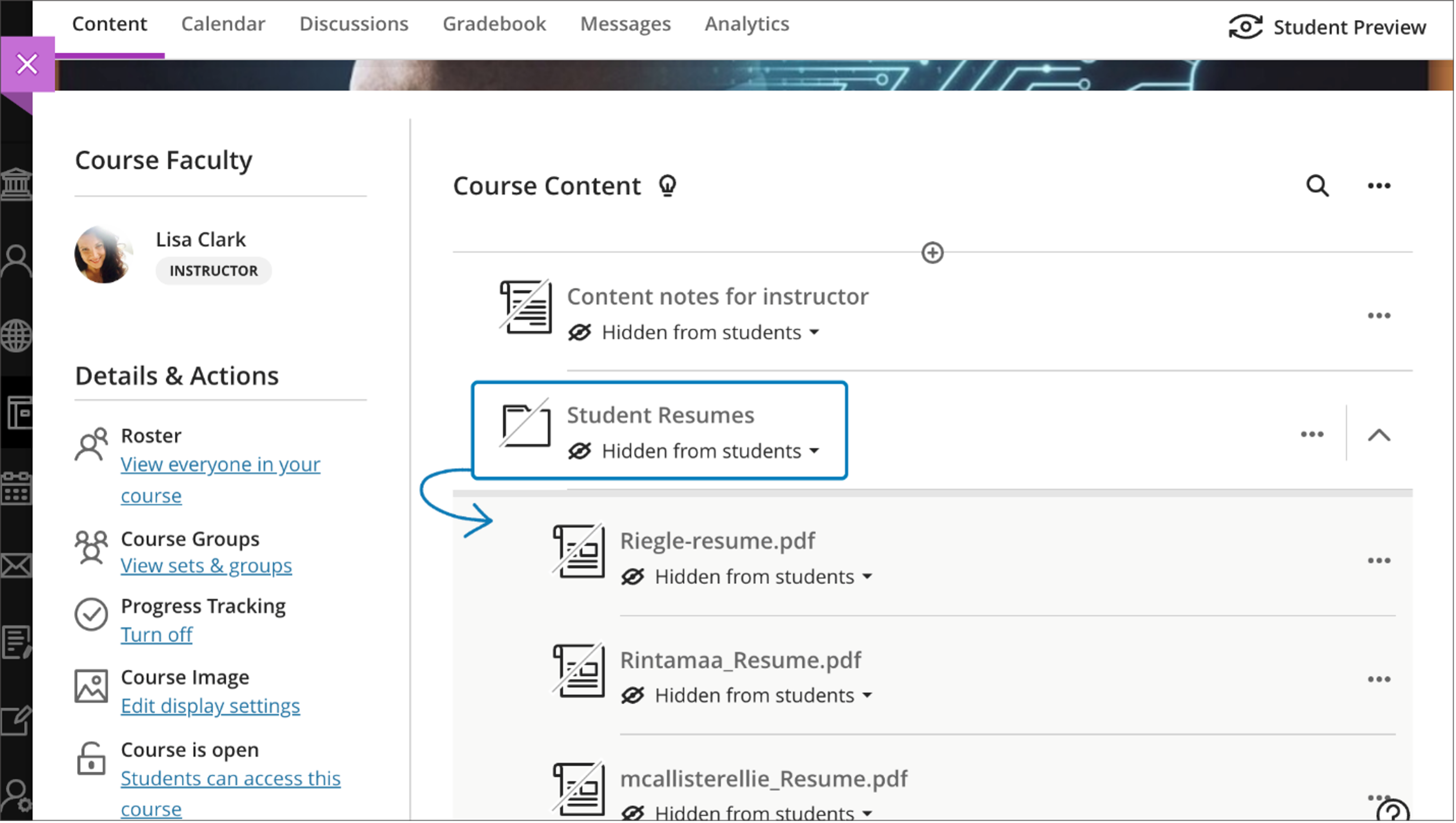 Login As: Efficient IT Support
Troubleshooting IT issues can be a frustrating and time-consuming process, but with the Login As feature in Learn Ultra, IT support staff can quickly and efficiently resolve issues. This feature, released in February, allows admins to impersonate any type of user by creating a new role, making it easier to identify and resolve issues without the need for detailed explanations or step-by-step instructions.
Now we are improving the permissions structure to offer better controls. Improvements include:
When using the institutional hierarchy, node administrators with login permissions cannot impersonate users from different nodes.
No user can ever impersonate a full administrator (z) role.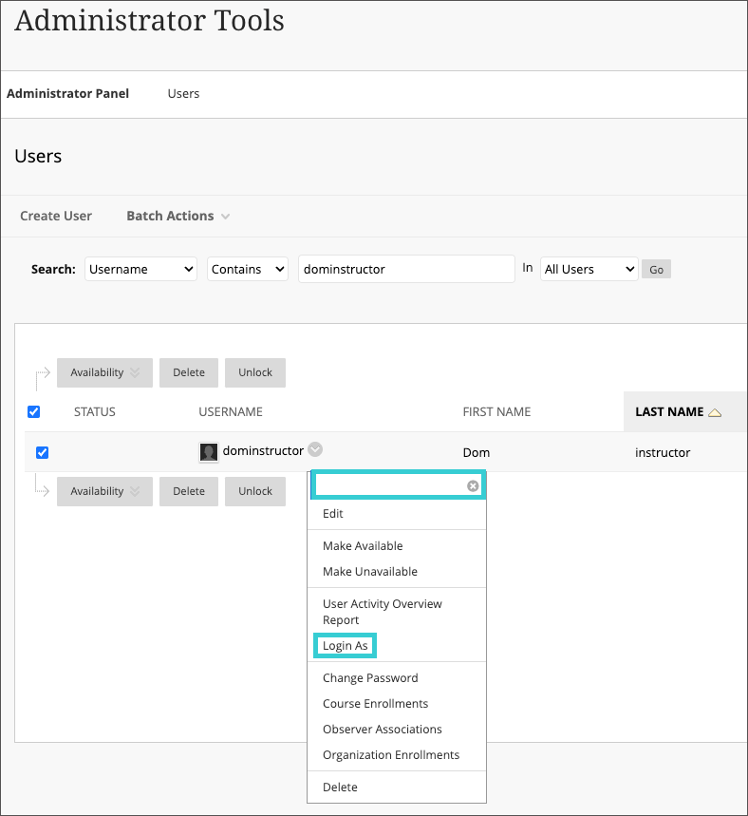 Overall, the new features in Learn Ultra's May release offer a range of benefits for higher education professionals. From personalized instruction to streamlined course management and efficient IT support, these features are designed to enhance the educational experience for students and make life easier for instructors and administrators alike.
Don't miss out on the latest features and improvements included in Learn Ultra's May release! These are just a few of the many new updates released this month. If you're curious about what else the release has to offer, be sure to check out the full release notes!