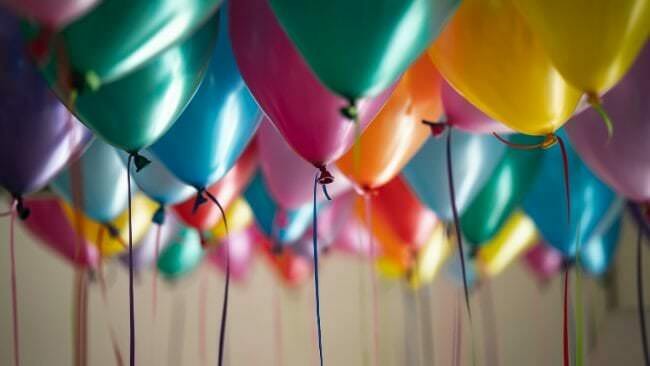 You say it's your birthday!
This content was previously published by iModules, now part of Anthology. Product and/or solution names may have changed.
Happy Birthday emails are a valuable touchpoint between you and your alumni, friends, and supporters. It provides your organization with a unique opportunity to celebrate an individual without a needing an "excuse" to connect. A gesture of goodwill, happy birthday emails are a fantastic icebreaker to cut through the avalanche of email we receive every day. But the best part is, these emails can be set up once and automatically delivered to your constituents on their birthday! Plus, it's incredibly easy!
To uncover the latest trends when it comes to Birthday messages, the iModules data team took an up close look at our customers who leveraged Birthday emails as part of their 2019* communication strategy.
Here are the key takeaways from the highlights of the analysis …
Happy birthday emails work!
As noted in a recent study of our Encompass data, the average open rate of general emails sent by universities is 25%. However, the average open rate for birthday-related email jumps to 30%, a 20% increase. Happy Birthday emails are a great way to cut through the noise of a crowded inbox to get noticed – and read – by your constituents.
Fun Fact: The average length of Happy Birthday subject lines is 38 Characters
Scheduling your Email
When are most birthday emails being sent? The answer may not surprise you, most emails are delivered in the morning between the hours of 5 AM and 10 AM. In fact, 75% of all Happy Birthday emails are delivered in that window.
But just because everyone is doing it doesn't mean it's optimal. When looking at open rates based on the time of day, the following times had higher than average open rates of ~40%: 3 AM, 4 AM, 5 AM … all times prior to getting ready for work. Furthermore, there was another spike around lunchtime, 1 PM, and 2 PM.
Fun Fact: 3 AM saw an open rate of 44%
Looking to avoid a particular time? 2 AM and 10 AM both had open rates of 22%
Tips for writing a Happy Birthday message
Be as personal as possible! The more personal you can be, the more emotion and relevance you bring to your engagement. At the very least use their first name to create the that instant connection. Plus, be sure to change the messaging each year, a stale message can come off as insincere and we certainly don't want that.
In that same vein of insincerity, keep your messaging short and concise. Embellished and over-worked messaging can detract from the well wishes.
You said Happy Birthday! What's next?
The open rates show that people are interested in reading Happy Birthday emails, which gives you a great opportunity to piggyback on this captive audience. So before you hit send, ask yourself … is there a clear call to action within your message?
Whether it is clicking to watch a video, updating their profile information, claiming a promotion, or viewing news and upcoming events, Happy Birthday emails have a way to advance engagement, so don't leave a call to action on the table.
Fun Fact: The average click to open rate is 12%
Here are a few ideas on ways to add a call to action to your emails:
Offer a small gift - these small gifts can be redeemable by a specific date or even made available at an upcoming event that they register for to further promote engagement
Share bookstore discounts – partnering with the campus bookstore is a great incentive to encourage your constituents to come back to campus or place an online order and spread school spirit
Provide them with their current contact information – this is a great opportunity to verify the information you have on file is correct and capture any updates.
Include a video – videos have proven to be prime clickable content; include a link to a Happy Birthday video message embedded within your alumni site.
No birthday data? No problem!
It's ok if you don't have everyone's birthday on file. Consider leveraging April Fool's Day to capture this missing information. Some organizations have leveraged April Fool's Day as a chance to email everyone without a birthdate on record a Happy Birthday communication. This provides your team a chance to acknowledge that this wasn't, in fact, their birthday and to prompt them to update their personal information.
Moving forward, consider adding birthdate to relevant forms to start building your database.
Looking for some Happy Birthday email inspiration? Take a look at these examples!
University of Tennessee
University of Tennessee also does a great job leveraging April Fool's. In this message they clearly describe why they aren't receiving normal birthday messages. They provide incentives that they get on their birthday along with a raffle for those who update their information.
Providence College
Providence uses an iconic statue and slogan on campus to help tie together their messaging. Not only does this create a playful opportunity with a gif, but it also provides them with a chance to educate constituents about where the statue came from, the benefactor, and the impact that has. They also offer up a discount to the bookstore.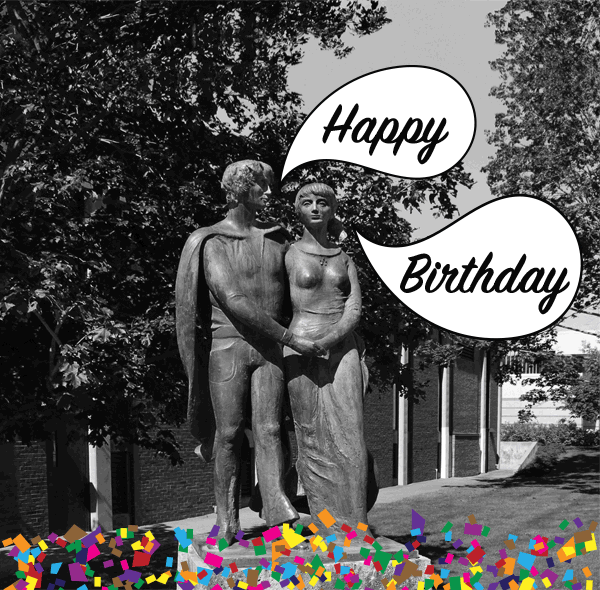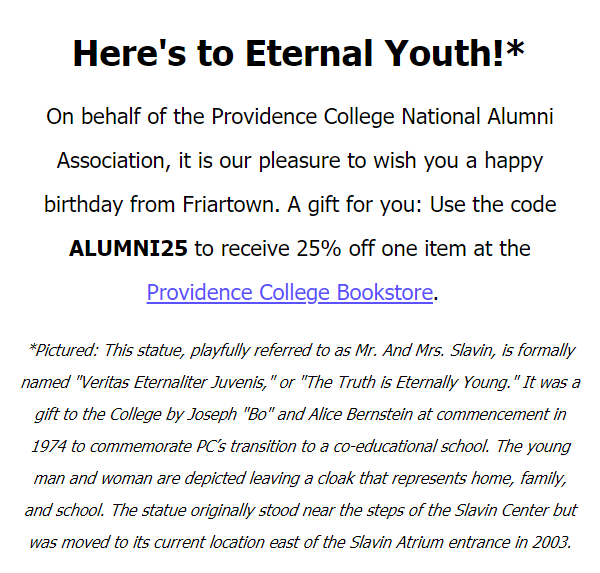 Wartburg College
Wartburg has a clever video where their mascot bakes a birthday cake. In addition to the video their email contains a discount to their bookstore while promoting their hashtag and social media presence. There are also clear call to actions for updates, referring students, giving and events.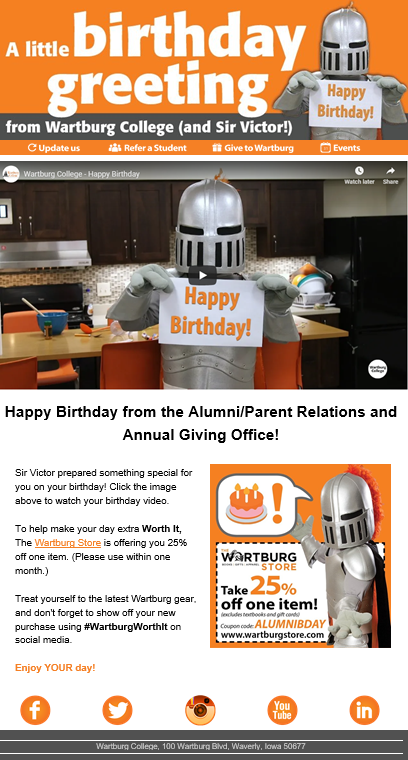 Michigan State University
MSU is a great example of how they add in their events and giving as part of their birthday messaging. In addition, they recap the constituent's information and provide multiple call to actions to update and become more involved with the university.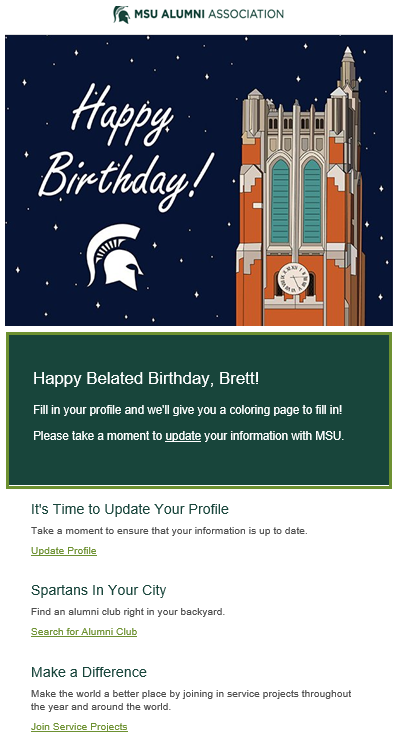 University of Nebraska
Nebraska includes a video with their birthday messaging that goes out to all of their dues paid alumni association members. They personalize the messaging including the History was made (insert birth year) and then recapping inside the email the information they have about the person. This is also a great chance to remind members of the benefits they receive as a dues paid member.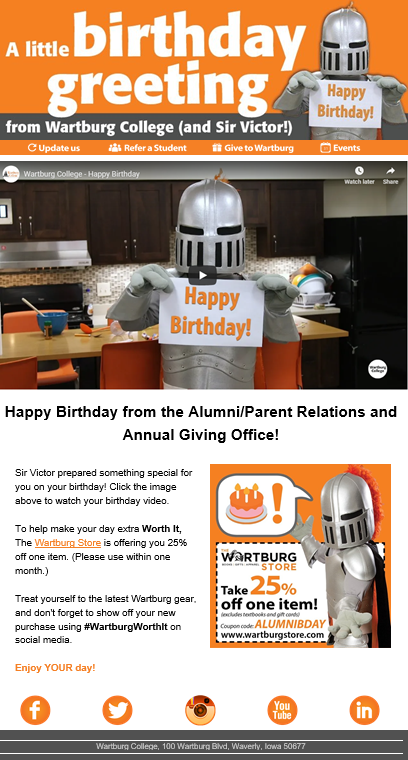 Concordia University
Concordia University's Happy Birthday email has two great calls to action: share your news and update your information. The two prominently displayed calls to action clearly invite the recipient to act all while communicating well wishes for the individual's birthday.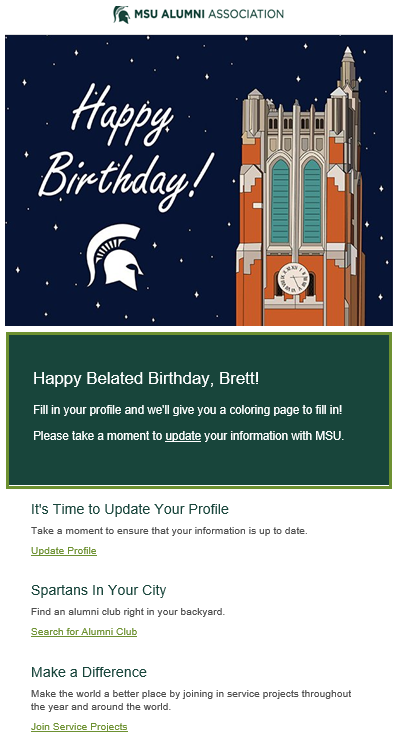 This blog was written by Senior Strategy and Solutions Consultant, Brendon Woodworth. As a member of the Consulting Services team, Brendon works directly with customers to reshape their strategy, improve fundraising, and drive engagement results.
* This analysis reflects emails delivered during the 2018 – 2019 fiscal year (7/1/2018 through 6/30/2019) with an email category containing "birthday."
Brendon Woodworth
Senior Strategy and Solutions Consultant
Anthology