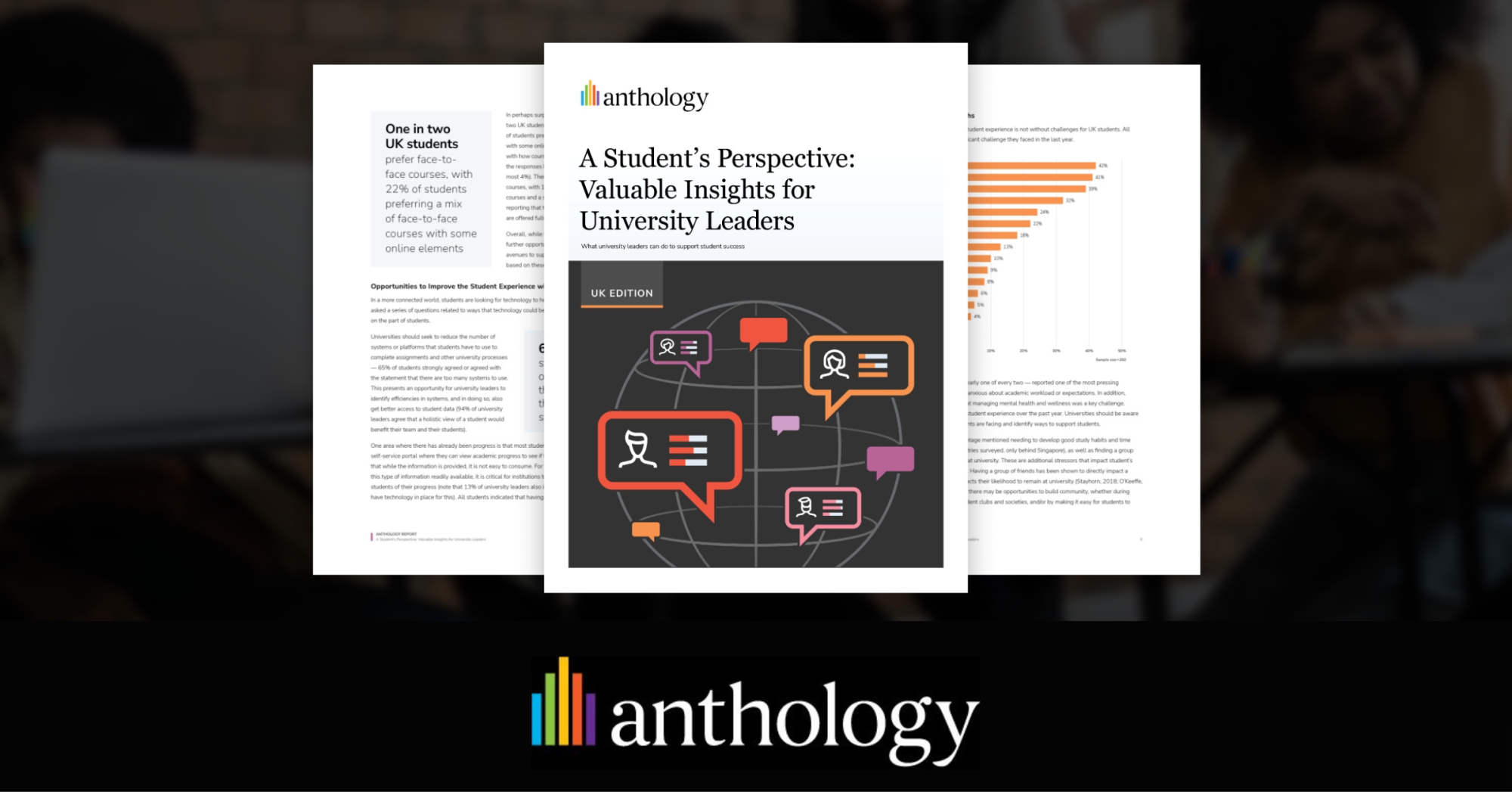 Anthology Survey Reveals the Top Motivations and Challenges of University Students in the United Kingdom
New report shines light on what university leaders can do to support student success
London – 25 October, 2023: Anthology, a leading provider of education solutions that support the entire learner lifecycle, today announced the results of its 2023 research study and its resulting report A Student's Perspective: Valuable Insights for University Leaders. The survey results reveal the motivations, challenges and technology habits of today's university students in the UK. The findings are a subset of a recent survey of more than 5,000 current students and university leaders from eleven countries. 
A Student's Perspective: Valuable Insights for University Leaders sheds light on the motivations and challenges of students, as well as what they believe universities can do to help them be more likely to complete their degree. The survey revealed there is misalignment between the students' needs and the priorities perceived by university leaders.
The report is being launched in conjunction with Anthology Together Europe, Anthology's annual user conference at the Hyatt Regency in Birmingham, UK, on 25-26 October 2023. 
Key findings highlighted in the report include: 
Motivations 
Students in the UK differ somewhat from peers in other countries when it comes to their motivations for enrolling in university.
While the top two reasons cited by university students were fairly common amongst their peers in other countries ("my field of interest requires a degree" and "higher earning potential" ranked one and two, respectively), there were a few motivating factors uniquely important to students in the UK. 
Independence and uncertainty were strong motivating factors – much higher than their peers around the world.
34% of students emphasized their desire for independence and the wish to move away from home as a primary motive for enrolling in university.

25% of students said they enrolled in university because they were unsure what else to do upon graduating from secondary school. This figure is nearly three times higher than all the other countries surveyed.
Also unique to students in the UK is enrolling in university as a path to find a life partner. Sixteen percent said finding a life partner was one of their top three motivations, marking the highest percentage when compared to students in all other countries surveyed.
Challenges while at university 
Mental health and anxiety are challenges for students around the world and the UK is no exception. 
While students in Spain and Australia were among the highest to be challenged with mental health and wellness concerns over the past year (59% and 52% respectively), a significant population of students in the UK were also affected.
The top four challenges they cited experiencing in the past year included:
Feeling overwhelmed or anxious about academic workload or expectations (42%) 

Developing good study habits and time management (41%) 

Managing mental health and wellness (39%) 

Finding a group of friends and/or like-minded individuals at university (32%)
Understanding student needs around mental health and wellness is an opportunity for university leadership. While 39% and 42% of students reported mental health challenges and anxiety, respectively, only 15% of university leaders consider mental health a priority for student retention and degree completion.
The priorities of university leaders don't align to the help students want
A misalignment between students and university leaders also emerged around the best way to support degree completion. Students cited the need for more academic support services, such as tutoring and mentoring programs (37%), and more career services and internship opportunities (35%). 

University leaders prioritised flexible scheduling options (27%) and offering courses in different modalities (25%). Leaders placed lower importance on academic support services (19%) and career services (19%).
"One of the key goals of conducting the survey was to see how aligned student needs and expectations were with those of university leadership — and some of the findings were quite eye-opening," said Bruce Dahlgren, chief executive officer at Anthology. "We hope that the survey results will better equip universities to meet the ever-evolving needs of students, ensuring their retention, completion, and long-term success."

A Student's Perspective: Valuable Insights for University Leaders was produced as part of Anthology's commitment to fostering a supportive academic environment and providing innovative education solutions. The research offers a valuable resource for university leaders, educators, and policymakers who are dedicated to ensuring the success of students in today's higher education landscape.
Download a copy of the full report here.
Methodology
Data collection was conducted online among university leaders and students across eleven countries in August 2023, including Australia, Brazil, Mexico, Philippines, Saudi Arabia, Singapore, South Africa, Spain, the United Kingdom, United Arab Emirates and the United States. Separate questionnaires with similar questions were utilised to enable comparisons. To qualify, student respondents had to indicate that they were currently enrolled at a higher education institution and pursuing a degree or diploma. University leader respondents had to indicate that they were currently senior leaders (dean, provost, rector, etc.) at a higher education institution. In total, 2,617 university leaders and 2,728 students qualified for and completed the survey. 
About Anthology
Anthology offers the largest EdTech ecosystem on a global scale for education, supporting more than 150 million users in 80 countries. With a mission to provide dynamic, data-informed experiences to the global education community through Anthology Intelligent Experiences™, we help learners, leaders and educators achieve their goals by offering over 60 SaaS products and services designed to advance learning. Discover more about how we are fulfilling our mission for education, business and government institutions at www.anthology.com.