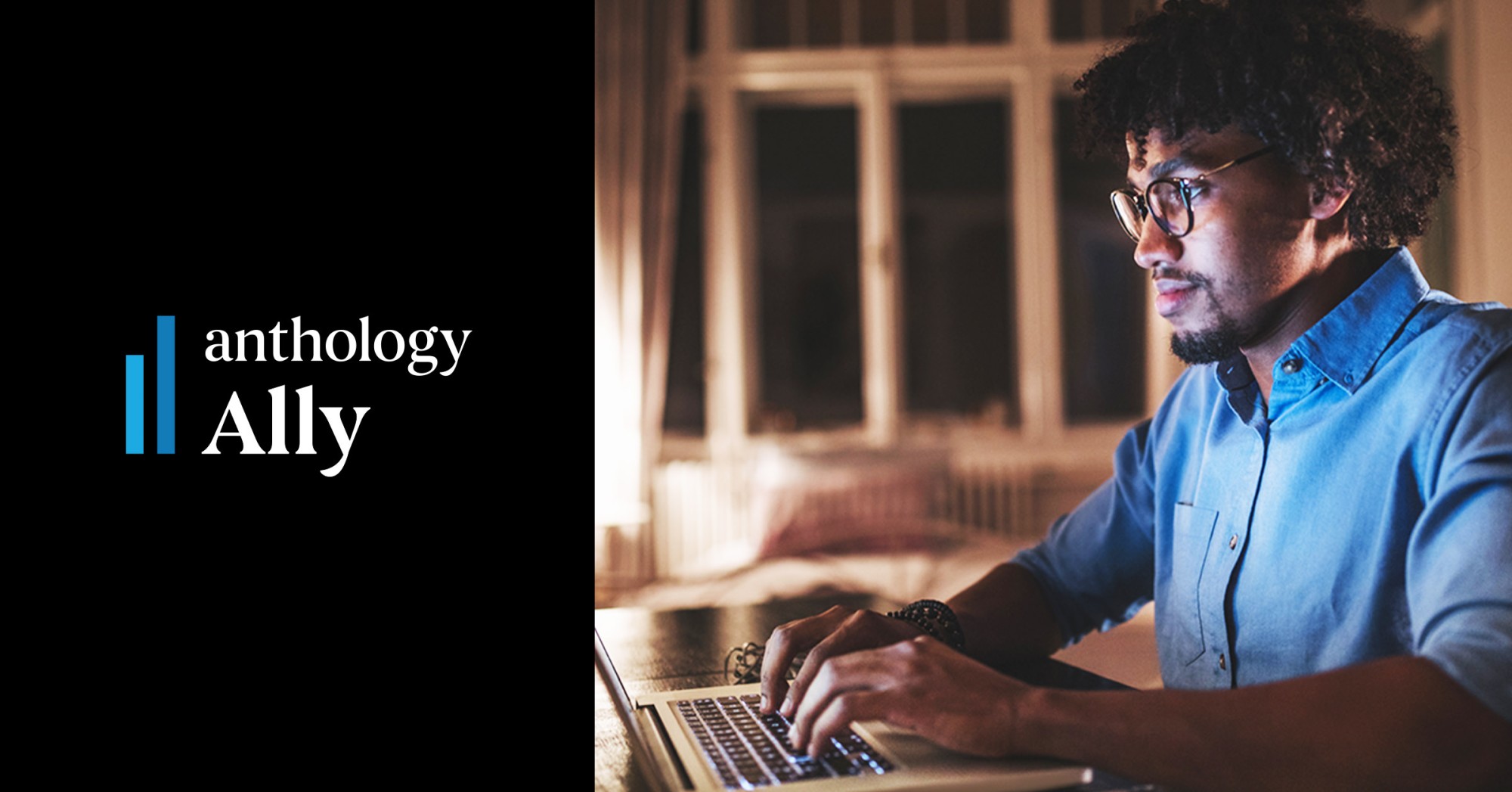 Anthology Ally + Immersive Reader: Empowering Learners with Flexibility and Choice
We at Anthology are fully committed to creating new opportunities for institutional and learner success with the most comprehensive suite of EdTech solutions that encompass every aspect of the learning experience at every stage of the learner's journey. As part of this non-stop commitment, Anthology Ally (previously Blackboard Ally), the market-leading accessibility tool for delivering more inclusive and equitable educational experiences for all, has incorporated Microsoft Immersive Reader into its broad set of alternative formats.
This new feature, announced with great excitement at Anthology Together 2022, is now available in Anthology Ally, providing learners with more flexibility in choosing the most effective way to interact with digital content in order to meet their own needs and challenges and, at the same time, improving usability and readability of learning materials in the manner that best suits their learning ways. "Digital reading can be challenging sometimes and having this new alternative available now makes this process so much easier!" said Mark Garstka, Access & Accommodations Administrative Assistant at College of DuPage. "It's so amazing at reading the words, and the high level of customization for text and reading options definitely helps to better understand content."
Microsoft Immersive Reader in Anthology Ally is especially aimed at making on-screen reading and comprehension faster and easier. "Together, we are focused on advancing education for the global community of learners, and that starts with making sure that all students have access to a learning environment that meets their needs," said Mike Tholfsen, Principal Product Manager, Microsoft Education.
This recent integration has brought powerful capabilities thanks to a comprehensive set of features:
Read-Aloud Text: Also known as Text-To-Speech (TTS) with highlighted text while reading, it allows people of all ages to learn and understand the content on a deeper level. This includes those with learning disabilities (such as dyslexia and ADHD) who may have a hard time focusing when reading, so that they might improve memory retention and word recognition; people learning new words or new languages, so that they can listen to the words at the same time as they read; people with visual impairments, visual strain, sensitivity to light, or even seniors, so they can listen to content and understand the context while avoiding staring at a screen; or just for audio fans who prefer to listen to digital content while they're on the go, commuting, or multitasking. Likewise, by changing the reading speed or assigning a voice gender (male or female), you can make the content come alive and have a seamless reading experience.

Line Focus: Do you and/or your kids sometimes have a hard time focusing on reading? Or do you just get easily distracted by long passages and words? Well, this situation is definitely more common than you think, as we all lose concentration when reading from time to time due to many different factors. To boost the reading experience and increase reading speed by focusing attention on specific parts of the text, readers can use this feature to choose the number of text lines displayed on screen and read automatically with one, three, or five lines highlighted.
Picture Dictionary: Imagine you are reading at a good pace and are completely absorbed in the content, and then you find a word that you aren't familiar with. Now you need to look up the word in a dictionary or open another tab in your browser to Google the word, right? This back and forth definitely triggers a loss of context and comprehension within the sentence you are reading. For that reason, it's important to have a quick and simple reference tool, like the Microsoft Immersive Reader's embedded picture dictionary in Anthology Ally, which allows you to seamlessly increase your vocabulary when reading. It is also very useful for those that learn better through graphics, since users can click on words to get automatic definitions and descriptions through images.

Translation: Language should not be a barrier when it comes to learning, and technology is now here to bridge these gaps by allowing larger groups of people to access content without facing any issues. Now international learners, non-native speakers, or people learning a new language can benefit from the instant content translation into more than 100 languages that Microsoft Immersive Reader in Anthology Ally offers, assisting in a better understanding of the content and accelerating the pace of self-learning of a new language.

Grammar References: Sentence structure and the use of lexical and grammatical references are very important for understanding content and are an indispensable and valuable tool for building cognitive organization and structure, comprehension skills, and written expression. When reading clear grammar explanations and example sentences, one can better understand how the language is used and communicate more clearly. "There is a lot of evidence showing the importance of grammar in reading comprehension," said Timothy Shanahan, Distinguished Professor Emeritus at University of Illinois at Chicago. "That is, as students learn to employ more complex sentences in their oral and written language, their ability to make sense of what they read increases, too."1 With Microsoft Immersive Reader in Anthology Ally, you can now set and turn on colors and labels to get grammar information and insights, like splitting words into syllables, or highlighting nouns, verbs, adjectives, and adverbs with your preferred or most convenient color.

Text Configuration: Navigating through tiny screens may cause people to struggle with reading. To reduce this difficulty, text configurations are a great visual aid that will allow you to improve word display and recognition. Through this feature, you can customize different settings for the text such as size, spacing, font, and background color, adjusting to each user's reading preferences, needs, or mode. This can also be useful when the environment and light conditions are not the best, and is especially helpful for those that struggle with letter distortion and/or unusual fonts.

Remember, we all are learners that have experienced some sort of accommodation need at some point in our lives, and reading needs are different from one learner to the next. With the right tools, readers will be better able to improve skills like focus, decoding, tracking, fluency, comprehension, and retention.
Learn more how Microsoft Immersive Reader works in Anthology Ally and provide your learners with more choices to engage with content, which will ultimately help them to learn more easily. Reach out today.
[1] https://www.literacyworldwide.org/blog/literacy-now/2014/01/15/grammar-and-comprehension-scaffolding-student-interpretation-of-complex-sentences