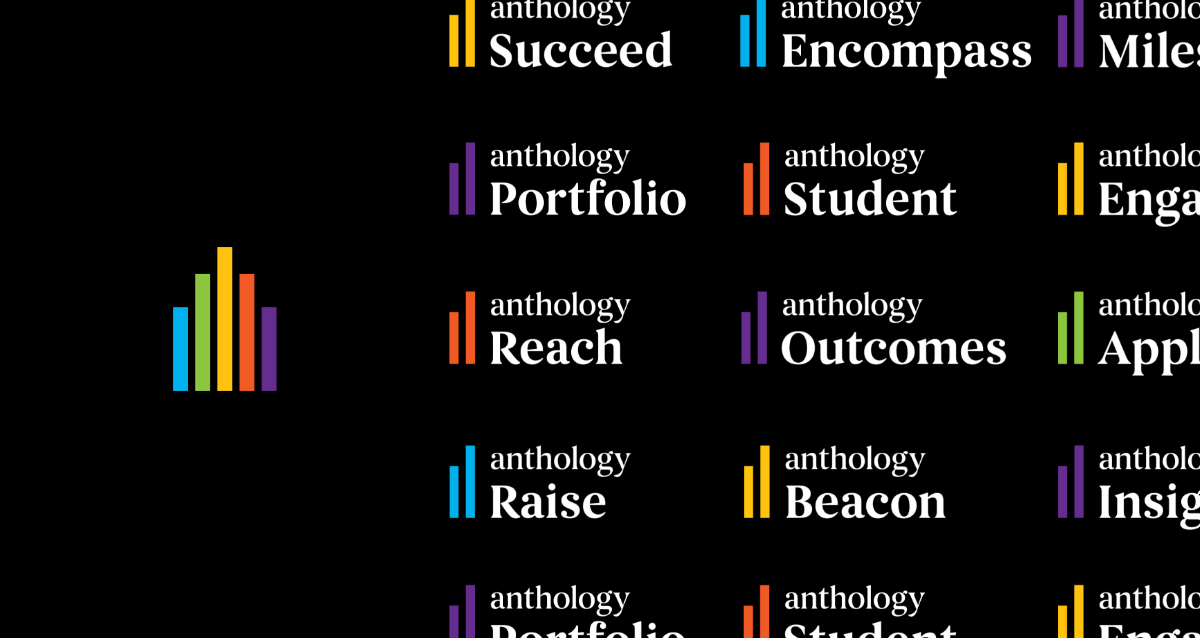 Anthology Announces Vision-Aligned Suite of Solutions
Suite Harnesses Power of Fully Connected Higher Education Data and Analytics for Student and Institutional Success
Boca Raton, Fla. — April 26, 2021 — Anthology, a leading provider of proven higher education solutions that solve complex challenges associated with the entire learner lifecycle, announced today the renaming of its solutions into a suite of products and services that align with Anthology's vision. The suite will enable higher education leaders to create more connected campuses for student and institutional success. Delivering on its mission to revolutionize higher education, Anthology's award-winning suite of solutions enable institutions to connect disparate data streams across campus – illuminating a set of multidimensional degree, skills, learning and career pathways that help guide students with personalized educational opportunities and support institutions' continuous improvement.
"As many institutions look to shift from a traditionally functional approach into a learner-centric operating model, it's critical they establish a comprehensive learner record and pathways for each student's journey to help ensure retention and completion," said J.D. White, Chief Product Officer, Anthology. "We've aligned Anthology's suite of products and services to help higher ed leaders streamline and automate the process of identifying new ways to create deeper student engagement while leveraging powerful analytics to accelerate institutional goals."
Anthology's solutions are designed to harness the collective power of world-class technologies, like Microsoft Azure, Microsoft Dynamics 365, and Microsoft Power BI. The following are Anthology's vision-aligned solutions, which comprehensively support digital and operational transformation and are designed with a student-centric higher education approach in mind.
Enterprise Applications
Anthology Student: Student Information System
Anthology Reach: Higher Education CRM Solution
Anthology Finance & HCM: Financial Management and Human Capital Management Solution
Anthology Payroll: Payroll System
Anthology International: Student Information System (for institutions outside the United States)
Admissions & Enrollment Management
Anthology Apply: Recruitment and Enrollment Management Solution
Anthology Student Verification: Financial Aid Verification Solution
Institutional & Learning Effectiveness
Anthology Academic Economics: Institutional Effectiveness Solution
Anthology Accreditation: Accreditation Management Solution
Anthology Planning: Academic Assessment Planning and Reporting Solution
Anthology Program Review: Academic Program Review Solution
Anthology Portfolio: ePortfolio Platform
Anthology Baseline: Assessment Analysis Solution
Anthology Course Evaluations: Course Evaluation Software
Anthology Insight: Analytics and Reporting Solution
Anthology Milestone: Digital Badging and Credentialing Software
Anthology Outcomes: Outcomes Assessment Software
Student Success, Engagement & Retention
Anthology Engage: Student Engagement Platform
Anthology Succeed: Student success and retention planning solution
Anthology Beacon: Student Success Solution
Anthology Digital Assistant: Next-Generation Chatbot
Anthology Occupation Insight: Workforce Analytics Solution
Alumni & Advancement
Anthology Encompass: Alumni and Constituent Engagement and Fundraising Solution
Anthology Raise: Advancement CRM Solution
Anthology's full suite of solutions are designed to harness the collective power of world-class technologies and decades of higher education expertise. Using the cloud-based, mobile-enabled suite, institutions have 24/7 access to their accounts and information. Faculty and staff teams are able to use enterprise-wide data to power reports and analytics for informed decision making from anywhere.
https://vimeo.com/537446956/4b96ae7fb2