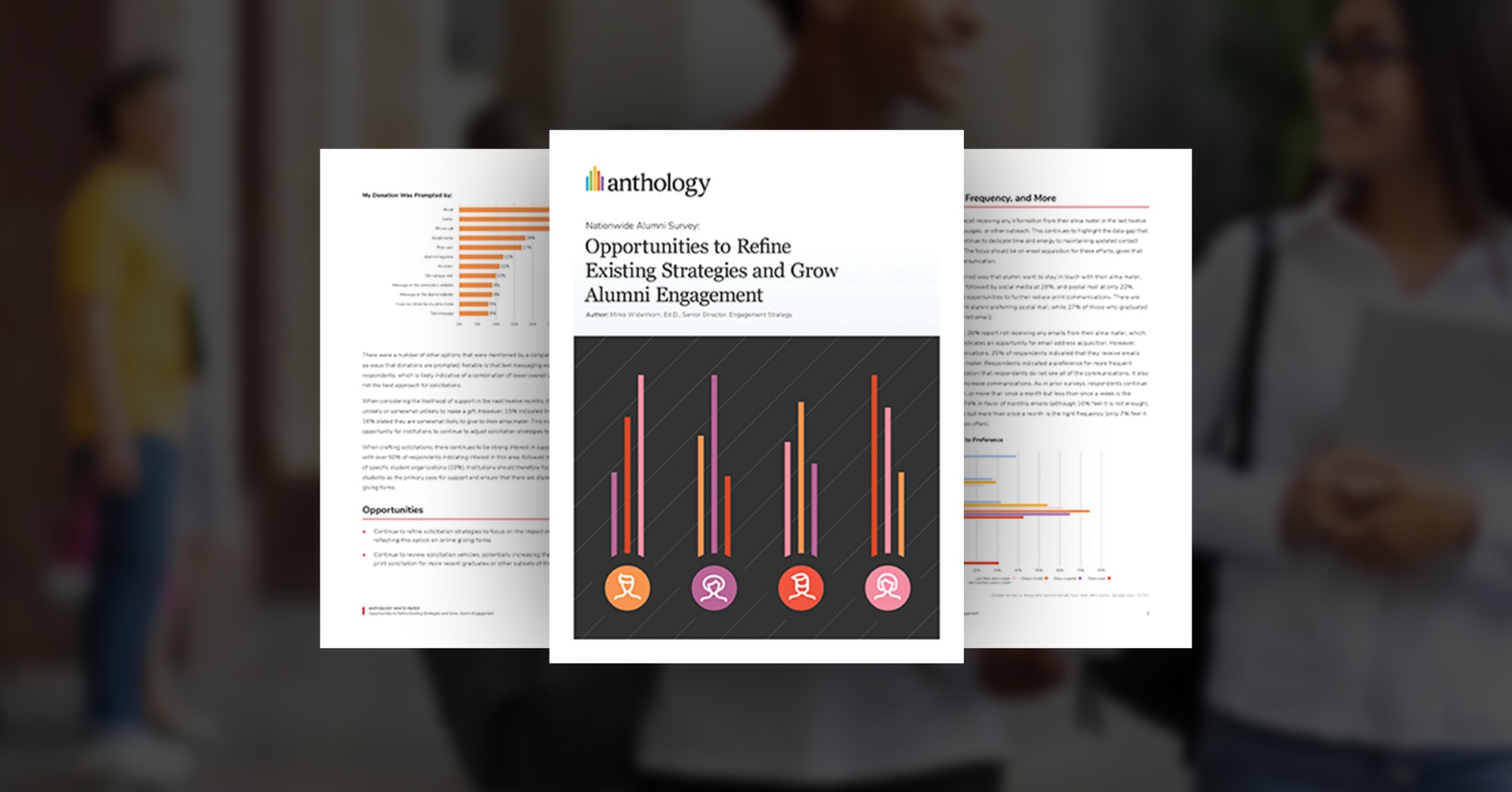 Opportunities to Refine Existing Strategies and Grow Alumni Engagement
Building alumni and donor engagement continues to be a moving target with the effects of the pandemic as well as shifting expectations of graduates. To assist alumni engagement and fundraising professionals in developing and refining strategies, an alumni survey was released in June 2022. The survey was designed to identify changing communication preferences, including the type of content that is of most interest; to deepen the understanding of the types of programs that garner the highest interest, as well as to identify interest in and the potential for supporting the institution financially. Over 2,000 individuals who graduated from a two or four-year higher education institution in the United States responded.
The results highlight strong interest in engagement with their alma mater and opportunities for institutions to continue refining existing engagement strategies and to develop new approaches to broaden and deepen alumni engagement.
Engagement During the Pandemic
Overall, engagement improved during the pandemic based on survey results, as a higher percentage of respondents indicated that engagement with their alma mater grew during the pandemic (14%) than those for whom it decreased (10%). Nearly half of respondents (48%) indicated that they had engaged in an activity or action over the last year, with the majority participating in events and webinars (as indicated in the chart below), while 28% engaged on social media, 24% reported making a gift to the institution, and 15% mentored students or alumni or volunteered their time.
Alumni Are Interested in Helping Current and Prospective Students
Over half of respondents (57%) expressed interest in helping current or prospective students, which is a higher percentage than those interested in participating in programming. Therefore, institutions have an opportunity to identify more ways to connect alumni with students — and prospective students.
Get the Full Analysis
Download the full white paper to learn more about how higher ed institutions can create new and reinforce existing alumni engagement strategies from Mirko Widenhorn, Ed.D., senior director of engagement strategy at Anthology.