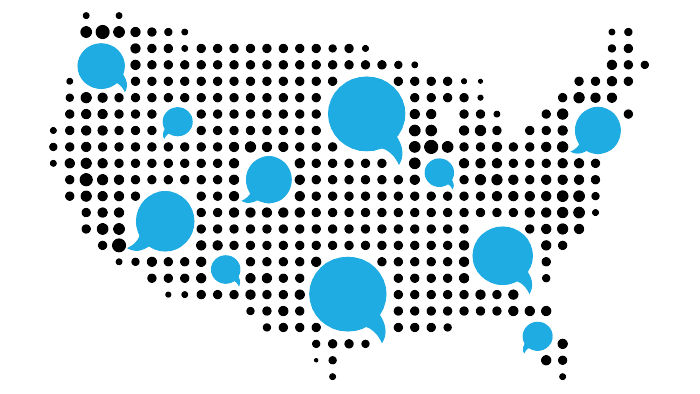 Adjusting Alumni Engagement Strategies During COVID-19
White Paper Overview
The pandemic has changed how universities seek to engage and support graduates. Anthology conducted a survey on alumni engagement trends during the pandemic to help higher education institutions better understand the level of interest in engaging with their alma mater and opportunities to adjust strategies for engagement and communications during this time. The survey targeted U.S. adults with at least a four-year degree.
Email Communications: What Are Alumni Looking For?
Institutions should continue to adjust and tailor content and communications. Graduates indicated that they are currently most interested in updates about students and the situation on campus (54% of respondents), followed by news about classmates (46%), and information on alumni networking opportunities (41%). This information can help institutions tailor messaging to place more emphasis on this content. The strong interest in networking opportunities supports offering virtual events and other ways for alumni to network. The pandemic's impact on employment further underlines this—nearly one-quarter of respondents reported being furloughed or laid off due to the pandemic, and 29% said they are currently earning less.
Donors
One-quarter of all respondents indicated that they had made a gift to their institution in the current year, while 29% have never made a gift. Among the overall population, 23% indicated that their likelihood to make a gift is lower, while only 7% of respondents are more likely to make a gift. For those who are more likely to make a gift, 63% expressed interest in supporting student emergency funds, while 48% of respondents indicated they would consider supporting the annual fund. This provides institutions with guidance on how to frame solicitations in the coming months.
Event Participation
Typically, a key part of alumni engagement and fundraising efforts focuses on alumni programs to build relationships and increase attendee engagement with their alma mater. Institutions quickly shifted to virtual events following the start of the pandemic in March. Survey respondents indicate that webinars on academic-related topics have been the most popular choice, followed by discussions with campus representatives. Of respondents, 41% indicated that they are somewhat or very likely to attend a virtual alumni event in the fall of this year, with 65% of these respondents indicating that they are more likely to participate in a virtual event than before the pandemic. This shows one of the impacts of the pandemic—a greater interest in virtual engagement.
78% of respondents stated that they are somewhat or very unlikely to attend an in-person event for the remainder of 2020.
Recent Alumni
Recent alumni, or individuals who graduated between 2011 and 2020, make up a key part of most alumni engagement strategies. 33% of recent alumni report receiving, on average less than one email a week, but more than once a month, with a higher percentage reporting receiving communications more often than the overall population. While those receiving emails more than once a month but not weekly generally feel this is the right amount of communications (74%), this is a lower percentage than for the overall population. Therefore, institutions should review communications to this cohort and identify potential ways to streamline communications and ensure that communications to recent alumni provide relevant content. Recent alumni are interested in a different content mix than the overall population.
Final Thoughts
The COVID-related alumni survey results highlight opportunities for institutions to adjust engagement strategy during the remainder of the pandemic and following the pandemic. Institutions should review communications to focus on messaging that resonates with constituents. In addition, communications to recent alumni should be segmented and include information on careers.