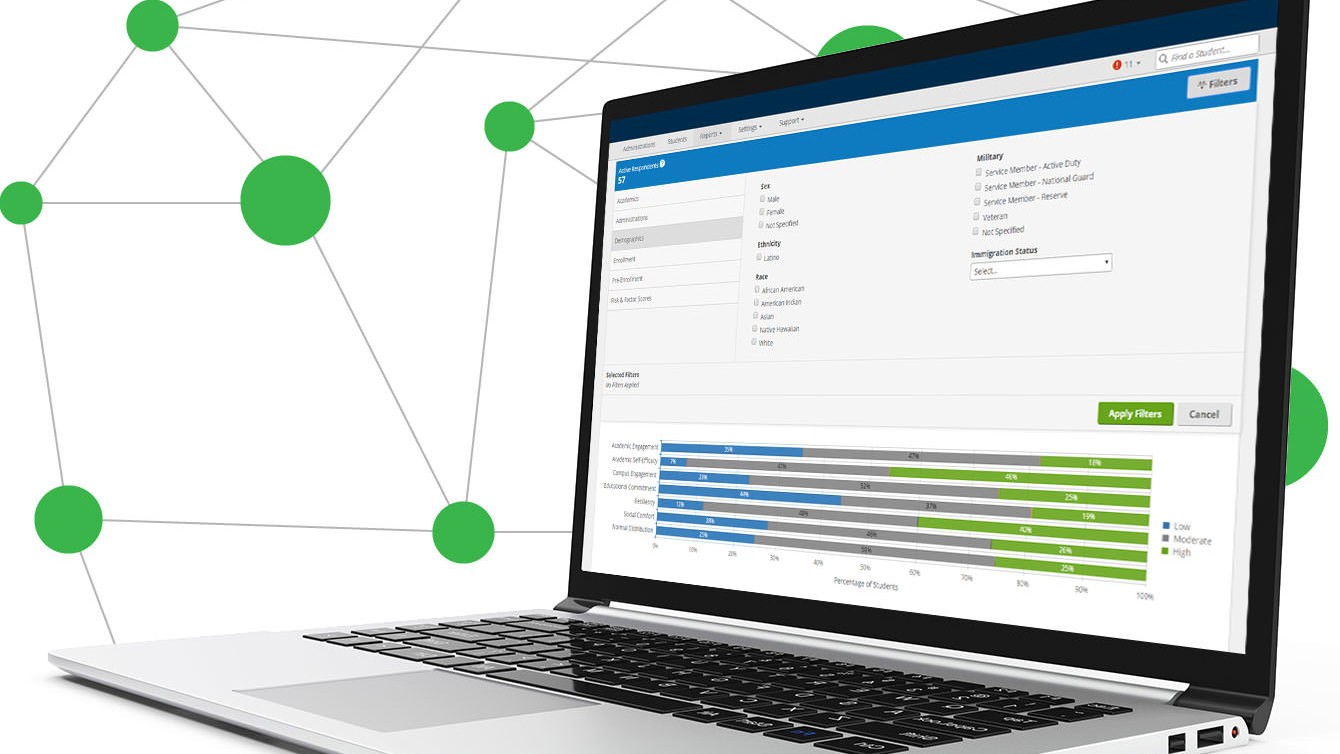 Fresh Insights on First-Generation Students
This content was previously published by Campus Labs, now part of Anthology. Product and/or solution names may have changed.
New Research from Campus Labs
First-generation college students are an increasingly significant, yet under-studied, population in higher education. Any research that does exist generally focuses on their deficits rather than positive attributes. Using data from the Campus Labs Student Strengths Inventory™ (SSI), which measures students in six noncognitive skills (detailed below), we can compare first-generation college students and their non-first-generation peers for a more critical look at some common assumptions.
Six Noncognitive Skills
Educational Commitment
Dedication to college and the value placed on earning a college degree
Resiliency
The ability to overcome challenging situations and stressful events
Social Comfort
Comfort in social situations and the ability to communicate with others
Campus Engagement
The desire to be involved in campus activities as well as an emotional attachment to the institution
Academic Engagement
The value placed on academics and attentiveness to coursework
Academic Self-Efficacy
Self-confidence in the ability to achieve academic success
Percentage of First-Generation Students
Students generally respond to the Campus Labs SSI during orientation or in the initial weeks of their first academic term on campus. They are asked to self-report information to determine their first-generation status. From 2015-2018, approximately 140,000 students at institutions across the United States have responded to the Campus Labs SSI. Over 110,000 respondents have opted to disclose their college generational status, and out of this number, 12 percent reported that neither parent (or guardian) held a four-year degree.
There are several findings that stand out.
First-generation students scored higher in academic engagement, educational commitment, and campus engagement
It's a common preconception that first-generation students are less academically prepared to succeed than their peers. This mindset can lead to lowered expectations and assumptions about how first-generation students participate in their learning experiences. If, for instance, a first-generation student has difficulty in a course, they simply may not know how to find or use the institutional resources available to them, which can be perceived as a lack of participation. Faculty and staff can interpret this behavior to mean that first-generation students simply don't value learning. Our data contradicts this notion, as first-generation students score in a higher percentile when assessing the importance of academic engagement and educational attainment.
First-generation students also placed higher than their peers in student engagement. When students are engaged in campus activities, it creates a sense of belonging and can connect classroom learning to outside-the-classroom experiences. And, successfully engaging students can have a positive impact on retention and completion efforts. It's often assumed that first-generation students are less likely to participate in on-campus activities due to other commitments or non-academic needs. While this may be true, our data shows that first-generation students score in a higher percentile when assessing the importance of campus engagement. It's a significant finding that should impact how institutions structure engagement activities to be inclusive of all students.
First-generation students scored lower in resiliency
Our data also indicates that first-generation students have lower percentile ranks than their peers when assessing resiliency. Due to the varied backgrounds of first-generation students—and the narrative around certain student populations overcoming odds to participate in higher education—it could be assumed that first-generation students would score higher in resiliency than their peers. While our data does not bear that out, we don't assume this means first-generation learners are less resilient.
First-generation students are less likely to question if attending college was the right decision
Campus Labs recently administered five experimental questions to 53,000 students. We wanted to measure student perceptions of a college education and the importance of acquiring a degree—an area where there has been a gap in research comparing first-generation students to their non-first-generation peers. Of the students who responded, 32,000 provided information to determine their first-generation status, with 29 percent self-identifying as first-generation.
Using a Likert scale measuring from Strongly Agree to Strongly Disagree, students were asked to react to the following statements:
Survey results show that both first-generation and non-first-generation students recorded similar answers to each question. This was unexpected, as it has generally been assumed that first-generation status shapes student beliefs related to the topics covered by these questions. However, the most surprising finding was the response to the fourth statement: I sometimes wonder if attending college was the right decision. Ninety-one percent of first-generation students somewhat to strongly disagreed, while 84 percent of non-first-generation students somewhat to strongly disagreed.
We thought that first-generation students might report more ambivalence toward attending college and obtaining a degree. However, the opposite was shown to be true. Possible explanations for this include the fact that first-generation students may make the conscious decision to attend college for a specific purpose or goal—such as getting a job—while non-first-generation students may simply attend college because of family expectations. Further research would be required to investigate these hypotheses.
Learn more about what this data means for campuses
Campus Labs partners with more than 1,400 colleges and universities to break down institutional silos and make valuable connections with their data. With a focus on analytics and insight, improvement and accountability, teaching and learning, retention and success, and student engagement, our mission is to empower institutions and transform higher education through the use of data.