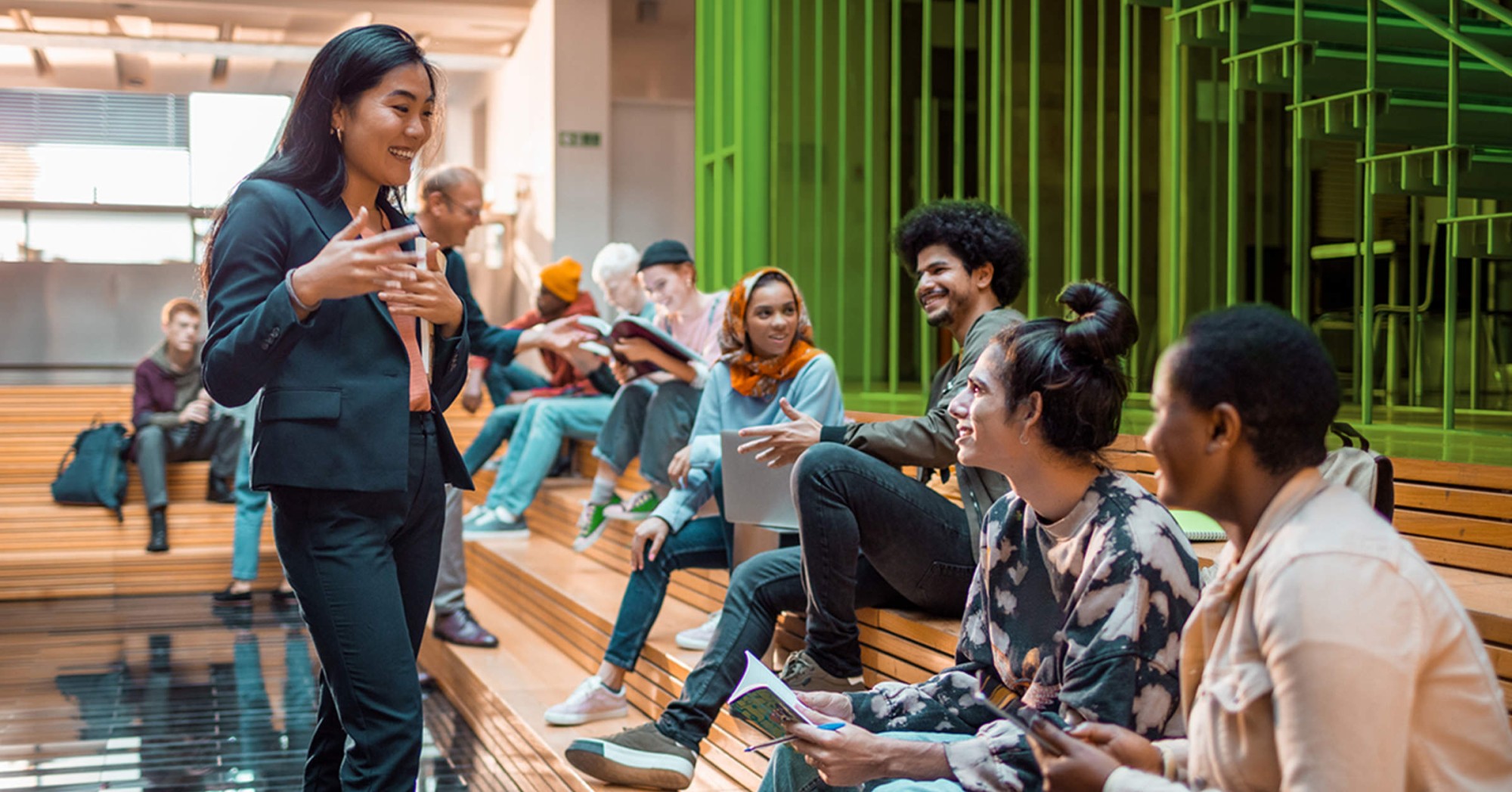 Identifying Unmet Needs and Potential Graduate Students in the Age of Online Learning
It's a question we hear from our clients all the time. As online learning becomes an increasingly crowded space, how can we differentiate and stand out in the market?
For graduate programs, this is a particularly pressing concern. According to NCES IPEDS data, as of 2020, there were nearly 40,000 master's programs available in the United States, a staggering 24% increase versus 2012. With program growth outpacing student interest, it is inevitable that competition for students will be fierce.
Here are some handy tips for growing and differentiating in the graduate space while also ensuring that you're meeting the needs of the modern student.
A four-part framework to identify potential students:
Even top-ranked institutions often struggle to identify and understand learners' unmet needs. This framework from the Harvard Business Review is a great place to start.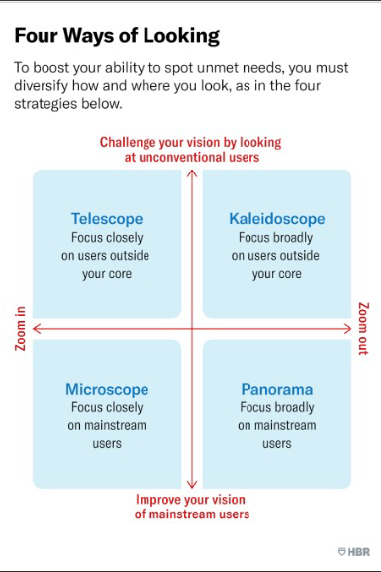 Your current students provide the data you need to understand your mainstream users. A Panorama view might include such things as their demographics, where they are located, and what motivated them to join your institution; data that can be readily available from the enrollment process.
Moving to a Microscope perspective, you want to leverage all available data to really understand their learning experience. As well as feedback from individual students, you should consider aggregated insights from your LMS to identify what course content is resonating and what study habits can be identified to help attract new students.
The same concept applies when you look at unconventional users. Start with a Panorama of the market, looking at demographic changes for MBA students and other trends. Then take out your Microscope and isolate specific success stories (such as the one below) and how they respond to student needs.
Once you have all four quadrants populated, insights will inevitably start to emerge — and you'll leave the exercise with an understanding of which student needs you must meet in order to grow your online graduate programs.
A graduate program for the common good: a case study with GCNYC
Our partners at Glasgow Caledonian New York College (GCNYC) provide an excellent example of this approach in action. By interrogating data on both their mainstream and unconventional users, they uncovered a clear unmet need: many graduate students are motivated by aspirations that extend beyond their own careers and want to drive sustainability, equity, and fairness within their chosen industry.
As detailed in the graphs below, trends in the job market validated this insight.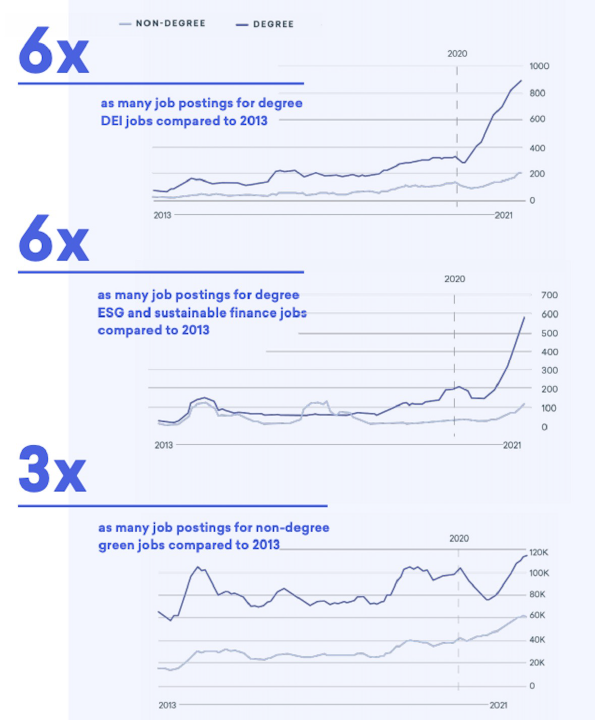 GCNYC's "For the common good" master's program initiative leverages this insight at every step. It starts with their program offering, which features a Master of Science in Business in Social Impact and Sustainability, a Master of Science in Sustainable Fashion, and a Master of Science in Diversity, Equity, and Inclusion Leadership. But it doesn't stop there. GCNYC allows a fully flexible study schedule to accommodate students from different backgrounds and a dynamic curriculum to which the students contribute. Lastly, GCNYC extends a scholarship to every student to demonstrate their commitment to equitable learning. And it's working. As John F. Albanese, dean of enrollment at GCNYC, explains:
"Our campus was found intentionally as the Graduate School for the Common Good, to offer master's programs in which students can skill up and learn how business and NGOs can redefine success, delivering measurable positive impact in accordance with ESG principles and aligned with global principles such as the UN Sustainable Development Goals. Our growth strategy is targeted to reach those prospective students who desire career advancement with purpose."
As the GCNYC example shows, when you identify a genuine unmet need for students, you set your institution up for success — even in the most crowded of markets.
Learn more about how our Online Program Experience (OPX) solution can help to grow your online programs.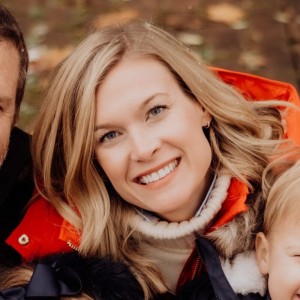 Kara Eldersveld
Strategic Consulting Director, Online Program Experience
Anthology
Kara Eldersveld specializes in developing transparent, mutually beneficial partnerships with colleges and universities that focus on prioritized growth opportunities. Every institution has a unique recipe for growth, and Eldersveld has a proven track record of assembling complex and strategic solutions that leverage expertise across academic program strategy, marketing, enrollment, and course design/development. Prior to Anthology, Eldersveld was the director of marketing and enrollment strategy at Rice University.