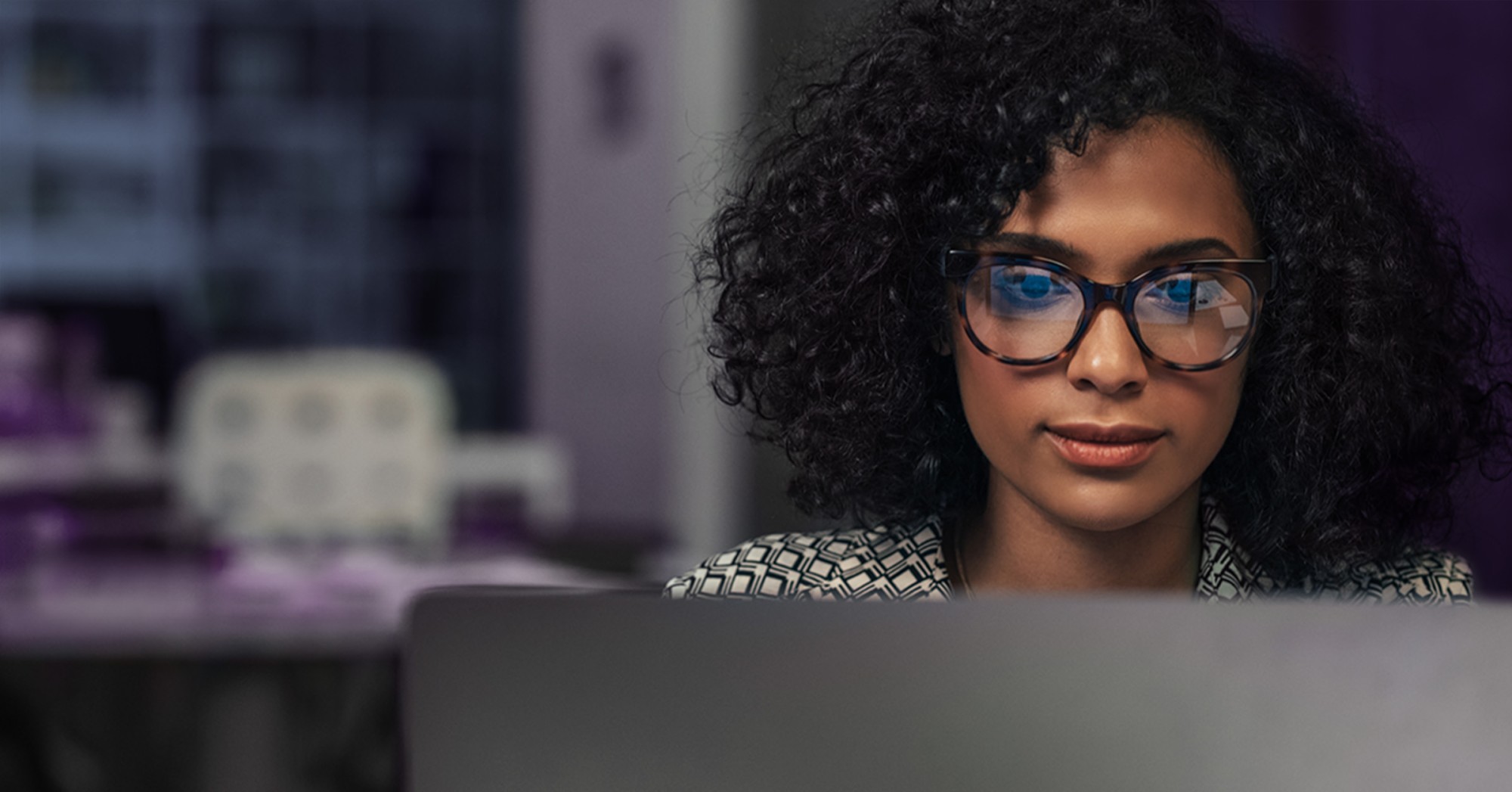 Preparing for a Cookieless Future: How Curated Institutional Data Can Maximize Enrollment and Retention
You might have heard we're headed for a cookieless future, but what exactly does it mean for higher education? Put simply, major digital advertising platforms — most notably Google — are phasing out cookies as a means of audience targeting, placing increased emphasis on institutions to leverage their own zero- and first-party data to reach prospective students.
As part of our commitment to Anthology Intelligent Experiences, we're dedicated to helping institutions curate their own data and add value for their students in the process. Below are some important considerations, complemented by examples of how Baylor University has successfully leveraged data to improve enrollment.
Are there any knowledge gaps at the top of the funnel?
As competition increases — particularly for online programs — differentiation at the top of the funnel is essential, and it can often be hard to know where to start. This simple graphic that Baylor has developed is helpful to frame the best approach at each stage in the funnel.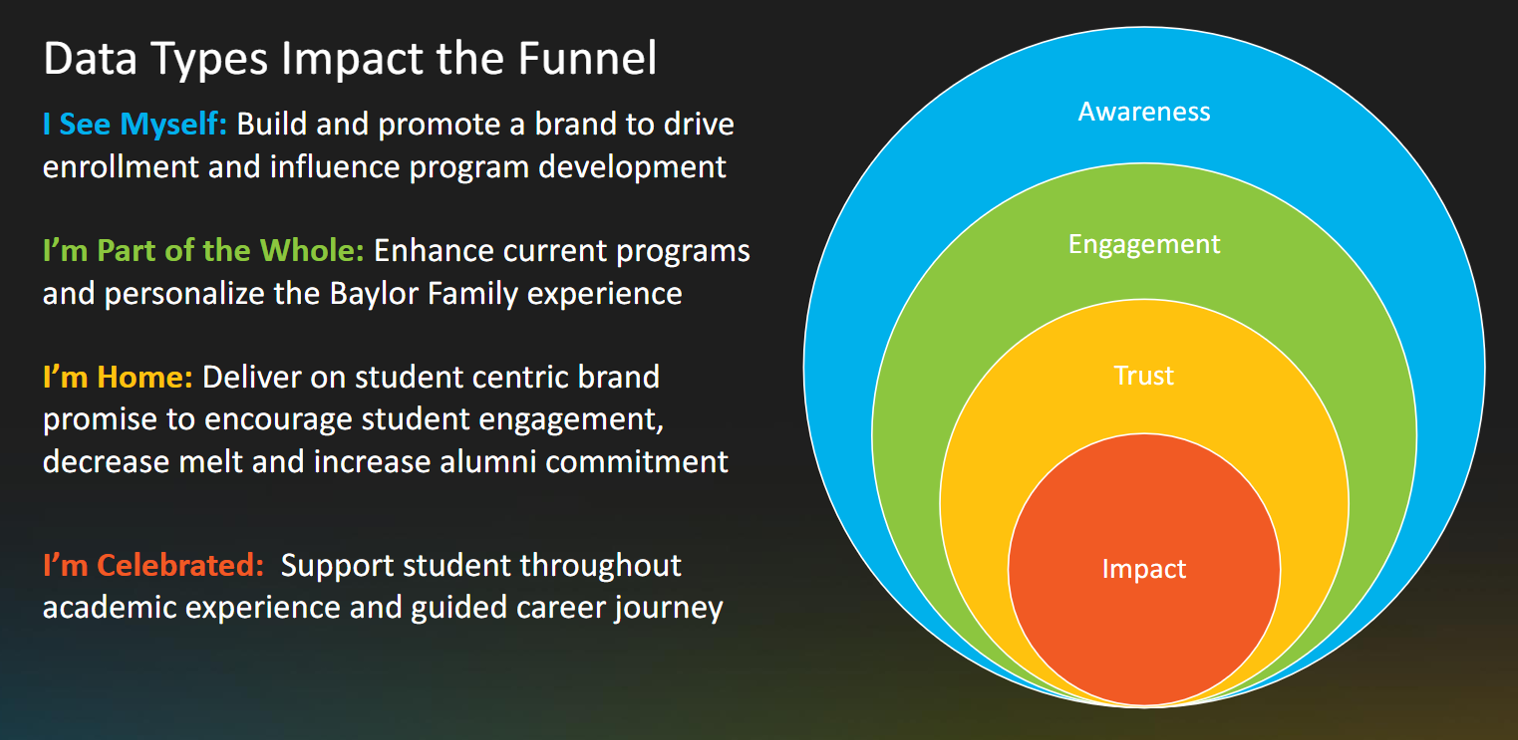 In the awareness phase, it's essential that students see themselves – in other words, that you present your organization in a way that they find relatable and interesting. Of course, zero-party data (individualized data that your students have willingly provided) is a great starting point to identify trends among your student body that can extend to prospective students. But don't discount the value of third-party data when building awareness, as this will provide insights on trends happening beyond your institution. For example, understanding job market trends will help you identify which of your programs can be filled by local students and which will benefit from promotion interstate.
In Baylor's case, they faced the challenge of trying to maintain a premium brand image — and higher tuition costs — in spite of growing competition. By leaning into data, they uncovered that their students are increasingly motivated by career-related experiences and pathways and ensured that this was central to their marketing outreach right from the very top of the funnel.
How are you differentiating your learning experience and offerings?
Now that you've got the student's attention — what's next? Remember, when a student is on your website or checking out your institution's profile on social, there's a very good chance that they also have your competitor's page open in a separate tab. What's going to make your institution more appealing?
The answer has to come from the learning experience you offer. Students are too savvy to fall for marketing spin, you need to interrogate data, use these insights to inform a distinct offering, and then use this as the basis for your marketing plan.
Baylor knew that their focus on career development had to flow right through the learner journey. As part of this, they created hybrid networking events and other initiatives to ensure that online learners felt part of their learning community, and weren't missing out on any of the career opportunities that have traditionally happened on campus.
For another example of an institution that has differentiated its learning experience, check out this recent case study with GCNYC and their "For the common good" graduate programs.
How are you using first-party data?
First-party data — or the data gleaned from students' interactions with your brand, for instance, their behavior on your website or within your LMS — is an essential part of the data mix because it allows you to move from numbers to genuine insight. By understanding students' behaviors, you get insight into their motivations, preferences, and needs, allowing opportunities to add value on the path to application.
As mentioned earlier, the modern student is constantly hopping between different browsers and screens, making it essential that your marketing can respond across different touchpoints in real time. "Lookalike" targeting, where you build outreach profiles based on your current first-party data, is a fantastic way to do this, provided your data is kept up to date to allow your lookalike segments to evolve over time.
The challenge Baylor faced in this respect might sound familiar to you. They were sitting on a wealth of first-party data, but it was taken from and stored in disparate programs across campus. Their solution was to amalgamate everything in a single CRM, providing holistic data to allow for targeted outreach to individual students and aggregated insights to inform broader marketing activity.
You worked hard to enroll those students — how are you retaining them?
The benefits of curating your data don't stop there. Arguably the biggest payoff is that having built a data profile for each student you're now in a far stronger position to engage them through their time at your institution and improve your retention. It's always far more cost-effective to keep a student than recruit a new one, plus — if you've got your data in order — you'll know them far better and will be able to engage them more effectively as a result.
Kara Eldersveld and Kate Blom-Lowery will lead a session on best practices with institutional data at UPCEA MEMs on November 30 - December 2.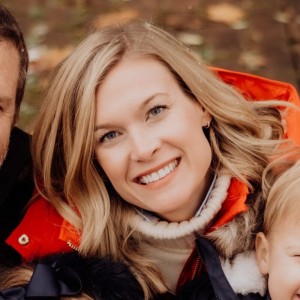 Kara Eldersveld
Strategic Consulting Director, Online Program Experience
Anthology
Kara Eldersveld specializes in developing transparent, mutually beneficial partnerships with colleges and universities that focus on prioritized growth opportunities. Every institution has a unique recipe for growth, and Eldersveld has a proven track record of assembling complex and strategic solutions that leverage expertise across academic program strategy, marketing, enrollment, and course design/development. Prior to Anthology, Eldersveld was the director of marketing and enrollment strategy at Rice University.