The Anthology Education and Research Center is our hub for education thought leadership and research. The Center is focused on providing higher education institutions with valuable information on topics that are impacting the global education community.
Three Guiding Principles
Our work in supporting educational institutions is informed by three guiding principles. To achieve them, our team closely follows legislative actions, regulatory issues, and policies that impact higher education and education technology.
Increasing access to educational opportunities for all
Supporting underserved & at-risk populations
Improving educational efficiencies & outcomes
In support of the Center's impact areas, the team has a particular focus on the following:
Historically Black Colleges and Universities (HBCUs)
Community Colleges
Global Advancement of Digital Education (GADE)
Anthology/UNESCO Partnership
Anthology Education and Research
Center Leaders

Darcy Hardy, Ph.D., Associate Vice President for Academic Affairs, and Director of the Center
Read Bio


Rob Robinson, Ph.D., Senior Director for Strategic Initiatives, and Associate Director of the Center
Read Bio

Steering Committee:
Heather Phillips, Mirko Widenhorn, and Ryan McDonald
What's new at the Center
Envisioning How Data-Informed Colleges and Universities Will Redefine the Student Experience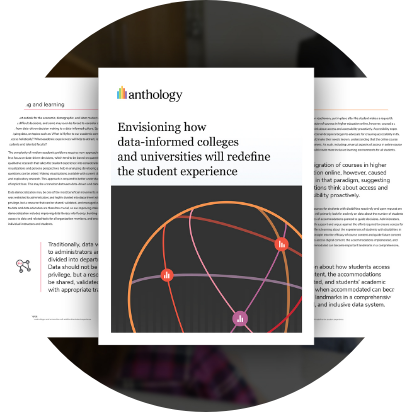 Learn More

The Anthology Education and Research Center Advisory Council