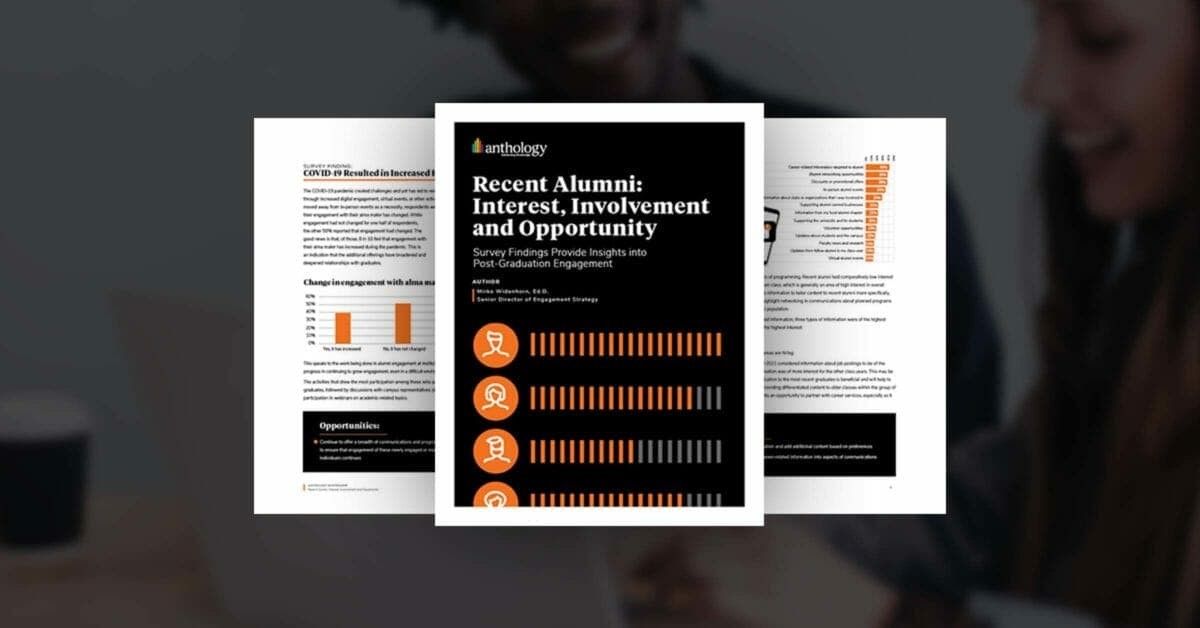 Deeper Student Engagement Leads to More Active, Involved Alumni, According to Anthology Study of Recent Higher Ed Grads
Annual Survey Findings Reveal Post-Graduate Engagement Trends; Pandemic Drove Increased Alumni Participation
Boca Raton, Fla. — October 5, 2021 — Anthology, a leading provider of proven higher education solutions that support the entire learner lifecycle, today announced the results of its Recent Alumni: Interest, Involvement and Opportunity Survey. Overall findings showed that engaged, connected students become active alumni with nearly 8 in 10 respondents who indicated involvement as a student also reporting participation in an alumni activity in the last 12 months.
Created to understand and clarify the drivers of post-graduation alumni engagement, the study examined engagement trends among recent college graduates to inform future alumni engagement and annual giving strategies. More than 2,000 graduates of public (76%) and private (24%) institutions were surveyed, all of whom earned their first degree in 2012 or later.
"Today's landscape of learners is more diverse and varied than ever before, so we must make a concerted effort to get to know each student to meet their individual experience needs based on interests and degree pursuits. This will go a long way in strengthening student and alumni relationships with institutions during their time attending college and beyond," said Jim Milton, CEO of Anthology. "As the results of the study show, this investment in a personalized, data-driven student engagement approach is integral to establishing strong post-graduate alumni engagement and leads to meaningful, lifelong alumni connections."
Student Engagement Leads to Alumni Engagement and Increased Donations
In addition to the main findings of engaged students translating into more active alumni, the results showed that fewer than half of respondents who participated in an alumni activity in the last year were not involved while a student – a 35 percent gap compared with the 8 in 10 who were involved as students. The results illustrate the long-term value of student engagement investment strategies and can help alumni offices focus on recent alumni populations that were involved as students, as they are more likely to remain involved after graduation.
The report also showed a tangible bottom-line impact for student engagement, as alumni who were engaged as students were nearly four times more likely to have made a gift this year versus those who were not. These results support investing more time and resources on soliciting alumni who were engaged as students – whether targeting these individuals differently or soliciting them at a higher frequency – saving budget dollars and time compared to soliciting all recent alumni.
COVID-19 Accelerated Alumni Connections to Campuses
Although the pandemic presented many challenges, it also created new ways of connecting with alumni, such as increased digital engagement, virtual events, etc. In fact, 40 percent of those surveyed felt their engagement with their alma mater had increased. This indicates a desire among alumni to remain engaged – whether through virtual (or in-person) gatherings, discussions with campus representatives, webinar events, making donations, etc. Recent alumni also continued to show strong interest in supporting current students throughout the pandemic, as 80 percent indicated wanting to help students in various ways including mentorship, speaking with them about career-related information, or sending words of encouragement.
Interest in Career Programming and Networking
According to the survey findings, half of recent graduates are most interested in participating in career-related programs and/or networking opportunities. The youngest of the recent graduates polled (classes of 2019-2021) expressed the strongest interest in career-related programming (over 50%), while the older set of recent graduates indicated a top preference for networking events. These nuances confirm the benefit of alumni engagement strategies that address sub-segments' preferences and a focus on providing career-related information to recent alumni, whether through partnering with career services or developing information specifically for alumni.
Opportunities to Tailor Outreach Based on Types of Student Engagement
In examining the types of organizations that students were involved in, results showed distinct areas of participation. Over 40 percent of respondents were part of academic organizations, such as honor societies, 1 in 3 were members of intramural or club sports, and more than a quarter were involved in e-sports with nearly the same percentage participating in cultural organizations. Alumni offices seeking to grow affinity programming can use this data to further refine engagement approaches as well as form stronger connections with student affairs and individual student organizations.
About the Survey
Anthology's Recent Alumni: Interest, Involvement and Opportunity Survey targeted recent graduates of four-year higher education institutions, all of whom earned their first degree in 2012 or later. Data was collected through a nationwide survey in June 2021 using a national survey platform. 2,064 responses were considered valid and used in analysis. For each data point, null values were excluded.