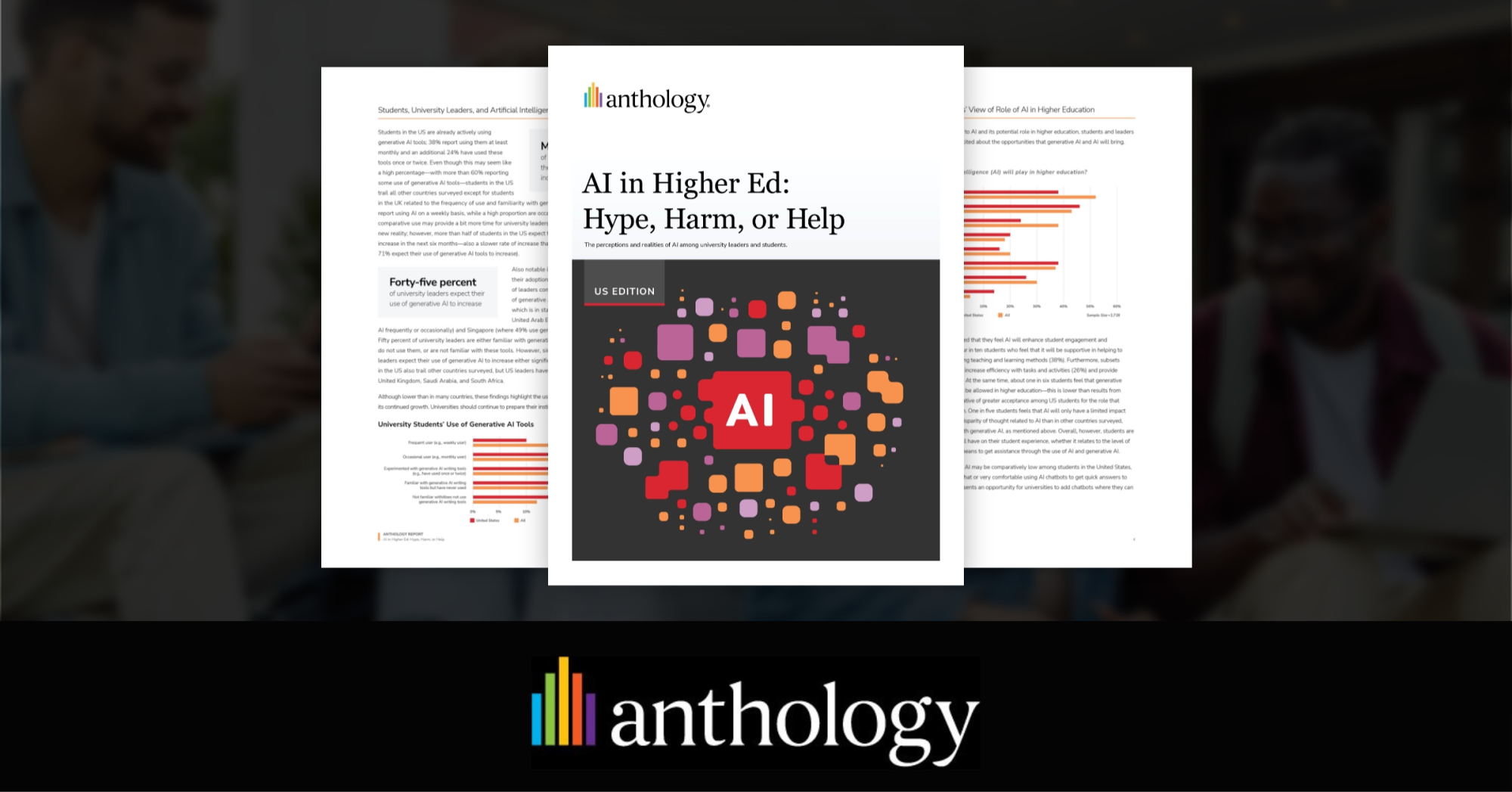 Anthology Survey Reveals University Students and Leaders Slow to Adopt, but Cautiously Optimistic about AI
While U.S. is slower to adopt generative AI in higher education than global peers, its potential benefits and role in university operations are apparent to leaders and students
Boca Raton, Fla., November 13, 2023 – Anthology, a leading provider of education solutions that support the entire learner lifecycle, today announced the results of its 2023 global research study: Comparing Global University Mindsets and Student Expectations. The survey results reveal the perceptions and realities of generative AI use among university leaders and students in the U.S., and how they differ from colleagues in other parts of the world based on a survey of more than 5,000 current students and university leaders across 11 countries.
AI use among U.S. students growing but lags global peers
The survey revealed intriguing differences in the adoption of generative AI tools, like ChatGPT, among university students in the United States compared to their peers in other countries. Overall, 38% of students in the United States reported using generative AI tools frequently or occasionally.
While the U.S. has a lower percentage of frequent users of AI writing tools on a weekly basis (10% compared to a global average of 23%), a higher proportion are occasional users (monthly use) (28%). The study also highlights a comparable rate of experimentation with AI tools between the U.S. and other countries. However, a significant percentage of U.S. students remain unfamiliar with or do not use generative AI writing tools, marking a significant divergence in adoption (22% of students in the United States vs. 12% of students in other countries surveyed).
While more than half of the students in the U.S. expect to increase their use of AI tools over the next six months, this is a slower rate of increase than their peers in other countries where 71% anticipate their use of AI tools will increase.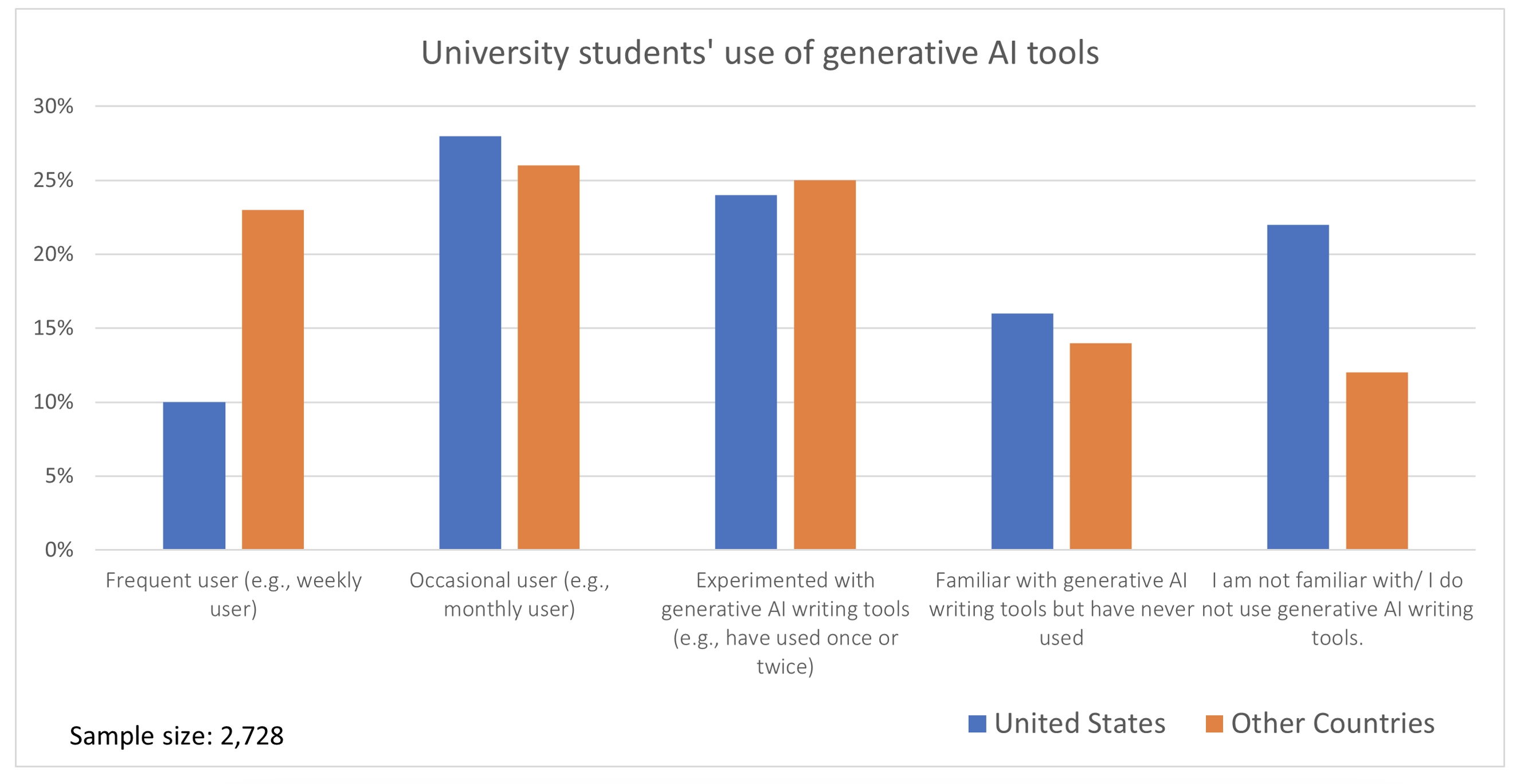 These findings reveal a unique pattern of AI tool utilization among U.S. university students, reflecting a blend of cautious exploration and periodic engagement.
University leaders in the U.S. are also slower to embrace generative AI. Only 26% report using AI tools frequently or occasionally, in contrast to their counterparts in the United Arab Emirates (54%) and Singapore (49%), who reported the highest use of generative AI tools. The study's insights have broader implications for educators, institutions, and technology developers looking to comprehend the evolving role of generative AI tools in higher education.
Students' AI optimism contradicts university leaders' concerns
Despite their slower pace of adoption, students in the U.S. see the value of AI. When asked what role AI will play in higher education, students' top responses were positive with 46% indicating AI would enhance student engagement and interactivity and 38% believing it would be supportive in helping generate ideas. More than 1 in 3 students said AI would revolutionize teaching and learning.
However, higher ed leaders are not as bullish. Only 16% think AI will revolutionize teaching and learning, and more than one-third (35%) of university leaders worry AI will create new challenges in identifying plagiarism. In addition, almost one in five (19%) are concerned AI will exacerbate inequity and perpetuate bias in education.
To support leaders in higher education in addressing AI-related academic integrity issues, Anthology recently announced a new feature in Blackboard Learn Ultra, its learning management system. Anthology Authentic Assessment will help instructors quickly develop complex, situational prompts that require learners to apply skills, knowledge, and judgement – prompts that are more difficult for AI tools to generate.
Despite plagiarism concerns, university leaders indicate cautious optimism
Although university leaders have concerns, 45% say their use of generative AI tools will increase in the next six months. They also cited a number of ways that AI could have a significant impact on higher education and university operations. Nearly 30% of university leaders in the U.S. believe AI can assist with brainstorming and 22% see the value of using AI to draft assessment questions aligned with learning outcomes. Another possible advantage of AI include assistance in course building (17%). Almost 1 in 5 leaders believe AI can help develop enrollment or admission campaigns.
"Understanding the dynamic landscape of AI in higher education is paramount," said Anthology Chief Executive Officer Bruce Dahlgren. "Our latest findings offer universities critical insights into the opportunities and challenges presented by AI tools. At Anthology, we are dedicated to providing solutions that empower our clients to navigate these technologies thoughtfully and leverage them to enhance the educational experience. Innovation in higher education is a journey and we are guided by our commitment to keep humanity at the helm."
Through this research, Anthology aims to contribute to the enhancement of the higher education experience for students and universities as they work together to refine how teaching and learning take place.
In addition to the new Authentic Assessment tool, Anthology recently launched the AI Design Assistant, which helps instructors quickly create engaging learning experiences in Blackboard Learn Ultra. All product features that leverage AI are developed following Anthology's Trustworthy AI program and commitment to responsible, lawful and ethical use of AI, which was informed with feedback from clients around the world.
Download the United States edition of AI in Higher Ed: Hype, Harm, or Help.
###
Methodology
Data collection was conducted online among university leaders and students across 11 countries in August 2023, including Australia, Brazil, Mexico, Philippines, Saudi Arabia, Singapore, South Africa, Spain, the United Kingdom, United Arab Emirates and the United States. To qualify, student respondents had to indicate that they were currently enrolled at a higher education institution and pursuing a degree or diploma. University leader respondents had to indicate that they were currently senior leaders (dean, provost, etc.) at a higher education institution. In total, 2,617 university leaders and 2,728 students qualified for and completed the survey.
About Anthology
Anthology offers the largest EdTech ecosystem on a global scale for education, supporting more than 150 million users in 80 countries. With a mission to provide dynamic, data-informed experiences to the global education community through Anthology Intelligent Experiences™, we help learners, leaders and educators achieve their goals by offering over 60 SaaS products and services designed to advance learning. Discover more about how we are fulfilling our mission for education, business and government institutions at www.anthology.com.