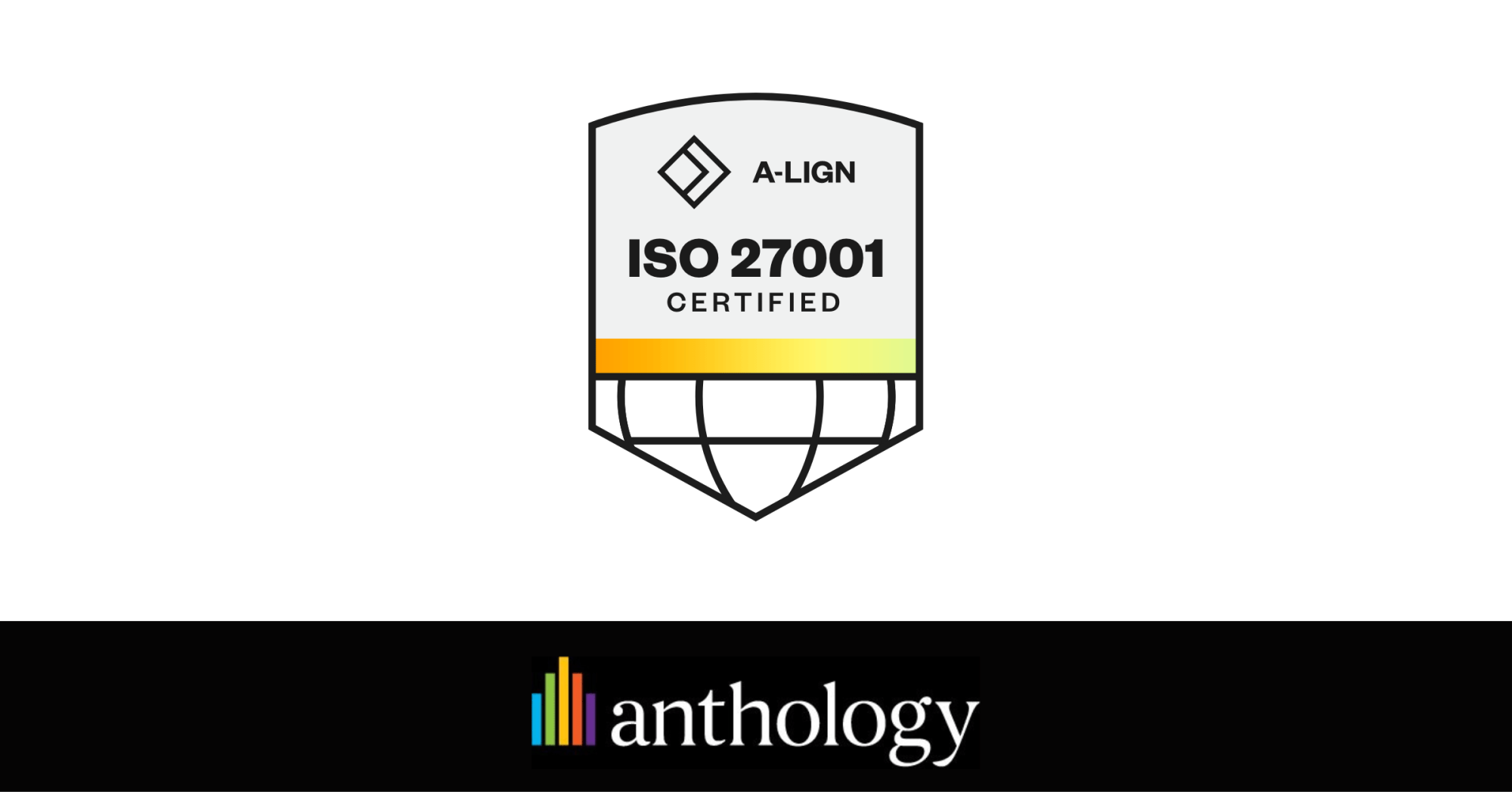 Anthology Expands Data Security and Privacy Certifications Across Additional Solutions
Expansion combines previous ISO 27001 certifications and independent assessments, adds data controls, data privacy certifications
Boca Raton, Fla., Jan. 23, 2023 – Anthology, a leading provider of education solutions that support the entire learner lifecycle, today announced a significant expansion of its ISO 27001 security certifications. Blackboard Learn and Anthology Ally will join Anthology's other flagship products, including Anthology Student and Anthology Reach, under one certification following the combination of Anthology and Blackboard in October 2021. In addition, Anthology Engage, Anthology Encompass, Blackboard Data and Blackboard SafeAssign achieved ISO 27001 certification. The full set of ISO 27001 certified solutions also obtained certification for cloud services security controls and data privacy protection practices.
Conducted by an independent third-party auditor, ISO 27001 certification is a widely recognized, international standard that specifies security management best practices and comprehensive security controls. Receiving this certification validates that Anthology's security program meets a high level of security and privacy standards.
"Data security and data privacy are foundational elements of the learning journey. This expansion of certification by independent experts signals to learners, instructors and administrators that Anthology is committed to delivering the highest level of safety and security," said Richie Rodriguez, Chief Information Security Officer at Anthology. "Our team puts security and data privacy at the center of our product development and management lifecycle process, an approach that ensures our solutions will continue to provide seamless, industry-leading protection so learners can focus on achieving their goals."
The set of products outlined above also achieved ISO 27017 and ISO 27018 certification. ISO 27017 lays out standards around security controls for cloud services and ISO 27018 sets standards related to the protection of personally identifiable information (PII) in public clouds.
In parallel with ISO certification, Anthology has completed Type 2 SOC 2 examinations for its SIS and CRM solutions, Anthology Student and Anthology Reach. The examinations are provided by an independent certified public accountant and report on an organization's security, availability and processing integrity controls.
Anthology Encompass also recently completed its annual PCI DSS audit, resulting in the issuing of a new Attestation of Compliance document for the solution. Additionally, Blackboard Learn SaaS has been re-authorized under FedRAMP at the Moderate impact level and is the only learning management system to achieve authorization. Taken together, the activity underscores Anthology's commitment to data security and data privacy and ensuring the company's products and solutions meet high standards.
More details about the company's data security and data privacy commitments can be found in Anthology's Trust Center.
The ISO certification and SOC auditing were conducted by Schellman & Company, LLC, a U.S.-based ANAB and UKAS accredited Certification Body. The FedRAMP auditing was performed by A-LIGN Compliance and Security, Inc. and Dara Security provided the PCI DSS audit work.
About Anthology  
Anthology offers the largest EdTech ecosystem on a global scale for education, supporting more than 150 million users in 80 countries. With a mission to provide dynamic, data-informed experiences to the global education community through Anthology Intelligent Experiences™, we help learners, leaders and educators achieve their goals by offering over 60 SaaS products and services designed to advance learning. Discover more about how we are fulfilling our mission for education, business and government institutions at www.anthology.com.